More than 200 flights were canceled along the busy East Coast corridor Saturday after "technical issues" at a traffic control center in Virginia created delays and grounded planes, the Federal Aviation Administration said.
Hardest hit were Washington, D.C., and Baltimore, where delays were at least two hours, according to FlightAware.com, which said about 220 flights were scrapped because of the glitch.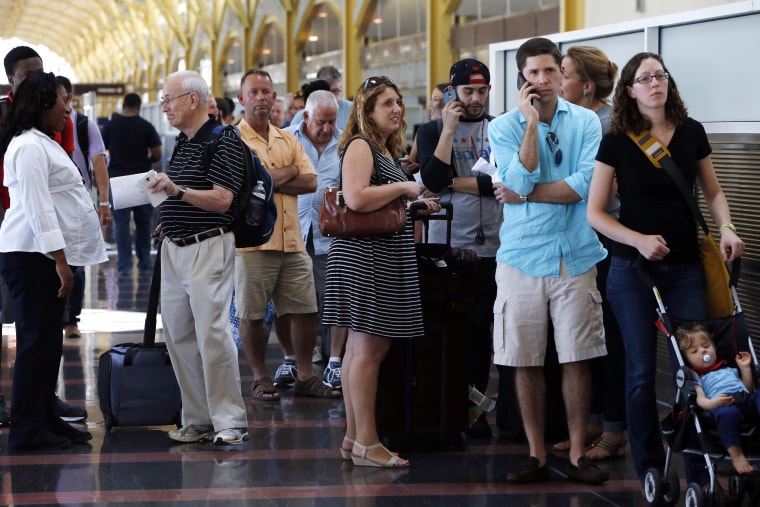 Airports in New York City were also seeing noticeable delays: from at least a half-hour at Newark Liberty International to at least one hour at LaGuardia and John F. Kennedy airports.
By 4 p.m. ET, the FAA said the technical glitch had been resolved — although the cancellations and delays had already caused frustration among travelers during the height of the summer season.
The agency was investigating a problem with its flight-tracking system in Leesburg, Virginia, and had to direct high-altitude flights around the affected airspace. The problem was not believed to be caused by any accident or hacking.
Southwest Airlines said some of its flights at airports in Richmond and Norfolk, Virginia, and at North Carolina's Raleigh-Durham International also saw delays and cancellations.
American Airlines said earlier in a tweet that air traffic control issues were impacting all East Coast flights. The airline urged passengers to plan accordingly. Laura Nedbal, an American spokeswoman, said its flights from Cleveland to the Washington area were also affected.
Information posted online by the FAA indicated there was a problem with the En Route Automation Modernization computer system, also known as ERAM, at the Leesburg center.
The FAA finished installing the troubled computer system in the last of 20 high-altitude traffic control centers earlier this year. The completion was years behind schedule.
Arianna Lynch, 21, was at LaGuardia Airport hoping to get to Dallas for school when she found out her flight was delayed. But she took the experience in stride.
"I was a bit concerned at first, like, 'Oh dear what's going to happen? How is this going to affect my ability to go to school?" she told NBC News. "But I believe it's going to be OK."
Albert Lizmi was trying to fly from Baltimore–Washington International Airport down to Charleston, South Carolina, for a vacation when Southwest told him his 12:40 p.m. flight was canceled. The airline said they couldn't guarantee a flight out on Sunday morning either.
So the Baltimore man said he scrambled to look up other airline options, but decided there was nothing that would work on his schedule.
"I'm going back home. It killed my vacation," a crestfallen Lizmi told NBC News. "Now I have to scrap it. It stinks."