LOS ANGELES — Heavy rains that hit in an area scarred by the deadliest wildfire in recorded California history caused flooding that prompted evacuations of homes and shut down part of a highway on Thursday, officials said.
The Butte County Sheriff's Office issued an evacuation order for an area east of Chico, a city near the Camp Fire burn area, after storms dumped as much as 1-and-a-half inches of rain in the area burned by the fire, and after thunderstorms on Thursday dropped another 1 ¼ inches, officials said.
Butte County sheriff's Sgt. Brad Meyer told NBC affiliate KNVN of Chico that flooding of several feet stranded some residents in an area near Honey Run Road and Horse Run Lane, that crews were using rafts to reach around 12 homes.
"It is serious. The water is coming up, so we want to make sure we get everybody out that we can," he said, adding that the depth was a couple of feet across the road.
Rick Carhart, a public information officer for the California Department of Forestry and Fire Protection Butte Unit, said that a swift water rescue team was deployed and three homes were evacuated by boat in that area.
An evacuation order remains for the devastated town of Paradise, which was mostly destroyed in the Camp Fire that began on Nov. 8 and is blamed in at least 88 deaths.
The flooding on Honey Run Road, and flooding which caused the closure of part of Highway 99 south of Chico, was at least partially caused by runoff from rain that fell in the Camp Fire burn area, which can't absorb the same water as it would have if it hadn't burned, National Weather Service forecaster Cindy Matthews said.
Adding to the flooding in areas south of the burn area is a line of thunderstorms that stalled over that area, she said.
"The same areas are repeatedly being hit with moderate to heavy rain," Matthews said. The rain in the area was expected to last into the afternoon, she said.
A section of Highway 99 south of Chico was closed due to flooding, transportation officials said. The Chico Police Department on Twitter said there were reports of many flooded roads, but a police official said that flooding was not due to the recent fire. A flash flood warning was in effect for parts of the burn area until 9:15 p.m. local time (12:15 a.m. ET).
Dale Word, a firmware engineer, was evacuated briefly Thursday from his semi-rural Chico neighborhood for the second time this month. He told the Associated Press that he was stunned by the disasters that have hit Butte County, and said the Camp Fire came within several hundred feet of his home.
"Everywhere you go you're talking to people who have lost everything and it's just tragic," Word told the AP, jokingly adding, "It feels like the Four Horsemen of the Apocalypse are going to come riding over the hill any day now."
Rain was also falling in Southern California in an area burned by another wildfire, the so-called Woolsey Fire, which also erupted Nov. 8 and destroyed more than 1,600 structures. The National Weather Service said that a flood advisory was in effect for the area, and warned of possible mud and debris flows in burned areas.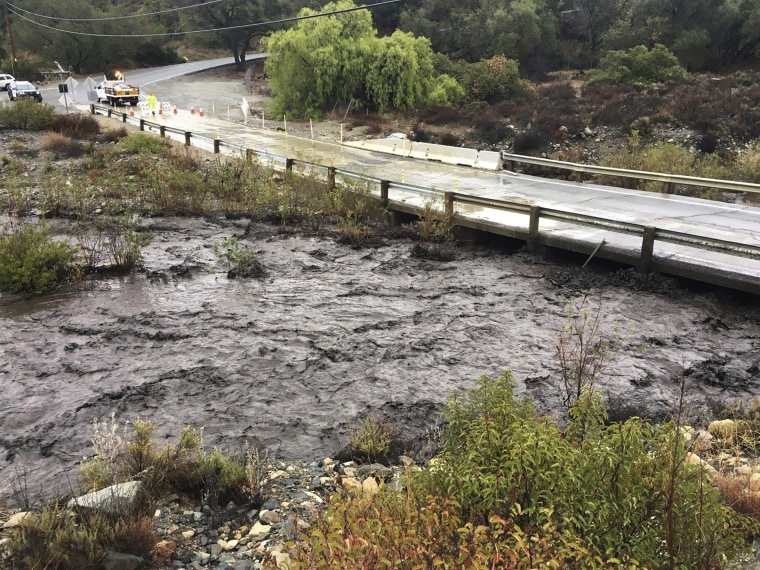 The Camp Fire in Butte County, which was fully contained by Sunday, destroyed nearly 14,000 homes and thousands of other buildings. It was the most destructive and deadly wildfire in recorded state history.
Butte County Sheriff Kory Honea said Wednesday that parts of Paradise could be opened to residents to check on their homes, or what remains of them, early next week but he cautioned that could change depending on conditions that include weather.
Honea on Wednesday said the active search for human remains — which had been described as going door-to-door and car-to-car looking for victims — has been completed with around 18,000 structures searched.
Searchers will still look at properties if information comes in that victims may be at a location, he said.
On Wednesday no new human remains were found for the third straight day, and Honea said that he hopes no more are found, although he said residents returning should be prepared to find what could be remains.
"My sincere hope is that no additional human remains will be located," Honea said.
CORRECTION (Nov. 30, 2018): An earlier version of this article misspelled the name of the Butte County sheriff. He is Kory Honea, not Kony.