Weekend flooding that had killed three people through Sunday night left eight other people missing and forced the evacuations of hundreds more across Oklahoma and Texas as emergency crews took stock of the damage caused by the severe weather.
A man was killed in the floods that washed over San Marcos, Texas, according to city officials. A thousand residents in San Marcos' Hays County were displaced by the heavy flooding, which damaged or destroyed at least 400 homes, Hays County emergency management coordinator Kharley Smith told reporters.
Rescue crews were searching for eight people from two families who were missing in the Hays County town of Wimberly, authorities told NBC News. Among them were three children under age 10.
"Now is not the time to try to return to your homes," San Marcos Fire Marshal Ken Bell said Sunday, adding that buildings, power lines and bridges were damaged "throughout the entire region."
The Blanco River in Hays County rose to 40.2 feet — breaking a record crest dating to 1929 by nearly six feet, The Weather Channel reported. The National Weather Service in San Antonio said the river was causing "catastrophic" flooding.
Hays County officials said numerous rescues were under way along the Blanco in the Wimberley area, adding that more officers have been called in to assist. The city of San Marcos announced a 9 p.m. curfew to keep people out of the dangerous weather.
In Houston, heavy rain and winds caused an apartment building to collapse, injuring two people and severely damaging 10 of the 41 units, the Houston Fire Department said.
About 40 miles north of Houston, hundreds of residents were evacuated from their homes Sunday in Montgomery County, where officials feared heavy rainfall might cause the Lewis Creek Dam to break, according to the county's office of emergency management.
A kayaker had to be rescued Sunday morning on the on the San Gabriel River in Georgetown, Texas, after his kayak flipped over, the Georgetown Fire Department said. He was caught in the current for five to seven minutes before a passing family pulled him to safety with a rope.
Fire officials said the looking for excitement in a very unsafe way.
Two people were killed in Oklahoma, one of them a firefighter who drowned after being swept away by flood waters. Claremore Fire Chief Sean Douglas said Capt. Jason Farley was assisting in the rescue of about 10 people who were trapped in duplexes Sunday morning when he was swept into a drainage ditch and drowned. Farley had been a firefighter for 20 years, Douglas said.
The heavy rainfall washed out roads, trapped residents and knocked out power to thousands. A 33-year-old woman died after a car hydroplaned in Tulsa and smashed into the car in which she was a passenger Saturday, the state Department of emergency Management told NBC News on Sunday.
Tornado watches also were in effect for much of eastern Oklahoma and parts of central and south Texas overnight.
A large tornado was confirmed in Oklahoma's Grady County, and several others were reported in the state Saturday evening, The Weather Channel reported.
Six inches of rain triggered flash flooding in Elk City, about 100 miles west of Oklahoma City. Emergency management officials said as many as 30 people were displaced.
The wet and stormy weather was forecast to last into next week for the Plains, Texas and the Mississippi Valley. While there will be a chance of isolated tornadoes, flooding will pose the main threat. One to 3 inches of rain could fall over the next week in Texas, Oklahoma, Kansas and Missouri and parts of Louisiana and Arkansas — and some areas could see 5 inches or more.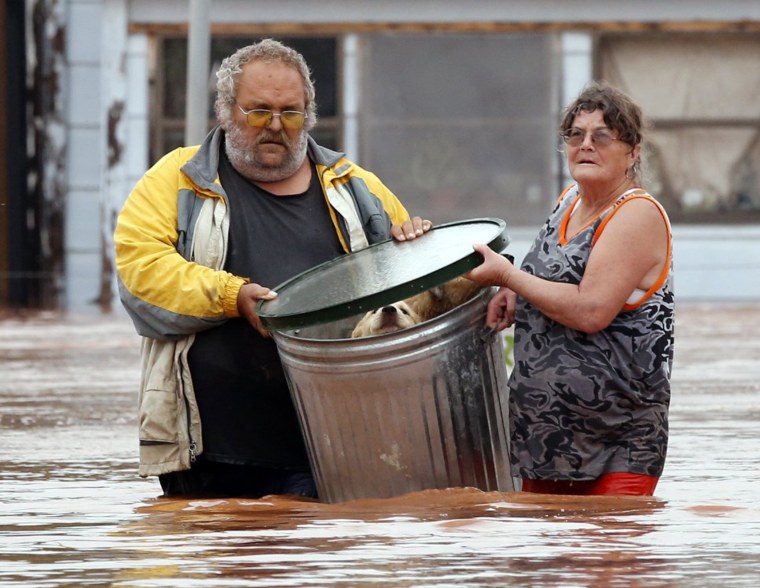 — Gabe Gutierrez, Andrew Rudansky, Cassandra Vinograd and Elisha Fieldstadt