About 11,000 people in central Michigan were told to evacuate their homes after rapidly rising water overwhelmed dams, creating what the National Weather Service called a "life-threatening situation."
Gov. Gretchen Whitmer said the destruction in Midland County caused by the failures of the Edenville and Sanford dams was "devastating."
At 5:30 a.m., the Tittabawassee River had broken the record of 33.9 feet set during a 500-year flood event in 1986. At 12:45 p.m. Wednesday, the river level was 35.013 feet and rising.
But in a positive development, the city of Midland announced the river crested Wednesday afternoon at 35.05 feet — under the predicted forecast of 38 feet and three hours earlier than predicted.
The U.S. Geological Survey had said it was installing a temporary stream gage to the river because the one there only has an operating limit that is 36.5 feet.
Midland City Manager Brad Kaye said officials are "cautiously optimistic" that water will begin to recede after an early peak, though it may take days before the water is back to more normal levels.
"That's great news for the county, certainly for the city, and the residents and business owners that are within the affected areas," Kaye said. "But there are some cautions to that."
He warned that authorities will still have to monitor any possible changes to the Sanford Dam, which has not completely failed yet. Kaye emphasized that the situation was not over yet.
"The negative part of this, this came up quickly, but it's not going to go away quickly," Kaye said.
A flood warning remained in effect for the entire length of the Tittabawassee River in Midland County, the National Weather Service said late Wednesday night.
The river was expected to fall slowly through the night but to remain above major flood stage, the weather service said.
The governor recognized that traveling and staying in a shelter was not ideal as the state continued to try to slow the spread of coronavirus. "This is almost unthinkable in the midst of a global pandemic. Continue to wear a face covering if you are going to a shelter. Please try to observe social distancing. I know it's going to be hard at a shelter, but please try," she said.
Kaye said some people who had evacuated to shelters Tuesday night slept in their cars in the parking lots.
"It's hard to believe that we're in the midst of a 100-year crisis — a global pandemic — and a flooding event that looks to be the worst in 500 years," Whitmer said Wednesday.
No fatalities or significant injuries have been reported, according to a statement from the City of Midland, and a "10,000 person evacuation has gone as well as something like this can go," the governor said.
But some residents had lost power, the Grace A. Dow Memorial Library had taken on water, many roads were flooded and some sewer services had been affected, according to the city.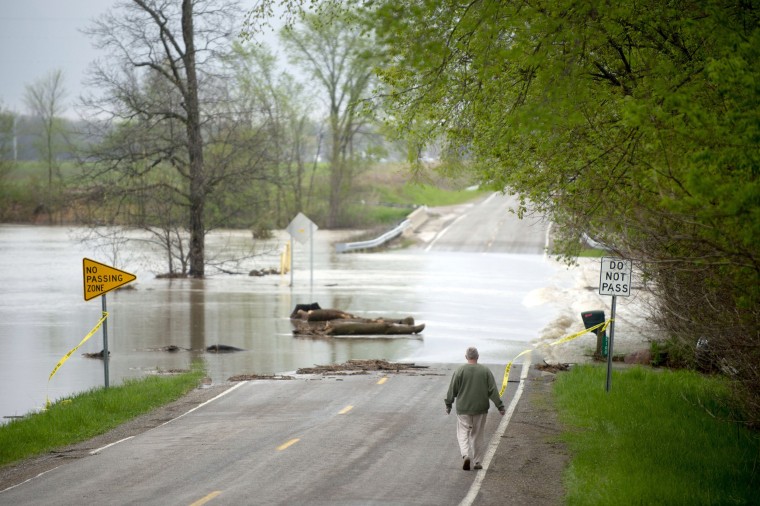 The governor declared a state of emergency Tuesday night and said she had asked the federal government for assistance. President Donald Trump is expected to visit the state Thursday.
Trump said in a tweet that he was closely monitoring the flooding and had sent military and FEMA teams to the area.
The Michigan National Guard said it would supply more 200 Soldiers and equipment throughout Wednesday.
Whitmer said Tuesday night that downtown Midland could end up under 9 feet of water. "We are anticipating an historic high water level."
Dow Chemical Co.'s main plant sits on the downtown Midland's riverbank. A spokeswoman said the plant has activated its emergency operations center and will be adjusting operations as a result of flood stage conditions, and Whitmer said so far the precautions were working.
After reports of contaminated flood waters surfaced, Dow clarified that waters commingled with an on-site pond used for storm water and groundwater remediation. The was no reported product release and no threat to residents.
Many families who lived in the area had been told to evacuate their homes twice in 24 hours.
Emergency responders went door to door early Tuesday morning warning residents living near the Edenville Dam of the rising water. Some residents were able to return home, only to be told to leave again following the dam's breach several hours later. The evacuations include the towns of Edenville, Sanford and parts of Midland, according to Selina Tisdale, spokeswoman for Midland County.
"We were back at home and starting to feel comfortable that things were calming down," said Catherine Sias, who lives about a mile from the Edenville Dam and first left home early Tuesday morning. "All of a sudden, we heard the firetruck sirens going north toward the dam."
Sias, 45, said emergency alerts then began coming on her cellphone and people started calling to make sure she was safe.
"While packing, there were tons of police and firetrucks going up and down the roads," she added. "As far as I know, all of our neighbors got out."
While driving along a jammed M-30, the state highway that's the main road through Edenville and which crosses the river north of town, Sias saw the rushing Tittabawassee River. "It was very dramatic, very fast and full of debris," she said.
Both the Edenville and the Sanford dams were rated high hazards in 2018, according to the National Inventory of Dams.
In 2018, the Federal Energy Regulatory Commission revoked the license of the company that operated the Edenville Dam due to noncompliance issues that included spillway capacity and the inability to pass the most severe flood reasonably possible in the area.
Flood warnings in Michigan were issued following widespread rainfall of as much as 8 inches between Sunday and Tuesday, according to the weather service. Heavy runoff pushed rivers higher.
The evacuations in Michigan followed days of heavy rains in parts of the Midwest that also brought flooding to northwestern Indiana, Chicago and other parts of Illinois, Ohio and other states.
The city of Midland tweeted late Wednesday night that the disaster could have been worse but for the reaction of residents to heed warnings.
It said around 11,000 people were evacuated without a single casualty or major injury, adding "That is what happens when our residents listen to our warnings & work w/us. Thank you Midland for making our jobs easier."
Midland has a population of around 42,000, according to census community survey estimates.
CORRECTION (May 20, 2020, 9:45 p.m. ET): An earlier version of this article misstated the last name of the Midland City Manager. It is Brad Kaye, not Kay.