Flooding in the aftermath of Hurricane Florence continued in the Carolinas on Thursday, nearly two weeks after the storm made landfall in North Carolina and inundated large parts of both states.
The South Carolina emergency management department warned residents Thursday to limit travel to Horry and Georgetown counties due to "ongoing severe flooding" as rivers remain swollen in the aftermath of the storm that came ashore Sept. 14 as a Category 1 hurricane, dumping feet of rain in some parts of North Carolina.
"I just can't believe what we are all seeing happen," Keith Hendrick, a fourth-generation resident of the coastal South Carolina city of Conway, told NBC affiliate WMBF of Myrtle Beach on Monday of flooding there that was called historic. "It's unbelievable; it really is."
Officials in Horry County, where the city of around 17,000 is located, said Thursday that rivers in the area had crested, but the amount of damage it caused remained unclear. They urged residents to be patient.
"The water has crested and so now we just have to take as much time for it to go down as it's taken to come up," Horry County Emergency Management Director Randy Webster said at a news conference Thursday.
"We have not had a real clear understanding of how bad it was going to be until now," he said. "So we know that it will not get any worse in terms of flooding. But the beginning of the recovery is just starting."
South Carolina Gov. Henry McMaster on Wednesday called the amount of rainfall and flooding caused by the slow-moving storm "unprecedented."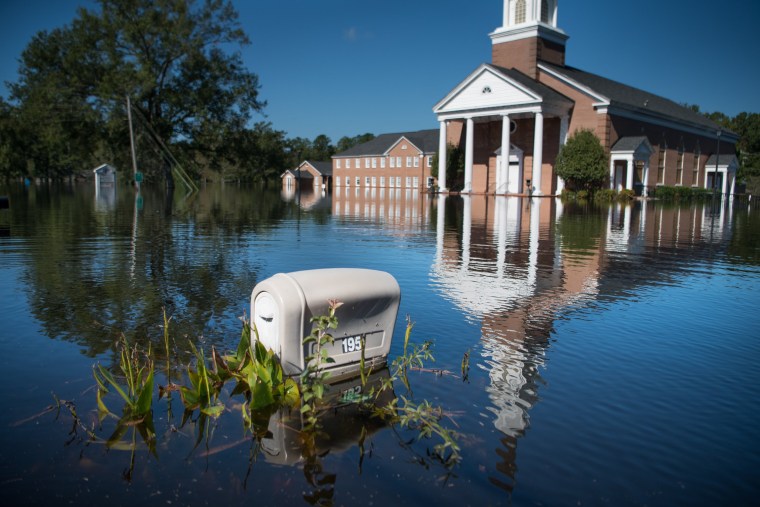 In a community near Wilmington, North Carolina, Nathan and Samantha Harvey returned Thursday to their damaged three-month-old home, passing dead fish as they walked inside.
"It is so hard to see it this way," Samantha Harvey told NBC affiliate WECT of Wilmington. "... We knew it would be a mess, but this is our home and our belongings [are] just a mess. It's so discouraging."
A bright spot among the devastation was the couple's wedding picture, which was just above the high-water mark when the water flooded their home.
"Most of the stuff in here, including the walls, are replaceable, but this is a memento that we cherish," Harvey told the station.
An additional storm-related death was reported in North Carolina, where a spokeswoman for the state emergency operations center said an 85-year-old man from New Hanover County died Tuesday after he contracted an infection in a wound he suffered while cleaning up his property, the Associated Press reported.
More than 40 deaths were blamed on Florence and its aftermath, many of them occurring in North Carolina, officials have said.
The National Weather Service said parts of Georgetown County, South Carolina, received more than a foot of rain, and some parts of North Carolina got more than two feet.
In the hard-hit city of New Bern, North Carolina, where more than 400 people were rescued from flooding, a preliminary assessment estimated losses at $100 million in residential and commercial damages.
Horry County police and fire officials said many areas still have water in them, and crews were using boats to secure communities and conduct secondary searches.
"We're there just to check on people and to make sure that they're safe, and if they need to be rescued out of those homes, we'll get them out of there," Horry County Fire Chief Joseph Tanner said.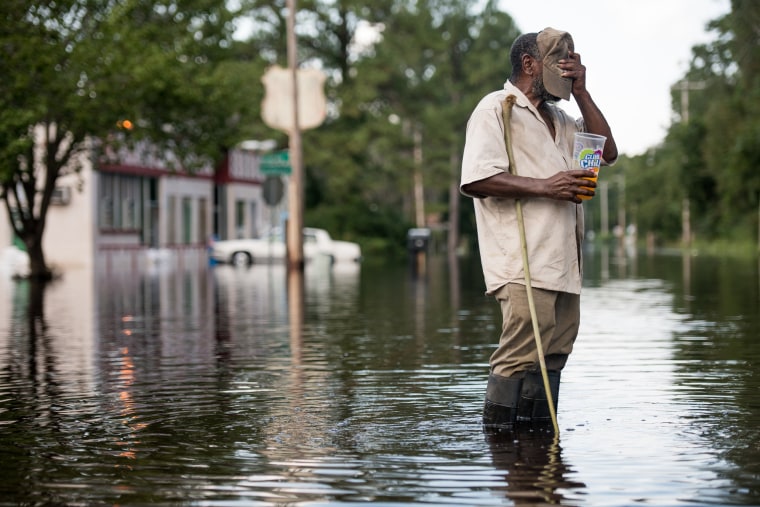 North Carolina Gov. Roy Cooper at a briefing on Thursday warned that even though the emergency response is transitioning to a full-time recovery effort, people in hard-hit areas should still be careful. All the state's rivers are expected to return to their banks by early next week, he said.
The official death toll Thursday in his state was 37, Cooper said, adding that most were drownings involving motor vehicles.
Power outages in North Carolina had dropped to a little more than 1,000 by Thursday, down from a high of around 800,000 in that state in Florence's aftermath. More than 1,400 people remained in shelters Thursday, according to the North Carolina Department of Public Safety.
Agricultural losses in North Carolina were estimated at over $1.1 billion, the public safety department said Wednesday. That's higher than the $400 million experienced after Hurricane Matthew in 2016, the department said.
A total of 38 primary roads in North Carolina, including seven U.S. routes, remained closed Thursday, said state Secretary of Transportation Jim Trogdon. The preliminary damage estimate is $100 million, he said.
Last week, a dam containing a large lake at a Wilmington power plant was breached by floodwaters, threatening two coal ash basins. Utility Duke Energy said this week that the coal ash basins were stable, and that initial tests of discharges from the cooling lake into the Cape Fear River showed no environmental harms downstream.