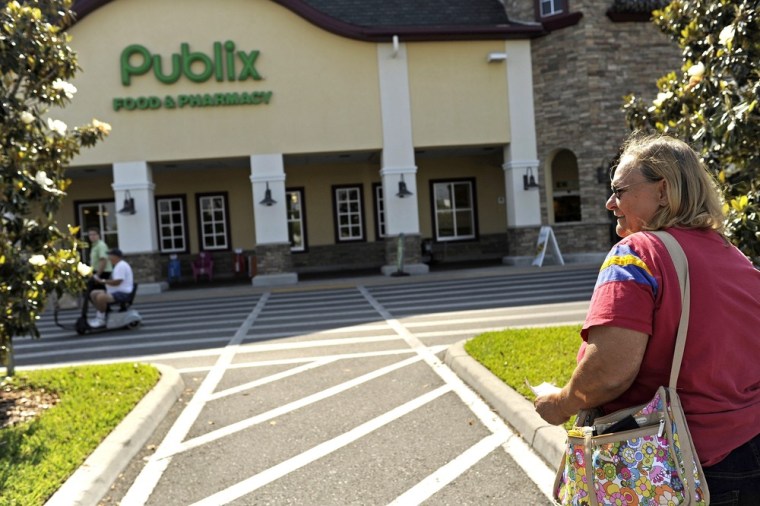 ZEPHYRHILLS, Fla. — It's been two long weeks since the small city of Zephyrhills learned that a $590 million Powerball ticket was sold at a supermarket here.
No one expected the winner to come forward in the first days after the announcement. After all, curious residents reasoned, the person might need a few days to absorb the shock, or to consult with financial advisers.
But then a week passed, and more, and now folks are so anxious to know the winner's identity they could jump out of their skin.
"Being in a small town, everybody knows everybody and in some cases, everybody's business," said Dave Walters, a longtime reporter at the Zephyrhills News community newspaper. "It's hard to keep a secret in this town, but this is one of the biggest mysteries we've had in a long, long time."
Zephyrhills, population 13,337, is about 30 miles northeast of downtown Tampa. Like many Florida communities, it features a small, old-timey downtown strip where restaurants, gift shops and clothing stores sit under a canopy of oak trees. Around the city's perimeter, there's the suburban sprawl of big box stores. It was in that sprawl, at a Publix supermarket, where the winning ticket was sold.
Rumors were swirling about who the winner could be: Publix deli employees, single moms working at Wal-Mart — even the cousin of a friend of a guy who lived clear in another county.
"Anybody who did not show up for work on that Monday was considered to be the lottery winner," Walters said. "If you had the flu and didn't show up for work, everyone thought you were the lottery winner. If you took a personal day or a sick day, they thought you had won the lottery."
The city is known around the Tampa Bay area for a few things: as the source for bottled spring water, as an area where people like to skydive and as the home to several mobile home parks that cater to the elderly.
Joe Abed, who owns Manolo's Italian restaurant in the historic downtown, thinks the ticket was sold to a senior citizen.
"It's a conspiracy theory," he said, using his hands to make quote marks. "I believe it's a senior citizen that purchased the ticket and they just have no idea that they won the ticket."
Marsha Decena, a Zephyrhills clothing store owner, said she's anxious to find out who won.
"I've heard so many different rumors through town, from it being a 23- or 26-year-old woman to somebody might have washed it in their pocket, the ticket is just lost and they don't know that they won," she said. "It's crazy."
The winner has 60 days from the date of the May 18 drawing to claim a lump-sum payment, and until mid-November to claim annual cash payments.
Zephyrhills resident Don Lawrence thinks the winner is just lining up legal and accounting staff.
"Lost the ticket or something like that? No, I don't think so," he said. "I think somebody's taking their time, doing it the right way."
Newly elected Mayor Danny Burgess — who turned 27 on Saturday — said he hopes it's a resident.
"Just because one person won the lottery, we all feel like we won, that's the kind of community this is," Burgess said. "I absolutely hope for the lottery winner that this is a positive, life-changing event. Only in America can you go to bed with a lottery ticket and wake up a mega-millionaire. I hope that they understand, appreciate and recognize the significance of this."
Abed wonders if the ticket eventually is "just going to go back into the system" so the country can have "another huge lottery."
But that's wishful thinking. According to the Florida Lottery website, if a Powerball jackpot isn't claimed within 180 days from the draw date, "the funds to pay the unclaimed jackpot will be returned to the lottery members in their proportion of sales for the jackpot rollover series."
In other words, state coffers will claim the jackpot, and the people of Zephyrhills will be left to wonder.