Daytona Beach police dismissed Wednesday more than $2,000 in fines levied against a Florida couple - and four of their friends - for feeding homeless people at a park, local authorities confirmed to NBC News.
"They've dropped all the charges. But we're not going to stop feeding people around here. We've been doing that all along," said Debbie Jimenez, who, with her husband, Chico, was ticketed for trespassing and violating a local law that bars individuals from sharing food with homeless people in public places.
The Jimenezes met Wednesday with Daytona Beach Police Chief Mike Chitwood and a city attorney, who agreed to waive the citations and accompanying fines, and urged the couple to apply for a city permit if they seek to continue publicly providing food to homeless people, Debbie Jimenez said.
The couple was warned, they said, that if they re-launch their Wednesday food-sharing sessions at Manatee Island Park in Daytona Beach, they will again face criminal charges - and more.
"It's jail time if we get caught," said Chico Jimenez, 60, a retired construction manager who, with his wife, a retired auto parts store manager, operates a New Smyrna Beach-based ministry called "Spreading the Word Without Saying a Word." Since receiving the citations, the couple has been lugging boxes of food to impoverished families who have homes, and to people living in camps in wooded areas within the community, they said.
Chitwood confirmed in an email to NBC News that the fines and tickets were dismissed.
In an interview on May 12, Chitwood said residents had complained that some homeless people gathering in the park were disturbing the grounds, and that some were showing up drunk at dawn.
"We as a city have spent millions of dollars to turn that park into a place for families, kids and dog lovers," Chitwood said. "We have an ordinance that says when people want to perform acts of kindness or charity that they must coordinate with our local social service agencies."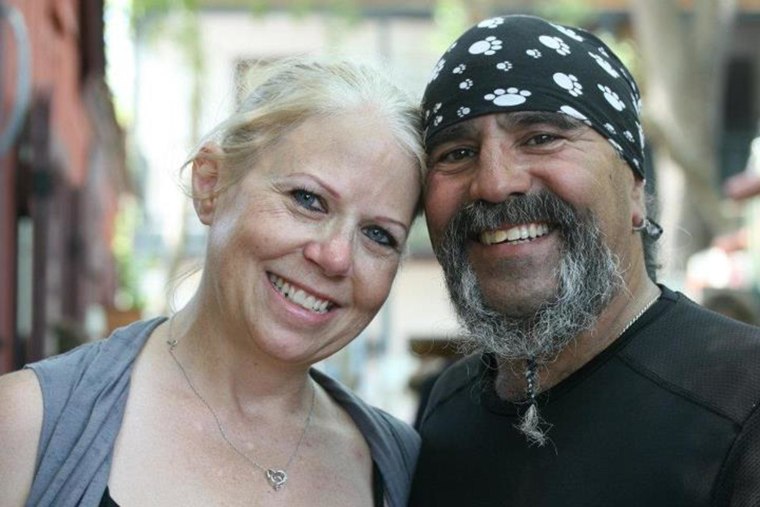 Chico Jimenez vowed to return to city offices on Thursday to apply for a permit to re-launch the weekly hot-meal service. He is not expecting to be granted that legal paperwork, he said.
"I still want to be able to feed at Manatee Park because we've been feeding people there for a year. I'm more than positive that they're not going to allow me to do that," Chico Jimenez said. "And when they turn me down, my lawyer will file a lawsuit against the city for violating our civil rights."
Before the couple and their friends received the citations, Chico Jimenez videotaped their final food-sharing session at the park, showing a line of more than 100 people being served chicken patties -- as well as several interactions with Daytona Beach police officers.
"We believe we should be able to continue feeding people in the park because we're not hurting anybody," Debbie Jimenez said. "That's our calling in life."