Florida Gov. Rick Scott broke with President Donald Trump on Friday and rejected calls to arm teachers with guns to prevent school massacres.
"I disagree with arming teachers," Scott said. "My focus is on bringing in law enforcement. I think you need to have individuals who are trained, well trained."
Scott also defied the National Rifle Association by unveiling a sweeping plan to boost school security that would bar "violent or mentally ill" people from purchasing weapons, prohibit persons under the age of 21 from buying or owning guns, and outlaw so-called bump stocks that make it possible for semi-automatic weapons to fire faster.
"I want to make it virtually impossible for anyone who has mental issues to use a gun," Scott said. "I want to make it virtually impossible for anyone who is a danger to themselves or others to use a gun."
But the Republican governor, who is believed to be eyeing a Senate run, declined to ban the semi-automatic AR-15 type rifle that Nikolas Cruz allegedly used to killed 17 people on Valentine's Day at the high school in Parkland, Florida.
That was a key demand of the Marjory Stoneman Douglas High School students who survived the shooting.
"Banning specific weapons is not going to fix this," said Scott.
An NRA member, Scott said he didn't consult the powerful gun lobby about his proposals. But it appears to be a sharp break with the organization that has 300,000 members in Florida, and that Scott has relied on in the past.
There was no immediate response to Scott's move from the NRA headquarters. But its chief lobbyist in Florida, Marion Hammer, called it "gratuitous gun control."
"We oppose punishing law-abiding gun owners," Hammer told the Tampa Bay Times.
Scott also called for spending $450 million to put a law enforcement officer in every school (one for every 1,000 students), hiring mental health professionals whose only job would be counseling students, and upgrading school security with metal detectors, bulletproof glass, reinforced doors and other measures.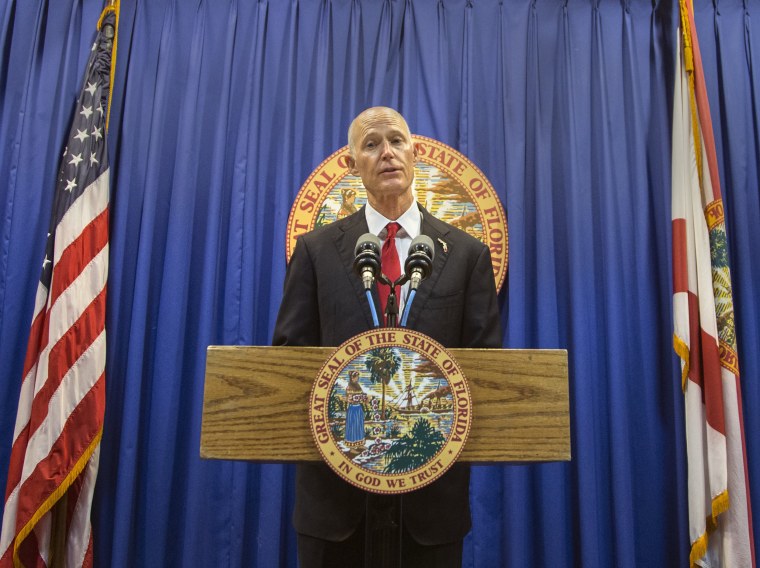 The governor's plan calls for a new "see something, say something" hotline, website and mobile app. And to help pay for it, Scott said he is considering abandoning more than $180 million in planned tax cuts and urged lawmakers to temporarily shelve plans for pursue money for hometown projects.
Scott's announcement came a day after Trump expressed support for arming teachers — an idea that many critics are calling a "colossally stupid idea."
Also, Scott's move to keep guns out of the hands of the mentally ill appears to be an about face for the governor, who signed a bill in 2011 that barred doctors from asking patients whether they own a gun, unless the provider "believes that this information is relevant to the patient's medical care or safety, or the safety of others."
A Florida federal appeals court in February 2017 ruled that some of the provisions were unconstitutional, including the part that prevented health providers from asking whether patients owned guns.
Trump in February 2017 rolled back an Obama-era regulation that made it harder for people with mental illnesses to purchase a gun.
While making his announcement, Scott took a swipe at Sen. Bill Nelson, D-Fla., accusing him of not doing enough to combat gun violence. Nelson quickly swiped back.
"The governor's plan doesn't do one thing to ensure comprehensive criminal background checks or ban assault rifles, like the AR-15," Nelson said in a statement. "His leadership is weak and by recommending raising the age to 21 he is doing the bare minimum. Enough is enough. We need to get these assault rifles off our streets and expand criminal background checks for anyone acquiring a gun."
The developments came on the heels of revelations that Scot Peterson, the Broward County sheriff's deputy assigned to protect Marjory Stoneman Douglas High School, never went inside the school or tried to stop the accused 19-year-old gunman.
CORRECTION (Feb. 23, 2018, 1:25 p.m. ET): An earlier version of this article misstated the first name of a Democratic Florida senator. He is Bill Nelson, not Ben.