Florida Gov. Rick Scott removed a prosecutor from a high-profile murder case Thursday after she announced that her office will no longer seek the death penalty in any first-degree murder cases.
Ninth Judicial Circuit State's Attorney Aramis D. Ayala, the prosecutor in the case of accused cop killer Markeith Loyd, cited the inability of capital punishment to deter crime or protect the public for her decision.
Scott said in a statement that Ayala's decision "made it clear that she will not fight for justice and that is why I am using my executive authority to immediately reassign the case to State Attorney Brad King."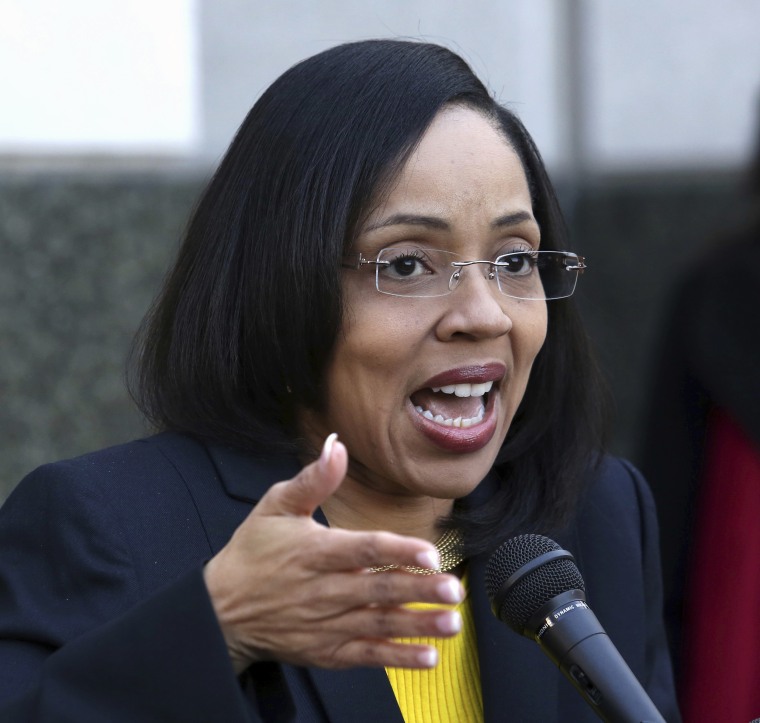 "I am outraged and sickened by this loss of life, and many families' lives have been forever changed because of these senseless murders," Scott said. "These families deserve a state attorney who will aggressively prosecute Markeith Loyd to the fullest extent of the law and justice must be served."
Scott had asked Ayala to recuse herself from Loyd's case, but she refused, according to the governor.
Loyd, 41, was charged with three counts of first-degree murder in the Dec. 13 fatal shooting of his pregnant girlfriend Sade Dixon and her unborn child and the Jan. 9 shooting death of Orlando police Lt. Debra Clayton, 42, whom authorities said Loyd killed in a Wal-Mart parking lot.
"The death penalty traps many victims' families in decades-long cycles of uncertainty, court hearings, appeals and waiting."
The U.S. Supreme Court decided last year to strike down the Florida's death penalty statute, claiming it violated the Sixth Amendment by giving judges, not juries, the final decision to impose capital punishment. On Monday, Scott signed a new statute that would require a unanimous recommendation by a jury prior to imposing the death penaly, but Ayala rejected that enactment.
"I have determined [the death penalty] is not in the best interest of this community or best interest of justice," she said. "I've been unable to find any credible evidence that death penalty increases safety for law enforcement officers."
Ayala, who as recently as February suggested that she was undecided on whether to pursue the death penalty for Loyd, called her decision the most important one she has made as a prosecutor.
She said Florida spends $51 million more per year holding inmates on death row than it would holding them for life without parole, and added that the average death row inmate waits 12 years between sentencing and execution. Citing an FBI Uniform Crime Report, Ayala said southern states account for 80 percent of executions, yet have the highest murder rates in the country.
"By not deciding to pursue death in a handful of cases, we can spend more time pursuing justice in many more cases," she said. "The death penalty traps many victims' families in decades-long cycles of uncertainty, court hearings, appeals and waiting. Some are waiting for an execution that may never occur."
The law enforcement community was quick to slam Ayala and praise Scott's decision to remove her from Loyd's case. In a statement, Orlando Police Chief John Mina applauded the governor's "willingness to stand with law enforcement and with the families and loved ones of murder victims."
"I have seen he video of Markeith Loyd executing Lt. Debra Clayton while she lay defenseless on the ground. She was given no chance. A cop killer-- who also killed his pregnant girlfriend-- should not be given that chance," he said. "The heinous crime that he committed in our community is the very reason we have the death penalty as an option under the law."