Green iguanas have become such a problem in parts of southern Florida that wildlife officials are encouraging homeowners to kill the reptiles.
In a notice posted to its website, the Florida Fish and Wildlife Conservation Commission said the invasive iguanas are wreaking havoc to the ecosystem.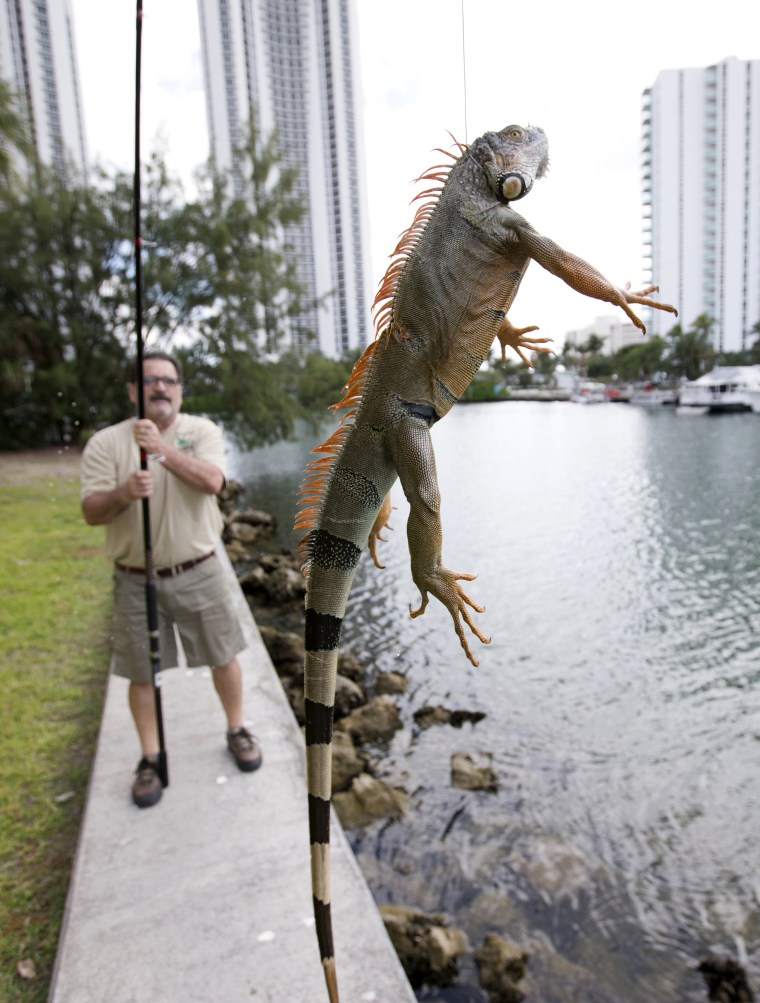 "Green iguanas can cause damage to residential and commercial landscape vegetation, and are often considered a nuisance by property owners," the FWC wrote. "Some green iguanas cause damage to infrastructure by digging burrows that erode and collapse sidewalks, foundations, seawalls, berms and canal banks."
The reptiles, which are not native to Florida, can also spread Salmonella.
To try and solve these issues, the FWC urged homeowners to kill the reptiles on their property, "whenever possible."
"This species is not protected in Florida except by anti-cruelty law. Homeowners do not need a permit to kill iguanas on their own property," the agency wrote. " Iguanas can also be killed year-round and without a permit on 22 public lands in south Florida."
Blake Wilkins, the co-founder of Redline Iguana Removal in Florida, told NBC News in a phone interview on Wednesday that he knows firsthand the damage green iguanas can cause.
The reptiles destroy crops and plants and also dig holes under buildings, which can create structural damage, he said.
Redline Iguana Removal, which has been in business for a little over a year and serves Broward, Miami-Dade, Palm Beach counties and the upper Florida Keys, once removed 50 of the creatures from a single home, according to Wilkins.
"They are considered invasive down here," Wilkins said. "And they are causing a lot of issues."
Wilkins, who has a background in biology, said if green iguanas are killed it needs to be done humanely and preferably by a professional who knows FWC-approved ways such as a single blow to its head or with the use of a pellet gun.
"We've been doing this for a while now. We know how to do this humanely," he said. "We don't take this lightly."
More than 3,000 green iguanas have been spotted in southern Florida since the Center for Invasive Species at the University of Georgia started tracking sightings in 2005, according to ABC News.