The Florida pastor who wound up in handcuffs after he defied a local stay-at-home coronavirus order by holding a church service for hundreds of worshippers will be celebrating Easter online with his flock this Sunday.
Rodney Howard-Browne, who in previous statements railed at "tyrannical government" and threatened to sue Hillsborough County Sheriff Chad Chronister for arresting him, made the announcement on The River at Tampa Bay Church's Facebook page.
"Join us ONLINE ONLY at 9:30 AM on Sunday, April 12th, for our Resurrection Sunday service as we celebrate the death, burial, and resurrection of our Lord & Savior, Jesus Christ," the announcement read.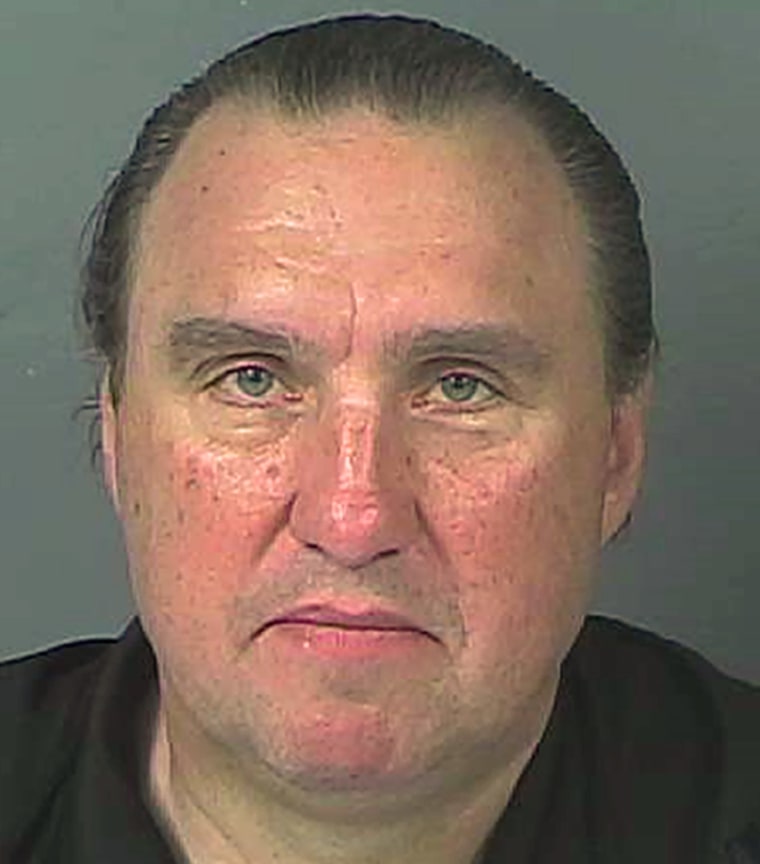 Mathew Staver of the Liberty Counsel, the activist law firm that has been defending the pastor, said Howard-Browne decided not to open the church for Palm Sunday or Easter "because of the death threats he has received directly related to the lies of Sheriff Chad Chronister which he made during his press conference and media appearances."
"He wants to have some separation of time before he opens the church," Staver said. "He will do the Easter service online. Next week he will make a decision about the upcoming Sunday services."
Chronister did not address Staver's claims of having received death threats or allegations that he had lied.
"The Hillsborough County Sheriff's Office will continue to focus on the 3 E's to keep our community safe during this pandemic: encourage, educate and enforce," Chronister said. "We are encouraging our citizens to follow CDC guidelines by maintaining social distancing and educating them on ways to keep themselves safe. With the exception of one arrest, HCSO has fortunately not had to result to enforcement."
That one arrest was Howard-Browne. He was nabbed after a deputy reported March 29 that 500 people attending a Sunday service were unable to maintain the "social distancing guidelines" of keeping six feet apart.
Chronister said Howard-Browne could have livestreamed the service for his 4,000 or so followers. Instead, the pastor "put hundreds of people in his congregation at risk," said the sheriff, who is a Republican.
Howard-Browne also faces another potential hurdle when he tries to reopen his megachurch — he's been dropped by his insurance company.
While Howard-Browne's decision appeared to avert another possible church-versus-state duel in Hillsborough County, elsewhere in Florida local officials were trying to make sense of the conflicting signals coming from Gov. Ron DeSantis ahead of one of the holiest days in the Christian faith.
DeSantis, a Republican and staunch supporter of President Donald Trump, issued a stay-at-home order last week after being criticized for failing to clear the beaches and shut down the state faster. But DeSantis' order declined to bar churches from holding in-person church services by deeming them "essential."
That opened the door for Howard-Browne to possibly reopen his church this Sunday because the governor's order supercedes the stricter Hillsborough County order, under which the pastor was arrested for endangering the public.
Politico reported earlier this week that the governor's general counsel, Joe Jacquot, may have "sown" more confusion by informing two mayors in Broward County that, contrary to what DeSantis said earlier, they might be able to restrict church services.
"The Governor's Order does not affect whether a local authority may close a business (or in other words, decide if a business is nonessential,)" Jacquot wrote in an April 3 email to Mayor Michael Ryan of Sunrise and Mayor Daniel Stermer of Weston, both Democrats. "Local authorities can do so both on individuals and on businesses/organizations."
In the same email, however, Jacquot wrote the governor's order "only restricts individuals by limiting their movement, except when those individuals are participating in an essential service or activity."
NBC News has reached out to the mayors to see if DeSantis has issued any clarification of this clarification. Stermer recently tested positive for the coronavirus and will remain in quarantine until April 14, The Miami Herald reported.
Asked the same question, DeSantis' spokeswoman Helen Aguirre Ferre appeared to buttress both Jacquot and the Hillsborough County sheriff who arrested Howard-Browne.
"Local governments have the authority to adopt requirements directly in relation to businesses, venues and the like that may be stricter the Governor's Executive Order," Ferre wrote in an email.
Meanwhile, as one of the holiest days in the Christian faith looms, lawmakers in other states were grappling over whether churches should remain open on Easter while the coronavirus continues to kill Americans.
In Kansas, Gov. Laura Kelly has sued the Republican-controlled Legislative Coordinating Council which overturned her executive order which make it a crime to have more than 10 people at church services or funerals.
"We felt very strongly that the LCC really is not authorized to act in that capacity, as the total legislature," Kelly, a Democrat, said Friday. "That any recovation of an executive order would have to take place by the entire legislature acting, not a seven-member panel."
The Republicans on the council have insisted that while Kelly's move may be "good public policy" it's not constitutional, The Topeka Capital-Journal reported.
In Louisiana, Tony Spell, pastor of the Life Tabernacle Church, has defied authorities repeatedly by holding services that draw hundreds of people. While there was no immediate response from Spell to a call from an NBC reporter to see if he will hold an Easter Service, the notice on the church's Facebook page said, "Opens tomorrow."