A Florida mother is accused of trying to kill her four children by slamming her minivan into a palm tree after accelerating to "a high rate of speed."
Calicia Williams, 36, was charged with four counts of attempted murder after Ocala police said she deliberately crashed her white Pontiac minivan with her four children inside.
Download the NBC News app for breaking news and politics
Investigators determined by tire marks that the vehicle was steered directly toward the tree after jumping a curb and plowing through a grass median. There were no signs Williams tried to hit the brakes, an arrest affidavit said.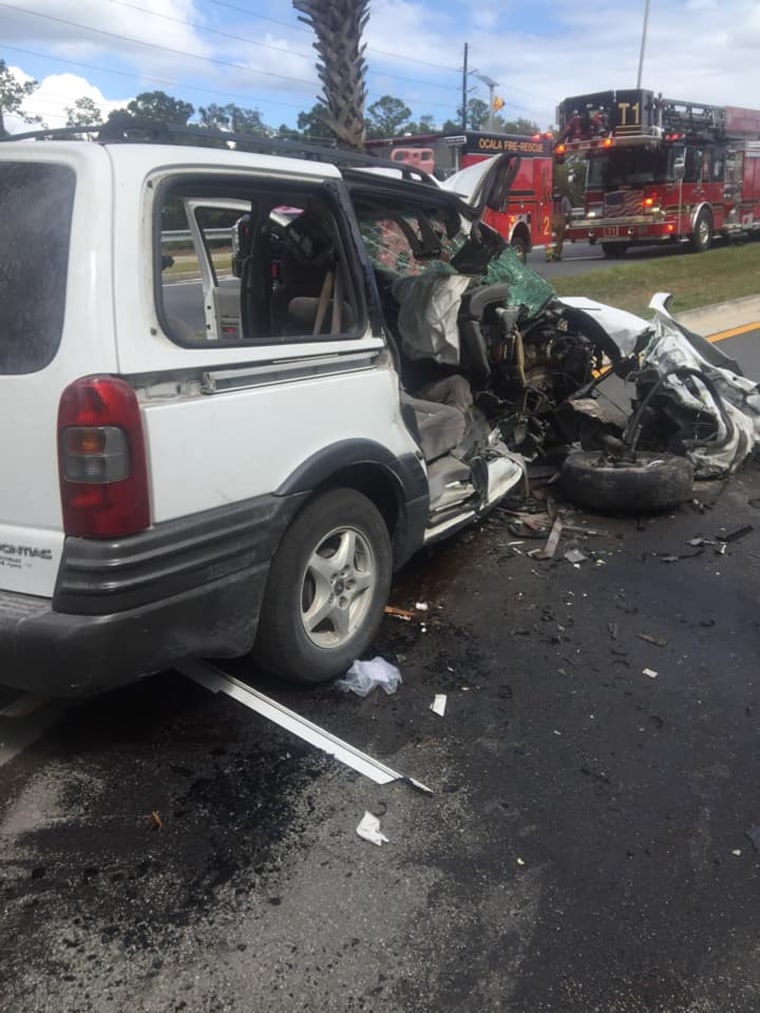 Investigators also found that none of the children, ages 7 to 13, were wearing their seat belts, according to a statement from the Ocala Police Department. The passenger side of the car was severely damaged.
The children later told police that Williams instructed them to remove their belts just before crashing and that she had yelled at one of the children who urged his mother to slow down.
The children told officers that before they crashed, she told them to stretch out their hands and said, "The devil can't hurt you, he only hurts bad people. You have the light of Jesus in you and only Jesus can cure us."
The four children were all treated at local hospitals and were in stable condition Friday, Ocala Police Department spokeswoman Corie Byrd told NBC News.
While they were being treated, "Williams was observed making spontaneous utterances," police said. She told them that her husband caused the crash by putting a hex on her, adding that she had marijuana in her system.
Although she "seemed extremely agitated," officers tried to get her to focus on what caused the crash, and she told them that "she was being followed by a lot of people in cars and she was trying to read all their tag numbers" and "when she was trying to read license plates, she veered across the lanes," the affidavit said. "Williams stated that when she looked up she saw the palm tree and she hit it."
Williams was expected to be booked at the Marion County Jail following medical release, according to police. Authorities requested that she be held without bond. It was unclear if she has an attorney.