The sheriff's deputy blamed for failing to enter a Florida high school while 17 people were killed said Monday that he's been unfairly labeled a coward and that he did nothing wrong.
A lawyer representing Scot Peterson said in a statement that Broward County Sheriff Scott Israel "maligned" the deputy in public statements in which he said Peterson should have gone into Marjory Stoneman Douglas High School in Parkland and killed alleged gunman Nikolas Cruz.
Israel said last week that he'd suspended Peterson after seeing video footage that captured Peterson's response, hearing witness accounts and getting a statement from the officer. Peterson then resigned, Israel said.
That announcement triggered public outrage against Peterson. President Donald Trump said Monday that it was "disgusting" that the deputy didn't go into the school.
Peterson's lawyer, Joseph DiRuzzo III, said in a statement Monday that Israel had rushed to judge his client without taking into consideration all the facts.
Related: Armed school resource officer 'never went in' to school during shooting
"Let there be no mistake, Mr. Peterson wishes that he could have prevented the untimely passing of the seventeen victims on that day, and his heart goes out to the families of the victims in their time of need," DiRuzzo said.
"However, the allegations that Mr. Peterson was a coward and that his performance, under the circumstances, failed to meet the standards of police officers are patently untrue. Mr. Peterson is confident that his actions on that day were appropriate under the circumstances and that the video (together with the eye-witness testimony of those on the scene) will exonerate him of any sub-par performance," the statement said.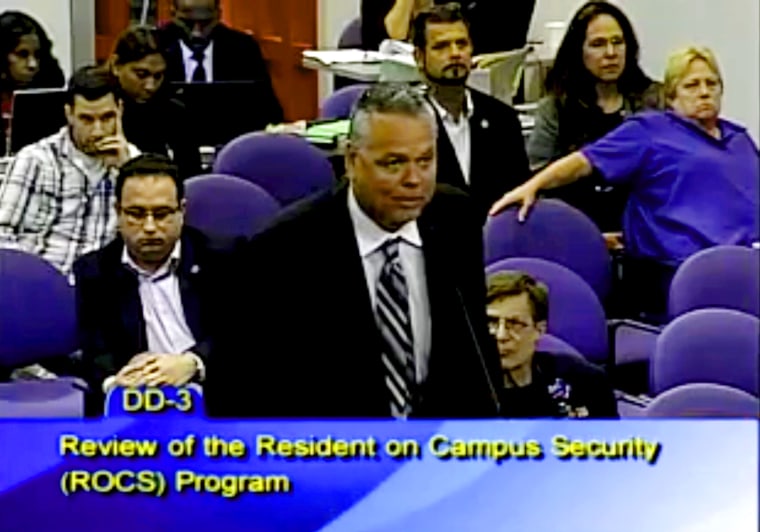 The statement quoted Peterson saying that when the gunfire first erupted, he "thought that the shots were coming from outside," which was why he "took up a tactical position."
Peterson was the first member of the Broward County Sheriff's Office to report the gunfire, DiRuzzo said. He also gave the local SWAT team keys to the building where the shooting happened, drew diagrams of the campus for them, and helped school administrators access security videos, DiRuzzo said.
The Broward County Sheriff's Office declined to respond to Peterson's statement, citing an ongoing internal affairs investigation. But the office did note that when Peterson was told about that investigation and that he was going to be suspended without pay, he chose to resign.
Israel, too, has come under mounting criticism over his department's handling of the Feb. 14 shooting and of complaints about Cruz in the months that preceded it. Three deputies from the Broward County Sheriff's Office also remained outside the school during the shooting, two law enforcement sources confirmed to NBC News on Saturday. The FBI, too, has acknowledged receiving warnings about Cruz.
Related: Trump says he would have run into Florida school without a weapon
Florida Gov. Rick Scott has asked state investigators to examine law enforcement agencies' response to the shooting.
Photos: Florida school shooting leaves families distraught
Fred Guttenberg, whose daughter Jaime died in the shooting, told MSNBC Monday that "everybody's right to be enraged" at authorities. "They failed my kid, they failed the 16 other people," he said.
Asked what he thought of Peterson's response, Guttenberg replied, "I'm sorry, I'm not feeling sympathy for you."
But Guttenberg also said he didn't want the public's attention to be diverted from the task of preventing school shootings in the future.
Monday was also the day when staff began preparing for students' Wednesday return to Stoneman Douglas High.
"We all want to be there for them," social studies teacher Greg Pittman told NBC News. "We want to be there for each other."