A Florida teen who was shot five times while locking the door to a classroom during the school shooting last week is recovering, police said Sunday.
Anthony Borges, 15, is being hailed as a hero for his actions during the Marjory Stoneman Douglas High School shooting that killed 17. His fellow students say Borges' actions saved their lives.
The teen was shot in his back and legs as he locked the door and blocked the doorway with his body, leaving the other 20 students unharmed as the gunman continued to fire.
Borges' best friend, Carlos Rodriguez told ABC News, that it was Borges' quick-thinking actions that saved his life.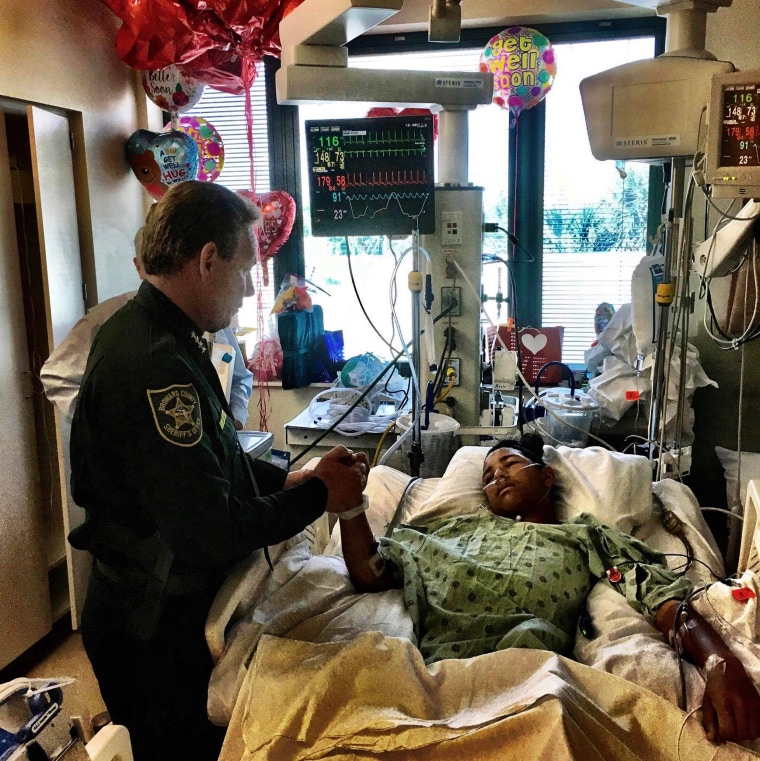 "None of us knew what to do. So, he took the initiative to just save his other classmates," Rodriguez said.
In a Facebook post that's gone viral, Broward Sheriff Scott Israel is pictured with Borges in the hospital and said to be honored by the visit, as Borges lays showered in gifts and balloons.
"Fortunately, he is recovering —but has a long road ahead with more surgeries needed," read the Facebook post. "Please join us in praying for the swift recovery of Anthony and all the other victims of this horrific criminal act."
A GoFundMe page, confirmed by the sheriff's office, for the Borges family has been met with overwhelming enthusiasm; it has raised more than $100,000 in donations since it was created Thursday. The teen's father, Royer Borges, is proud of his son's actions amid the chaos.
"He's my hero," said Royer Borges, a sentiment shared by many. "I only ask that people pray for him."
Borges and other victims still hospitalized are in fair condition and stable.
In the wake of the shooting's aftermath, students are fighting for a change in gun legislation to address the violence that put students like Borges in the line of fire.