Florida's "stand your ground" law is being tested again after a 28-year-old father was mortally wounded in front of his young children following an argument with another man over a handicapped parking space.
The State Attorney's Office is expected to review the case and make the final decision on whether it falls within the claim of self-defense — under a law that first gained prominence in the 2012 shooting death of unarmed black teenager Trayvon Martin. State prosecutors could not immediately be reached for comment Monday.
Surveillance video taken from the Circle A convenience store in Clearwater last Thursday showed Markeis McGlockton, his girlfriend Britany Jacobs and their three young children pulling into a handicapped spot. McGlockton ran into the store with their 5-year-old son.
A man in a light-colored hat — later identified as Michael Drejka, 47 — went up to the car, and he and Jacobs got into a spat.
Pinellas County Sheriff Bob Gualtieri said at a news conference Friday that the two were arguing over whether Jacobs could be in that parking space.
As Jacobs stepped out of the car, McGlockton came out of the store and shoved Drejka to the ground. In response, Drejka pulled a gun out of his pocket.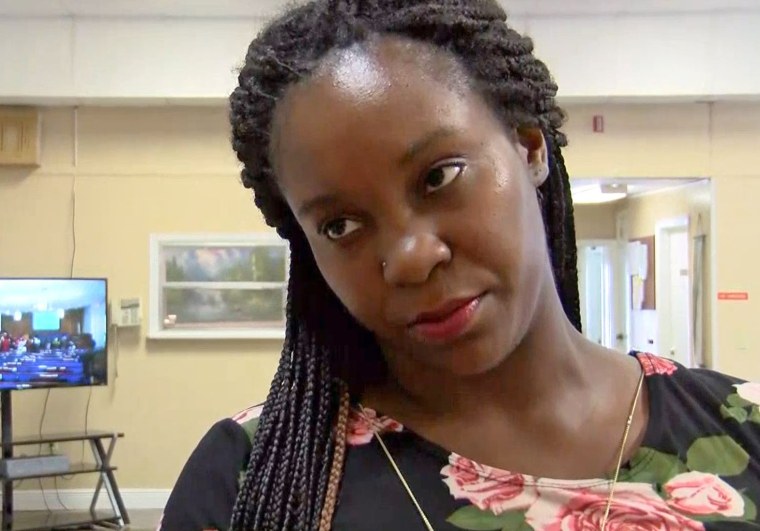 Drejka could be seen firing at McGlockton as the young father stepped away. McGlockton was wounded in the chest, and ran back into the store, where surveillance footage from inside showed him falling to the ground in front of his 5-year-old.
McGlockton later died at the hospital.
Gualtieri said that the video does appear to show Drejka protecting himself, so his agency does not have an authority to make an arrest "unless we have probable cause that the person committed a crime."
"Markeis should not have gone up and slammed this guy to the ground. Markeis wouldn't be dead if Markeis didn't slam this guy to the ground," Gualtieri added. "So Markeis has got skin in this game, too. And the reason why it makes it justified, and within the framework of 'stand your ground,' is because of what Markeis did."
He said that it will fall on the state to determine whether Drejka was "not entitled to use force in this circumstance."
The sheriff, however, said the circumstances surrounding the shooting were not clear-cut.
"There is a pause — even if it's only for a couple seconds — there is a pause between the time Drejka hits the ground and he shoots. That pause gives me pause," Gualtieri said. "That pause gives me some concern. And it goes back to what I said when I opened: just because you can, doesn't mean you should."
McGlockton's father, Michael, said that his son was just standing up for a family he adored.
"Markeis was a good man — he was all about his kids," Michael McGlockton said in an interview with NBC News on Monday. "He wasn't out there looking for trouble, but he would stand up for his family and that's exactly what he did. As a man, if you see someone confronting someone that you love, what are you gonna' do? You're gonna' run to their defense. You're gonna try to protect them."
Michele Rayner, a lawyer representing the dead man's family, added that Drejka was so close to Jacobs' car door that she would have hit him had she opened it.
"So would he have shot her then?" Rayner said. "If anyone was really standing their ground or defending someone, Mr. McGlockton was defending his family.
Drejka could not be reached for comment Friday.
Another Circle A customer, Rick Kelly, told NBC affiliate WFLA that he encountered Drejka in a similar situation a couple of months ago. Kelly said he had pulled into that same handicap spot and Drejka began inspecting his decals to see if he had the right to be there. The situation escalated.
"He was basically threatening to shoot me that day," Kelly said.
And in 2012, Tyler Smith, 18, accused a driver later identified as Drejka of hanging a gun outside of his truck window during a road rage incident in Palm Harbor, northwest of Tampa, according to law enforcement documents obtained by NBC News.
Smith, whose account was corroborated by his passenger, told a Pinellas County sheriff's deputy that Drejka began yelling and honking at him when he stopped at a yellow traffic light, the documents say.
Smith said Drejka then dangled a black handgun from his driver's side window and placed two magazines on his truck's dashboard. After Drejka followed the car, the passenger told the deputy, Smith called the sheriff's office to report him — though he didn't want to press charges, according to the documents.
During an interview with deputies, Drejka said he'd yelled at Smith and honked his horn after the car cut him off, the documents say. Drejka denied following the vehicle or displaying a Glock that he kept in his truck's center console.
No charges were filed in the case and the documents say Drejka's concealed weapon's license was valid.
Dozens of protesters marched on Sunday and held a vigil for McGlockton as Jacobs called for justice.
"He was a great man, and you know, he didn't do nothing wrong," Jacobs said, according to WFLA. "He was just trying to protect us."
At least 24 states have some form of a "stand your ground" law, with Florida's enacted in 2005 with the help of gun lobbyists.
Since then, Floridians have been able to justify using deadly force in order to "prevent imminent death or great bodily harm." Florida goes the extra step of not requiring the gun owner to first try to flee from danger before pulling the trigger.
In legal cases, the defense had been required to prove a case of "stand your ground" — until last year, when it was changed to put the burden of proof on the prosecution.
This change could leave prosecutors with a "very tricky case" if they pursue charges in McGlockton's killing, said NBC News and MSNBC legal analyst Daniel Goldman.
"But I think there is a real possibility that the state attorney general will look at this and [say]...'You know what, it shouldn't be our decision as prosecutors to say whether or not this was a proper use of stand your ground law,'" Goldman said. "We have a jury of peers in this country for a reason. Let's present this to the jury and let them decide."
George Zimmerman, a neighborhood watch volunteer, had claimed self-defense when he fatally shot Martin, a 17-year-old high school student who had been walking through the gated community.
Zimmerman was later charged with murder, but acquitted. His attorneys did not use "stand your ground" as a defense at trial, but the law still became a flash point as part of a larger national conversation.
The law was again invoked in Florida in 2014, when a 71-year-old retired Tampa police captain fatally shot a 43-year-old man inside a movie theater after the two got into an argument. A trial in the case is scheduled for next February.
The race of McGlockton, who was black, has added another element in the case as protesters on Sunday held signs demanding the "racist" law be repealed.
Shevrin Jones, a black Democratic state lawmaker in Broward County, tweeted Sunday that McGlockton's death "should give a clear sign that Florida need(s) to take a look and make changes to Stand Your Ground."
Across the country, "stand your ground" laws haven't proven to curb crime and are fraught with "racial imbalance," said David Harris, a professor at the University of Pittsburgh School of Law and host of the podcast "Criminal Injustice."
A 2015 study in the journal Social Science & Medicine found that a person charged in such cases is twice as likely to be convicted of a crime if they killed a white victim as opposed to a minority.
In the McGlockton case, the surveillance video helps to shed some light on what occurred, Harris said, but it's "not an open and shut" justification for deadly force simply because Drejka had been pushed to the ground.
Still, if prosecutors decide to charge Drejka, they will face a "heavy pretrial burden" to prove he wasn't acting in self-defense, Harris said.