A Florida school district removed a middle school teacher from her classroom after it was revealed that she had secretly hosted a white nationalist podcast, raising concerns that she may have exposed her students to such ideology.
Dayanna Volitich, 25, remains a social studies teacher at Crystal River Middle School in Crystal River. The Citrus County School District said Sunday that it was initially contacted by HuffPost about Volitich's ties to the podcast "Unapologetic," which spurred it to notify human resources and launch a review. HuffPost first reported on the allegations on Saturday.
"The teacher has been removed from the classroom and the investigation is ongoing," the school district said in a statement, declining to release more information until the probe is complete.
In a statement also released Sunday by Volitich's attorney, the teacher did not deny operating the podcast, which she said she did so under the Russian name Tiana Dalichov. But she maintained that she "employed political satire and exaggeration, mainly to the end of attracting listeners and followers, and generating conversation about the content discussed between myself and my guests."
Volitich, however, said that the statements made about her alleged white nationalist views don't "have any truth to them" and that she never injected her political beliefs into her classes.
"The views 'Tiana Dalichov' espouses do not pervade my professional career," she added. "As an adult, my decisions are my own, and my family has nothing whatsoever to do with my social media accounts or my podcast. From them, I humbly ask for forgiveness, as it was never my intention to cause them grief while engaging in a hobby on my personal time."
Volitich could not immediately be reached for comment.
The educator ran the podcast and a related Twitter account — since taken down — that expressed racially charged messages and white nationalist views, HuffPost reported.
One tweet posted by @TianaDalichov said in February: "It isn't supremacist or hateful to prefer your own people over others."
In another tweet last fall, the account shared a picture of a workbook that mentioned "confronting racism in classrooms."
"I literally feel brain cells dying as I read this (expletive)," the post said.
NBC News has not independently verified HuffPost's report.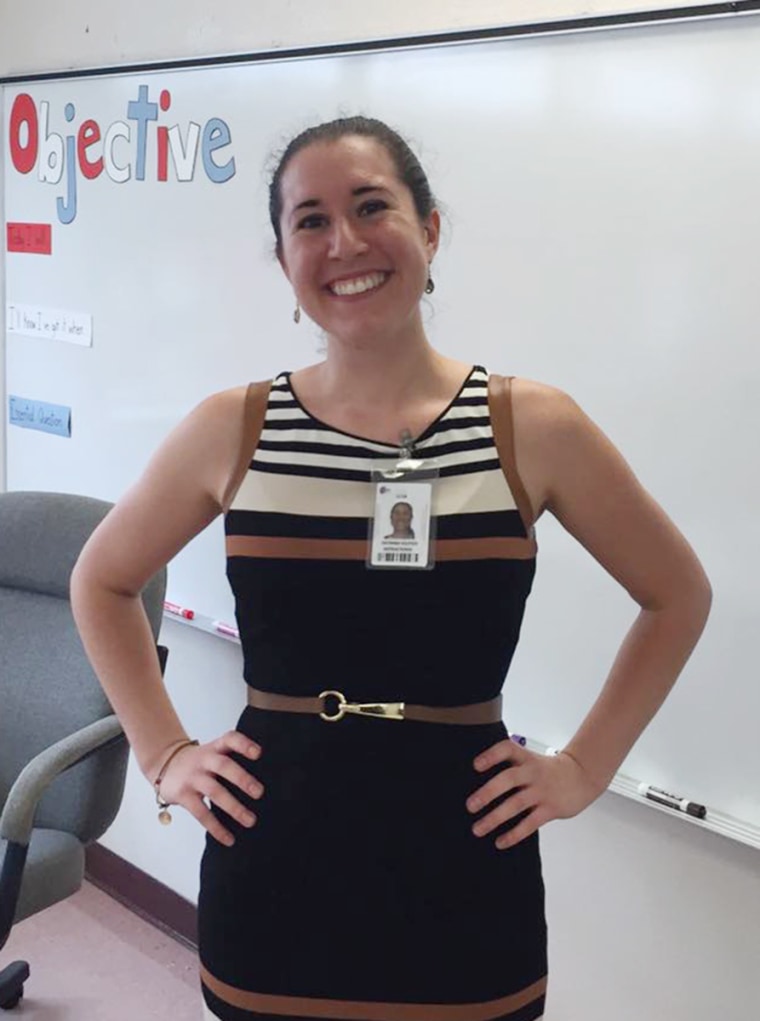 In a Feb. 26 episode of the "Unapologetic" podcast, Volitich interviewed prominent white nationalist Lana Lokteff, a host of Red Ice TV, which the Southern Poverty Law Center describes as a hate group. When the school's principal approached her about expressing her political views to students, Volitich said on the podcast that she lied and said the parents' concerns were unfounded.
"And she believed me," Volitich said with a laugh.
The conversation between Lokteff and Volitich circled around numerous topics, including teaching white nationalist ideology to children, how Volitich felt constrained by her school's administration and the need for private schools in which white nationalist views could be taught outright. "Hit me up when you're ready," Volitich said.
They also commented on how some races are better than others.
"This is science though," Volitich added. "So many other researchers have already looked into this. That's just the way it is. There are races that have higher IQs than others."
Crystal River Middle School is nearly 90 percent white, according to the National Center for Education Statistics. The community is about 80 miles north of Tampa.
Volitich became certified to teach in Florida in July 2016, state records show.
The former Pennsylvania resident graduated from The Ohio State University in 2014 with a bachelor of arts degree. Under her Dalichov pseudonym, she espoused her views online in recent months about school violence, politics and the challenges of teaching.
After the fatal shooting last month of 17 people at a high school in Parkland, Florida, the Dalichov Twitter account directed a tweet to Parkland survivor David Hogg to "stop acting like a toddler" and that "sometimes you don't always get what you want."
Last week, when a teacher fired a gun inside of a Georgia high school, renewing conversations about the dangers of having firearms on campus, Volitich uploaded a 37-minute video in which she appeared to question if the incident was a conspiracy by a "lifetime liberal" teacher to prevent the arming of educators.
On social media, Volitich has also discussed and retweeted controversial statements about Jews and Muslims, prompting the Dalichov Twitter account to be suspended in October.
The idea that teachers carry implicit biases into classrooms was studied in 2016 by Yale University researchers who found that preschool teachers showed a tendency to observe black males more closely than their white counterparts — revealing how they can be judged differently.
Researcher Walter Gilliam, a professor of child psychiatry and psychology at Yale, said that unrecognized biases can be dangerous, especially since children learn from behavioral cues.
"The kids pick it up. The kids just see our behavior, and they take note of why are you always calling out on one kid and not calling out on the other ones," Gilliam said.
Young children, he added, learn from adults "who's safe and who's not safe, what's OK and what's not OK."
"Just because a person doesn't say overtly racist things, and it looks like they're having no impact whatsoever, that's not true that biases aren't coming across," Gilliam said.
A mother of a student in Volitich's social studies class told NBC News that her daughter recounted at least one troubling conversation.
"They were talking about segregation in a civil rights type of capacity, and the teacher somewhat alluded that segregation might possibly be OK in her opinion," said parent Meredith Bleakley.
Bleakley said she had a discussion with her daughter to speak up if she feels a teacher is being inappropriate.
"This is not what this community stands for," she added. "This is a small town, so it's very upsetting to find out that this is going on in our school system."