The South became a winter wonderland on Wednesday when flakes fell in northern Florida — part of a larger storm system that spread freezing rain, snow and sleet into Georgia and the Carolinas in the afternoon.
The storm is forecast to keep moving further north and is threatening to drop more than a foot of snow in New England this week.
The snowstorm is rapidly strengthening through a process called bombogenesis, which is described as a coastal low that intensifies quickly and has brought the unusual weather to states in the Southeast. Additionally, it is bringing fierce weather conditions up the East Coast through Thursday followed by extreme cold.
The cold weather has been linked to the deaths of at least 20 people in the U.S. since Dec. 26.
Airlines canceled more than 570 flights in the U.S. on Wednesday and a whopping more than 2,500 flights for Thursday, according to flight tracking website FlightAware.
Boston's Logan International Airport was among those affected, along with Newark Liberty International in New Jersey, according to the website. LaGuardia Airport in New York City said that more than 90 percent of its flights scheduled for Thursday were canceled due to the forecasted snow storm. American Airlines said it canceled more than 630 Thursday flights.
Freezing rain turned to snow on Wednesday afternoon in east Georgia and South Carolina and was making its way into parts of North Carolina, according to the Weather Channel.
Power outages affected tens of thousands in the South. As of Wednesday evening there were still more than 12,400 Georgia Power customers, more than 10,200 Florida Power & Light customers and more than 2,700 South Carolina Electric & Gas customers affected, the utilities reported.
Tallahassee, Florida, measured 0.1 inches of snow Wednesday morning, in the first measurable amount in the area since 1989, the National Weather Service said.
A winter storm watch issued Tuesday by the NWS was the first that Tallahassee had received in almost four years. Although Florida's panhandle saw snow in December, this latest bitter blast left many awestruck with the rare weather event.
Photos: Normally balmy southeastern coast blanketed in snow
Astonished Floridians quickly began posting videos of the snowfall on Twitter, showing thick flurries landing in backyards and swimming pools.
One person tweeted a photo of snow accumulating in a pair of sandals and atop fire ant hills.
Although Florida won't receive much snow, the moisture mixed with the cold could still create treacherous conditions.
"There could certainly be some slick spots on the road that could impact travel, and in a region that doesn't see it often, they'll need to take care," NBC meteorologist Sherri Pugh said.
On Wednesday, the office of the mayor of Tallahassee, Andrew Gillum, urged locals to be careful while traveling.
"#WinterStorm update: after our dusting this morning, we are still asking everyone to exercise significant caution and stay off the roads as much as possible. Still very slick," the office tweeted.
In South Carolina, 77 incidents were reported between Jasper and Charleston as of 11 a.m. ET, the South Carolina Highway Patrol tweeted. Since some of those incidents were due to icy roads, drivers were urged to stay away from coastal areas. A stretch of Interstate 95 near the Georgia border was iced over and trucks were having a hard time traveling on it, creating delays.
Georgia Gov. Nathan Deal declared a state of emergency in his state for 28 counties, and in North Carolina, Gov. Roy Cooper declared a state of emergency for all eastern and several central counties.
The winter storm, impacting 41 million people from northern Florida to Maine, was expected to intensify in the already-frigid Northeast over the week. The strip of ice and snow stretching up to New England is being caused by a powerful low-pressure system intensifying off the East Coast, according to The Weather Channel.
A blizzard warning was issued on Wednesday for Norfolk, Virginia, and parts of coastal Maine and Massachusetts.
"What we're really worried about are these strong winds that will result in blowing snow and whiteout conditions," Pugh said.
Virginia Gov. Terry McAuliffe declared a state of emergency in response to the impending storm on Wednesday afternoon and urged Virginians to prepare. The system could dump up to a foot of snow in portions of east Virginia, he said in a statement.
"With this forecast in mind, all Virginians should take the necessary precautions now to ensure they are prepared for the travel disruptions, power outages and other threats to health and safety that could arise during this significant weather event," he said.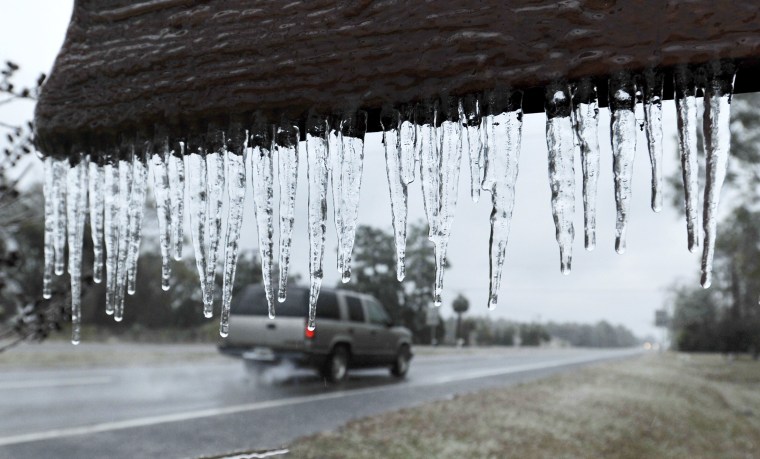 Meanwhile, Massachusetts Gov. Charlie Baker urged people to stay off the roads and people to stay indoors on Thursday, saying he was "anticipating white-out conditions for part of the day" during a news conference. Earlier, officials announced that all Boston public schools would be closed on Thursday due to the impending weather.
And in New York City, Mayor Bill de Blasio announced that all public schools would also be closed Thursday due to the storm.
Extreme lows coupled with the potential for a loss of power could make for a dangerous combination, meteorologists warned.
As of Wednesday, most states in the storm's path were not experiencing unusual lows. However, the Northeast will see single-digit temperatures during the early mornings and overnight on the weekend.
"It's chilly, but what's really going to be a big impact is that after this storm moves out, the Northeast is expecting extremely cold temperatures this weekend," Pugh said. "Any power outages will be exacerbated by potential daily record lows."