A Florida sheriff has responded to a lawsuit filed by the family of a man killed while walking with an unloaded air rifle, saying he caused his own death.
Jermaine McBean, 33, was fatally shot by police in 2013 as he walked home from the pawn shop where he bought the rifle — after three people called 911 in alarm.
Police said that McBean ignored their orders to drop the weapon and pointed it at them on the grounds of an Oakland Park apartment complex, giving them no choice but to shoot.
McBean's family has obtained a photograph showing that, contrary to statements by police, he was wearing headphones at the time of the shooting and, they say, explains why he may not have heard the orders.
Have information about this story or suggestions for other stories NBC News should investigate? Just click here.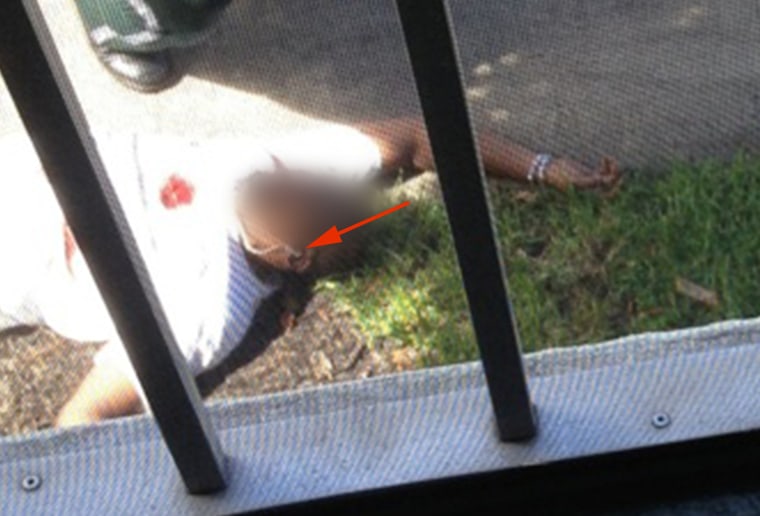 One of the 911 callers has also come forward with a claim that McBean had the rifle perched on his shoulders, behind his neck, and was not pointing at police when he was shot.
The family filed a wrongful-death lawsuit in federal court last month, and this week, the Broward County Sheriff's Office filed its preliminary answer this week.
"Defendants allege and assert that any measure of force utilized againstJermaine McBean was reasonable, justified and/or necessary under the circumstances," it says.
"Defendants allege and assert that it was the Jermaine McBean's conduct that is the sole cause of his alleged injuries and damages, if any."
The family's lawyer, civil-rights attorney David Schoen, called the assertion "disappointing."
"Jermaine was a beloved young man with a brilliant future. He walked home to his apartment carrying an unloaded air rifle while wearing headphones. Nothing about that should have caused his death," Schoen said. "His death was a tragedy and must be recognized as such by all, but perhaps most especially the Sheriff."
In a statement Monday, Sheriff Scott Israel defended his office's handling of the case and denied the McBean family's allegation that the photo showed there was a coverup.
But his office said it is reviewing a decision to give the officer who killed McBean a bravery commendation for the shooting while it was still under investigation.