ST. PETERSBURG, Fla. — A Florida sinkhole that in 2013 fatally swallowed a man sleeping in his own house has reopened for a third time, only now it's behind chain-link fencing and doing no harm to people or property.
Hillsborough County officials said the sinkhole located in the Tampa suburb of Seffner appeared again Monday, which they said is not unusual for such underground formations especially in central Florida with its porous limestone base. The hole was about 19 feet wide at its largest point.
"None of the homes surrounding this appear to be in any danger," said Jon-Paul Lavandeira, director of the county code enforcement department. "This is not uncommon, what we're seeing here."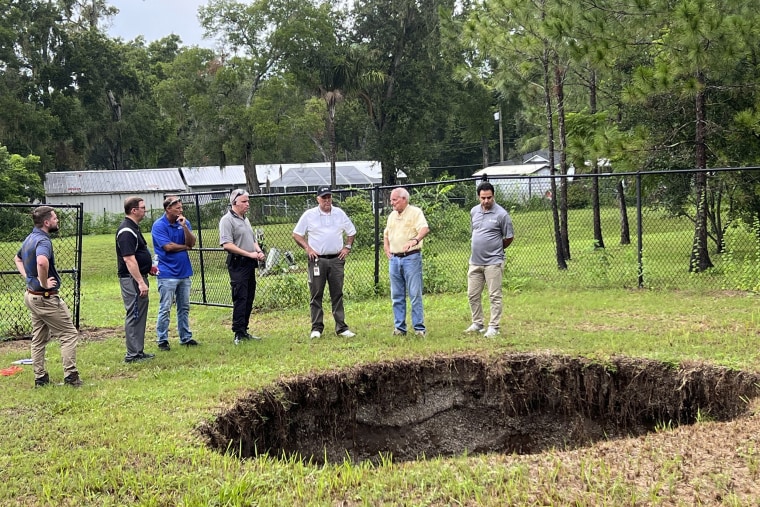 A decade ago, 37-year-old Jeff Bush was sleeping in a bedroom when the earth opened up and devoured him and part of the house. Five other people escaped unharmed and Bush's brother, Jeremy, tried in vain to dig him out of the hole. Jeff Bush's body has never been found.
"There's not a day goes by I don't think about my brother," Jeremy Bush told WTSP-TV. "This is the only place I've got to visit him."
After Bush's home was demolished, county officials erected a pair of fences around the lot to prevent any further injury. The sinkhole opened again in 2015 and was filled in with a water-gravel mixture, Lavandeira said at a news conference Tuesday. That will be done again.
"If there's a reoccurrence, it's in a controlled area. It's going to stay right there," he said.
Sinkholes are as much a part of the Florida landscape as sandy beaches, alligators and developers. Florida has more sinkholes than any state in the nation, mainly because the peninsula is comprised of porous carbonate rocks such as limestone that store and help move groundwater.
When dirt, clay or sand on top gets too heavy for the limestone roof, it can collapse and form a sinkhole. Sinkholes are caused naturally but they can be triggered by outside events such as rainfall or from pumping groundwater used to irrigate crops. The central Florida region is ground zero for sinkholes, according to the state Department of Environmental Protection.
The state Office of Insurance Regulation said sinkhole claims in Florida cost insurers $1.4 billion from 2006 to 2010.
Most sinkholes are small, affecting things like parking lots and roadways. But some are quite large, such as one near Orlando that grew to 400 feet across in 1981 and swallowed five cars, most of two businesses, a three-bedroom house and the deep end of an Olympic-size swimming pool.
It's quite likely the Seffner sinkhole will reopen sometime in the future, Lavandeira said.
"This is Mother Nature. This is not a man-made occurrence," he said.