The Florida winners of the historic $1.58 billion Powerball drawing stepped forward Wednesday to collect their portion of the prize.
Maureen Smith and David Kaltschmidt, Long Island transplants who have lived in Melbourne Beach since 1991, made their debut more than a month after the Florida Lottery announced that one of the winning tickets in the Jan. 13 lottery was purchased in their town.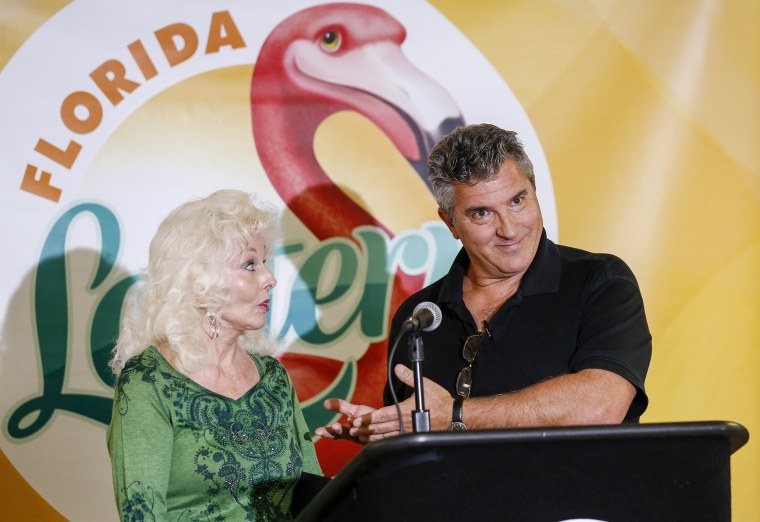 The married couple has opted to take a lump sum of $327 million.
"No," Smith said, when asked if she had any plans for the money beyond getting a massage. "We have to think about it. ... I just know I want to help the special people in my life."
"I will be retiring," added Kaltschmidt, a longtime engineer with Northrop Grumman, who intends to replace his aging truck.
Kaltschmidt said he didn't believe it when his wife told him they were winners. "I thought, she's messing with me," he said.
Smith said it was hard to keep their secret from their family and friends. Her husband agreed.
"I lost 10 pounds," he said. "There was a lot of pacing at night."
The couple has set up a trust called the Nickel 95 Trust to manage the dough. They declined to explain the name, divulge whether they have children, or discuss their May-December marriage — he's 55. she's 70.
Two other lucky families also picked the winning numbers 8-27-34-4-19 and 10: John and Lisa Robinson of Munford, Tennessee; and an as-yet-undisclosed ticket-holder in Chino Hills, California.
The Robinson family also chose to take their jackpot in the form of a lump sum.
"We're not guaranteed tomorrow. You just can't sit down, lay down and not do nothing anymore," John Robinson told TODAY. "How long you going to last?"
Odds of having a winning ticket were placed at 1 in 292 million.