A white woman accused of fatally shooting her Black neighbor in Florida following a dispute over the victim's children was granted bond Friday.
Susan Louise Lorincz appeared in court days after she was arrested on charges of manslaughter with a firearm, culpable negligence, battery and two counts of assault.
The Marion County Sheriff's Office has said Lorincz, 58, had a long-standing "neighborhood feud" with Ajike "AJ" Owens about Owens' children's playing in a grass field near her home. That feud culminated June 2, when authorities said Lorincz shot Owens, a 35-year-old mother of four, through a closed door in Ocala.
The case has drawn national attention and raised questions about race and Florida's "stand your ground" self-defense law.
During Friday's court appearance, Judge Robert W. Hodges set Lorincz's bond at $154,000 — $150,000 for the manslaughter charge and $1,000 for each misdemeanor.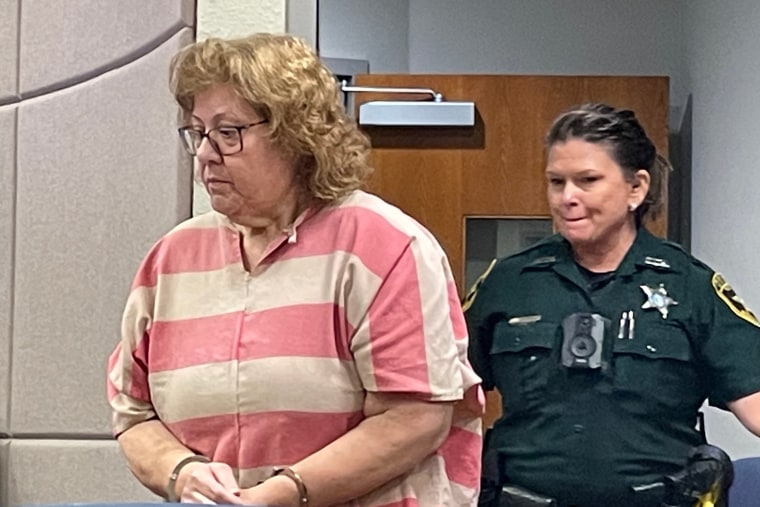 Lorincz was ordered to wear an ankle monitor, to have no contact with Owens' family and to not leave the state of Florida. If she posts bond, she must be accompanied by another person to retrieve her belongings from her residence, said the judge, who also barred Lorincz from possessing firearms.
When asked how much money she could afford to post bond, she told the court: "Like $1,700."
Attorneys representing the state asked if she was aware that her landlord told detectives he was evicting her. She responded, "No, I was not aware."
NBC News on Wednesday observed a "Notice to Pay Rent or Quit" on Lorincz's front door. It was dated June 6, named Lorincz as the tenant, demanded $750 in rent and said she could reinstate her tenancy if she paid prior to June 13.
Lorincz told the court she is unemployed, owns no property and is not a business owner. 
Anthony Thomas, a representative speaking on behalf of the Owens family, had asked for a high bond in the case. The state requested it be set at $200,000.
NBC News is reaching out to Lorincz's attorney for comment.
Judges set bonds based on the charges and information available in the case.
Manslaughter is when a person engages in intentional or culpably negligent conduct that results in the death of another person. In Florida, manslaughter is considered a second-degree felony and has a maximum sentence of 15 years. It is less weighted than first-degree murder, which is a capital felony and has a maximum sentence of life or the death sentence in Florida.
The shooting unfolded around 9 p.m. June 2.
Lorincz had been angry because Owens' children were playing in a field near her residence and "engaged in an argument" with the children, the sheriff's office said.
During the argument, Lorincz threw a skate at Owens' 10-year-old son and later swung an umbrella at him and his sibling, according to the sheriff's office. Owens then knocked on Lorincz's door multiple times, and Lorincz fired one shot through the door, the sheriff's office said.
Owens was hit in the upper chest and pronounced dead at a hospital, according to the sheriff's office.
Sheriff Billy Woods said investigators determined the shooting wasn't justified under the state's "stand your ground" law, calling it "simply a killing."
Neighbors told NBC News this week that Lorincz had a history of harassing children in the area — including using racial slurs against them. 
Lorincz also told investigators that she called neighborhood children the N-word "out of anger in the past," according to a document filed with the court Thursday.