The Florida zookeeper who was fatally mauled by a tiger last week broke protocol by entering the animal's enclosure, a zoo official said.
Tiger expert Stacey Konwiser, 38, failed to follow the zoo's policy when she entered a portion of the creature's enclosure on April 15 "after it was clearly designated as accessible by a tiger," Palm Beach Zoo president Andrew Aiken said in a statement Friday.
"Under Palm Beach Zoo policy, zoo employees are never allowed to enter a tiger enclosure to which the animal has access," Aiken said.
Zoo officials did not immediately return requests for comment on whether that particular policy is documented, but the zoo's statement said it has a written Standard Operating Procedure for dealing with tigers that was last updated by Konwiser in January.
Related: Florida Zookeeper Killed by Tiger to Be Memorialized by 5k Run
The tiger attacked Konwiser, leaving her with fatal injuries to her neck. She was attending to the tigers alone, which is permitted by the Association of Zoos and Aquariums, according to the zoo.
The zoo's latest explanation comes after zoo spokeswoman Naki Carter initially said Konwiser, who had worked at the zoo for three years, was performing "daily operating procedures" when the tiger attacked her.
"There was nothing out of the norm as far as what she was conducting at that time," Carter said.
But the statement issued by Aiken on Friday, along with a lengthy question and answer statement posted by the zoo, changed course.
"There is absolutely no mystery as to how Stacey Konwiser died," a portion of the statement said. "The question is: why did a deeply talented and experienced zookeeper, fully aware of the presence of a tiger and knowledgeable of our safety protocols, enter a tiger enclosure into which a tiger had access?"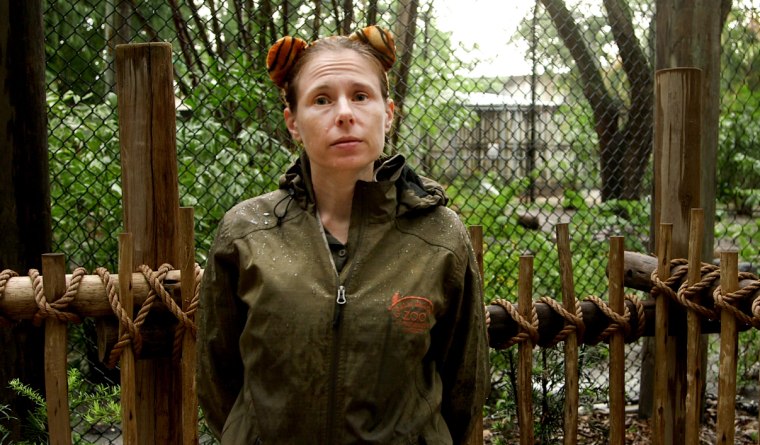 The zoo received criticism from the public and media following the attack after West Palm Beach police said officers had to wait for tranquilizer to take effect on the tiger before rendering aid to Konwiser. Many said zoo officials should have shot and killed the animal, which they are authorized and equipped to do.
Related: Palm Beach Zoo, Where Keeper Was Mauled by Tiger, Has Had 3 Past Incidents
"We stand by our decision to tranquilize," Friday's statement said, adding that zoo officials had to consider employee safety, the size of the space the animal and victim were in, and whether the bullet might ricochet.
Aiken said five different agencies, including the zoo, were investigating the attack.
The statement from the zoo said that surveillance cameras were set up in the enclosure where Konwiser was attacked, but they weren't on because they are only used when the zoo is monitoring newborn cubs.