The Defense Intelligence Agency didn't know former director Mike Flynn had been paid nearly $34,000 by a Russian state media outlet when it renewed his security clearance in April 2016, two U.S. officials told NBC News.
Flynn had disclosed the December 2015 trip to Moscow to the DIA, but he never told them he was paid by RT, the official said. The Defense Department inspector general is now investigating whether Flynn broke the rules. The U.S. Constitution forbids retired generals from accepting foreign payments without permission.
Flynn's failure to inform the DIA he had been paid has not been reported previously. In the past, lawmakers who reviewed documents said they had seen no evidence he had reported the fees. The revelation casts new light on the White House assertion Monday that the Obama administration should have denied Flynn a security clearance if officials were concerned about him.
White House spokesman Sean Spicer made that statement in response to an NBC News report that President Obama warned then-President-elect Trump about hiring Flynn when Trump and Obama met in November.
NBC News also has learned that when he became national security adviser, Flynn was required to obtain a new White House security clearance under the auspices of the CIA, which vets National Security Council appointees. That clearance was never granted before he was pushed out of the job, one official with knowledge of the matter said.
The Obama administration fired Flynn as head of the Defense Intelligence Agency in April 2014. Like all former directors, he retained a top-level clearance so the current director could consult him about classified programs. It is possible he occasionally was consulted on classified matters by the DIA or the military.
Related: Obama Warned Trump Against Hiring Flynn, Officials Say
In January 2016, Flynn's clearance came up for a five-year review, and in April the DIA renewed it. Flynn disclosed his July 2015 trip to the RT dinner in Moscow, but not that he was paid, according to two U.S. officials with direct knowledge of the matter. One official said there is no specific question on the relevant form that covers payments for speeches by foreign entities, but another said Flynn was told that any payments in connection with the trip were to be disclosed.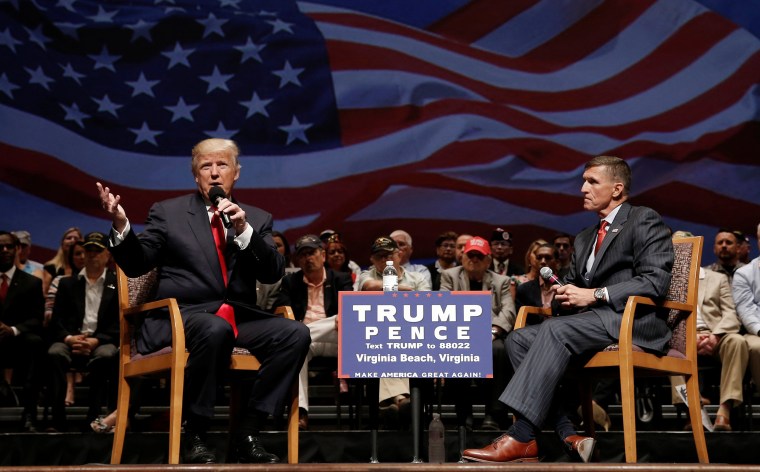 Beginning in the summer of 2016, Flynn participated in classified intelligence briefings of candidate Trump.
In January 2017, he became White House national security adviser. Even though he still had his DIA clearance, he was required to fill out a new security clearance form, to be vetted by the FBI and the CIA, the two U.S. officials told NBC News. He was also interviewed by White House lawyers about any potential flags in his background.
His DIA clearance was sufficient for him to do his job as national security adviser, but the new clearance eventually would have been required. It was never granted, according to one official with direct knowledge. By this time, people inside the government knew he had been paid for the RT dinner, had lobbied for Turkish interests, and had had a series of contacts with the Russian ambassador.
On Feb. 14, Flynn resigned under pressure, after White House officials say he misled Vice President Pence about his conversations with Russian ambassador Sergey Kislyak.
The next day, the DIA suspended Flynn's access to classified information, pending a review.
An attorney for Flynn declined to comment.