The resignation of national security adviser Michael Flynn raises deep, unresolved questions about President Donald Trump's relationship with Russia and whether America's longtime adversary tried to tilt the election in his favor.
The leap from Flynn's actions to some broader conspiracy remains huge. But the lingering concerns could develop into a legal minefield for the White House, as congressional inquiries unfold and calls mount for an independent criminal probe, lawyers and scholars say.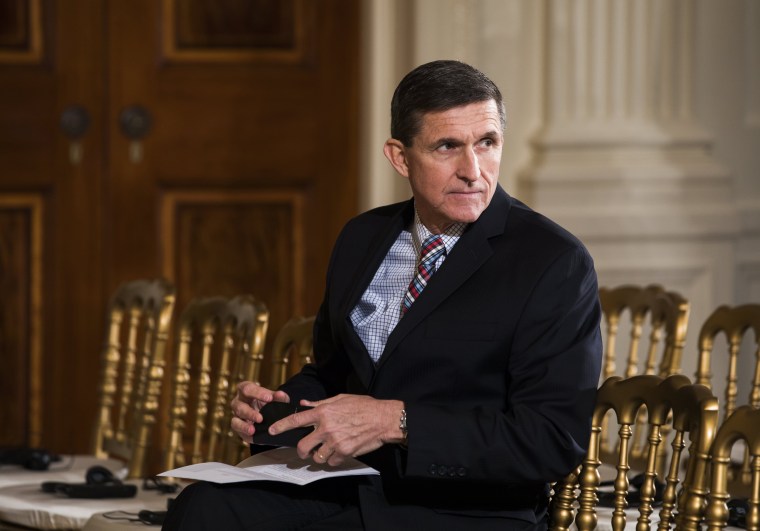 Other officials from the Trump campaign or White House could potentially be swept into the scandal, which has fed suspicions of Trump's relationship with Russian President Vladimir Putin, his business ties with Russia and reports of Russian hackers' leaking information that damaged Trump's rival, Hillary Clinton.
"The problem isn't what already has happened. It's what will happen now, as the Senate investigations ramp up," said Stan Brand, a former general counsel to the House of Representatives who has represented high-profile government officials in public corruption cases.
"The bigger fish isn't Flynn and his statement"
"How are people going to react to that? Are they going to be called to testify? What will they say, and will they be truthful? Will they play it straight?" he asked. "If they don't, then they're exposed."
But first comes Flynn. He could be in serious trouble, despite the White House's assertion that it had reviewed his actions and determined that there was no "legal issue."
His fate depends on what he told FBI agents about his December phone conversations with Russia's ambassador to the United States, which reportedly included talk of the Obama administration's imposing sanctions on Russia for the alleged hack.
If Flynn told agents something different from what turned up in intercepts of the call — as he did with Vice President Mike Pence, raising concerns about potential blackmail — then Flynn potentially could be prosecuted for giving false statements, experts said.
Some legal experts have speculated whether the Justice Department could try to charge Flynn under the Logan Act, an 18th-century law that prohibits private citizens from negotiating with foreign governments. But that's a long shot, they say; the government has never successfully prosecuted anyone under that statute.
Any criminal case would fall under the jurisdiction of Attorney General Jeff Sessions, a Trump loyalist. That could spark calls for the appointment of an independent prosecutor.
"I don't see how Sessions could sustain the position of being in charge of this," Brand said.
Related: Putin, Russia Reportedly Tried to Help Trump By 'Discrediting' Clinton
At the same time, elected leaders from both parties have said they expect Congress — particularly the Senate Intelligence Committee — to investigate Flynn's activities. Flynn could be called to testify.
From the White House's perspective, Flynn's conversation with the ambassador remains a relatively small matter requiring "scandal management," said Saikrishna Prakash, an expert on the presidency at the University of Virginia Law School and a senior fellow at its Miller Center.
At least for now.
That could change, he said, if it leads investigators beyond those phone calls.
The New York Times, citing current and former U.S. officials, reported that Trump campaign aides were in contact repeatedly with senior Russian intelligence officials during the campaign. NBC News has not independently confirmed that report, which emphasized that there was no evidence of cooperation between the two sides.
"The bigger fish isn't Flynn and his statement," Prakash said. "If The New York Times is right, what were the multiple people talking about? Was it leaks on Hillary Clinton? Private dealings with the Russian government? Were they asking questions about Trump, or were they harmless calls?"
Some Trump critics have said that an inquiry must determine what Trump knew of Flynn's conversations, and when he knew it — echoes of questions that surrounded the Watergate break-in scandal that ultimately led to President Richard Nixon's resignation.
Richard Burr, R-North Carolina, vice chairman of the Senate Intelligence Committee, said his panel's review would include "any contacts by any campaign individuals that might have happened with Russian government officials."
Angus King of Maine, an Independent member of the committee, added: "It's hard to believe that Mike Flynn was acting entirely on his own."
That raises questions over how the White House will respond. It could invoke executive privilege and resist Flynn's or any White House officials' testifying — which could, in turn, prompt a fight with Congress.
Brand said that if he were advising the White House, he'd tell staffers to protect themselves by not throwing away or deleting anything and by resisting the urge to talk to colleagues about the matter.
Those are the kinds of moves that have gotten people in trouble in the past, said Brand.
"You don't want this to blow up into Watergate," he said.