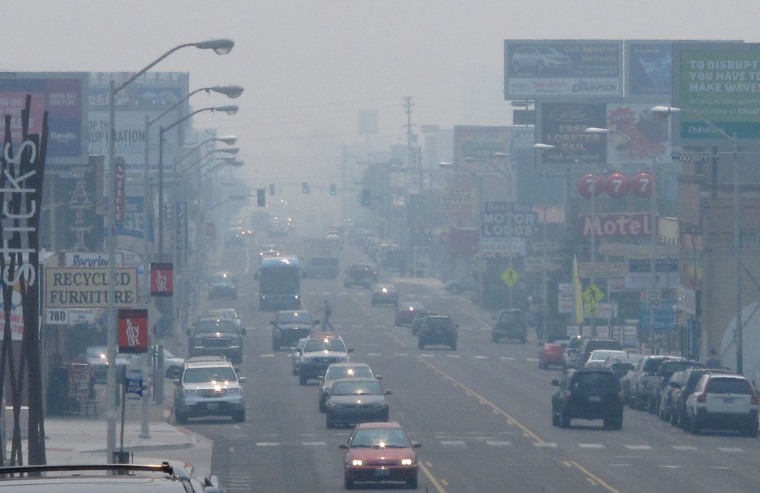 High school football teams in eight counties in Nevada and northern California have been forced to punt their season openers because of air-quality concerns created by the massive wildfire in and around Yosemite National Park.
Donnie Nelson, assistant director of the Nevada Interscholastic Activities Association, told NBC News that the Air Quality Index for the affected counties near the California border is currently at a level of 99, which Nelson said is an unhealthy level for sensitive groups, including youth.
According to Airnow.gov, good air quality will be at a level of 50 or below.
NIAA Executive Director Eddie Bonine told the Reno Gazette-Journal that his organization is acting cautiously.
"My day was conference calls, reading reports, looking at (Web) sites, and I was seeing too many ifs, possibilities and maybes," said Bonine. "I felt, right now, we needed to say, 'These are nonleague games; let's give it a few days.'"
Nelson said if the football teams can locate an available field to play at outside of the eight counties, they are permitted to do so.
"A lot of games have been rescheduled," Nelson added.
All of the eight counties are an estimated 100 to 200 miles north of the wildfire, Nelson said.
"The smoke has a large range to it," he added. "The closest counties to the actual fire are Mono and Douglas counties."
Cal Fire reported Thursday they had contained 32 percent of the fire, which had grown to more than 300 square miles, the sixth largest fire in state history.
The Associated Press, Reuters and Rgj.com contributed to this report. 
Related:
Firefighting felons: Hundreds of inmates battling Yosemite blaze
Fire still fierce, but Yosemite fills up for holiday