In the battle for a U.S. Senate seat in Georgia, one candidate is getting schooled in what not to say.
The drama started with a diss: Republican candidate David Perdue knocked Republican rival Karen Handel for not having a college degree. "There's a high school graduate in this race, OK? I'm sorry, but these issues are so much broader, so complex," Perdue said at an event. "There's only one candidate in this race that's ever lived outside the United States. How can you bring value to a debate about the economy unless you have any understanding about...what it takes to compete in the global economy?"
The remarks, made in January, were caught on video and sent to The Atlanta Journal-Constitution by an unnamed source. The paper posted the video online in early April. And then a storm began.
"Some in this race think the problems in Washington are a little too complex for a gal like me," Handel quipped at a luncheon a day after the comments surfaced.
For her campaign, the dig became a gift, providing a golden opportunity to discuss her hard-won accomplishments. Handel says she left a troubled home in Maryland at age 17, then finished high school and made her own way, eventually serving as Georgia Secretary of State. "My mom was not a well woman. She had a very severe alcohol problem. It was very unstable in that environment," she told NBC News in her first extended interview since the flap began.
"I don't talk in too much detail about it, and here's why: My father is still alive and I don't want to ever embarrass him," she said. "For me, the best decision was to remove myself from what was becoming a more and more volatile situation. I was able to live with another family and finish up high school. I tried to remember that as bad as I thought things were for me, someone else had it a whole lot worse—there was no point in me sitting around whining and boohooing."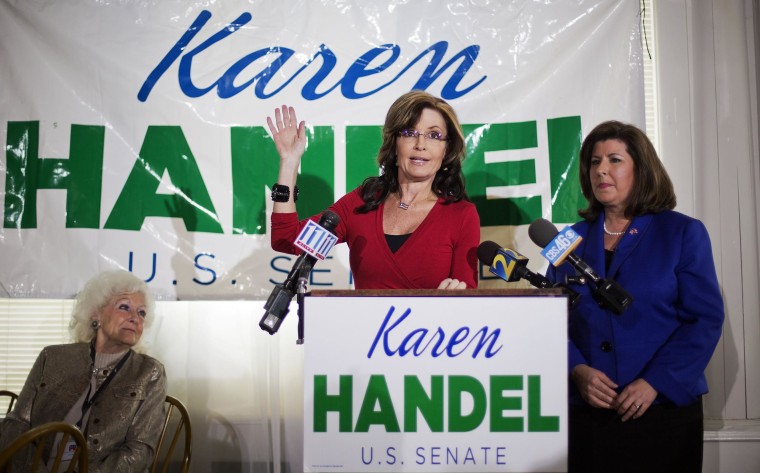 Handel is no stranger to controversy. She was an executive at Susan G. Komen for the Cure when the breast-cancer charity came under fire in 2012 for a decision to phase out a grant to Planned Parenthood, then reversed the move amid a public backlash.
The recent dustup with Perdue "very much illustrated just how out of touch he is with the majority of Georgians," she said. "For all of us, our responsibility in life is to make the most of what comes our way. I have walked in the shoes of an average person."
Perdue's camp told NBC he has worked hard to achieve success himself. "David certainly did not mean to offend anyone with his comment," said spokesman Derrick Dickey. "Like most Americans, he wasn't handed anything on a silver platter." Perdue, a former CEO of both Reebok and Dollar General, "grew up the son of two teachers in middle Georgia and worked his way through school by taking construction and warehouse jobs to pay the bills," his spokesman said. A cousin of former Georgia Governor Sonny Perdue, the candidate has undergraduate and graduate degrees from Georgia Tech, according to his website.
Perdue apologized to Handel about a week after the fracas began, on April 10, calling her on the phone. But in the meantime, her people had been busy. They sent emails calling his remarks "elitist" and "arrogant." They pointed to Census data showing that 72 percent of Georgians age 25 and up don't have a bachelor's degree. Voters were invited to send $10 to get a pair of campaign-emblazoned bootstraps.
Sarah Palin, who had recently endorsed Handel, said at an event, "There are a lot of good, hard-working Americans who have more common sense in their pinky finger than a lot of those Ivy League pieces of paper up on a wall." On the Fox News show "The Five," pundits blasted Perdue, calling him a "punk."
Handel's campaign says it has raised some $200,000 in the wake of both the Perdue gaffe and the Palin endorsement. And according to a Politico report, the American Future Fund, a big-spending national conservative group, is preparing to support Handel. (The group did not respond immediately to requests for comment.)
Polls taken before the feud showed Perdue emerging as a frontrunner among Republicans in a crowded race that includes Congressmen Jack Kingston, Phil Gingrey and Paul Broun; Handel was toward the back of the pack. The Senate seat is currently held by Republican Saxby Chambliss, who is retiring. On the Democrat side, Michelle Nunn—the daughter of longtime U.S. Senator Sam Nunn—is the frontrunner. The primary is May 20.
Handel released a statement saying she accepted Perdue's apology but that it "is not owed to me—it is owed to the many other Georgians he demeaned." In response, Perdue's spokesman told NBC, "David made a heartfelt personal call to Ms. Handel that was intended to remain private. He contacted her directly for no other reason than to let her know he was sorry for the comment. We have no expectation for her to change campaign tactics."
Before her Senate run, Handel was the senior vice president of public policy at Komen. The tangle with Planned Parenthood began, she has said, at a time when Komen faced increasing pressure from Catholic bishops and donors to cut ties with the group because it provides abortions, in addition to its health and family-planning services. The furor threatened to cause financial problems for the breast-cancer charity.
At the same time, she has said, Komen was considering restructuring the grants it gives to outside groups, phasing out grants to groups that don't provide mammograms, in order to maximize donor money. Planned Parenthood doesn't provide mammograms, but gives referrals for mammograms and provides physical breast exams.
Komen's president and CEO decided to phase out the Planned Parenthood grant, she has said, and a public uproar ensued, leading Komen to reverse its decision. Handel resigned, accusing Planned Parenthood of being a "gigantic bully" and launching an "Armageddon" in the media over a relatively small grant, a claim Planned Parenthood denied. She went on to write a book about it called "Planned Bullyhood."
"There are a lot of good, hard-working Americans who have more common sense in their pinky finger than a lot of those Ivy League pieces of paper up on a wall."
Before Komen, Handel lost a close race in the Georgia primary for Governor amid a different kind of abortion flap. In that race, a prominent anti-abortion group, Georgia Right to Life, declined to endorse her because her own anti-abortion position included exceptions for rape and incest, which goes against the group's stance. She also disagreed with the group's position on in-vitro fertilization; the group believes the infertility treatment is immoral, as human embryos can be discarded in the process.
"No one in this race cherishes human life more than I do," Handel said at the time, explaining that she and her husband had tried for 10 years to have children; she called their lack of success "the single greatest disappointment in my life."
In response, the president of Georgia Right to Life, Dan Becker, attacked her stance and called her "barren." He later said his comment was taken out of context, without specifying how.
Last month, the National Right to Life Committee, which bills itself as "the nation's oldest and largest pro-life organization," dropped Georgia Right to Life as its state affiliate in Georgia, replacing it with Georgia Life Alliance. The national group reportedly made the move because Georgia Right to Life had not endorsed an anti-abortion bill in Congress because the bill included exceptions for rape and incest.
Handel noted the irony in the fact that she was considered "not pro-life enough in the Governor's race and too much so during the whole Planned Parenthood issue." She said she is proud to have the endorsement of the Susan B. Anthony List, a national group that works to get anti-abortion candidates into office. "For me, I believe that abortion is wrong in every instance, but as we work to foster a pro-life culture in our country, we need to work in areas where we can make progress—and statutorily, having exceptions for rape, incest and the life of the mother allow us to be able to make big steps forward," she said.
Handel was first elected in 2003 as chairman of the Fulton County Board of Commissioners in Georgia, according to her website. She went on to become Georgia Secretary of State. Prior to elected office, she served as deputy chief of staff to Governor Sunny Perdue. She has also held executive positions at CIBA Vision and KPMG.
In high school, she told NBC, she got her first job, working for the school superintendent's office. She gained "almost a year's worth of solid office experience," she said, which helped her land a job after graduation with the AARP. "I'm forever grateful that I got a skill in high school—I typed. I typed a hundred words a minute," she said. "And by the way, I still type over a hundred words a minute."
After high school, she said, she did attend some college while working. "I took classes at the community college and then at night at the University of Maryland University College, taking mostly accounting courses," she said. "What I cared most about was having a good skill set that would give me a good profession so that I could earn a decent salary. I was very good with numbers and that was a good pathway for me." She didn't finish college due to long hours at work, she said, noting, "I hope that one day I'll have the opportunity to get back and finish up. No question about it."
In a recent radio ad, she detailed her career achievements, punctuating the list with her new campaign rallying cry: "And I did all of this as a high school graduate."