His field of dreams, he says, was stalked by a predator named Tony Sagona who preyed on him and the other ballplayers on their Little League team.
James Manfredonia said he was an innocent teenager in the 1970s when Sagona, his baseball coach, sexually abused him and other boys in the lineup of their Staten Island, New York, team. But neither he nor any of the other players told anybody, Manfredonia said.
And Sagona was never brought to justice.
So when the New York Legislature passed the Child Victims Act this year and opened a one-year window for victims to sue regardless of when the abuse took place, Manfredonia began hunting for his old team rosters.
His search took on greater urgency when he learned that Sagona had been recently coaching an Amateur Athletic Union (AAU) basketball team on the Jersey Shore.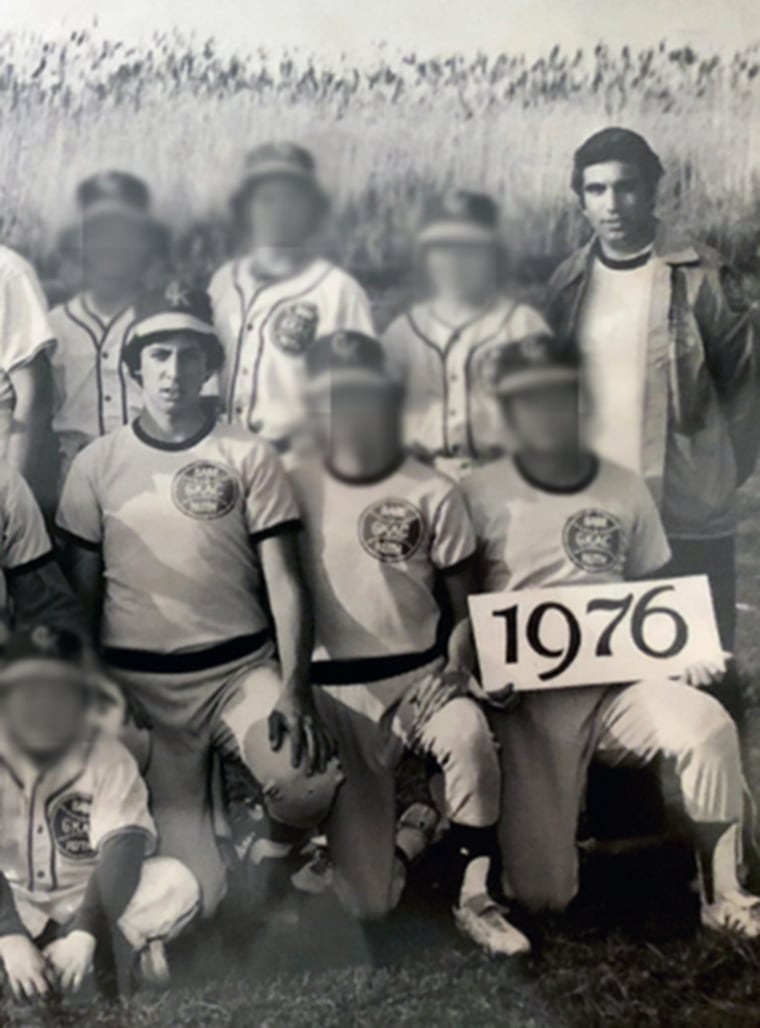 "I didn't want him to do to any other child what he did to me when I was 13," Manfredonia, 58, of New York City, told NBC News. "So I started contacting all my former teammates to see if the same thing happened to them."
In short order, he heard from Bruce Morrison and Timothy Morey, two former ballplayers who had also spent almost half a century hiding a secret that they say nearly wrecked their lives.
They, in turn, have now identified at least seven other former little leaguers who may also have been sexually abused. And they're looking for others.
Meanwhile, they hired a lawyer, Bradley Rice of Nagel Rice LLP, to sue Sagona, along with the Great Kills Baseball League and others who they believe turned a blind eye to the abuse.
"James found Bruce who found Tim," said Rice, who filed three separate lawsuits on their behalf in August and September in New York state court in Staten Island, all of which name the now 69-year-old Sagona as their abuser. "They did this."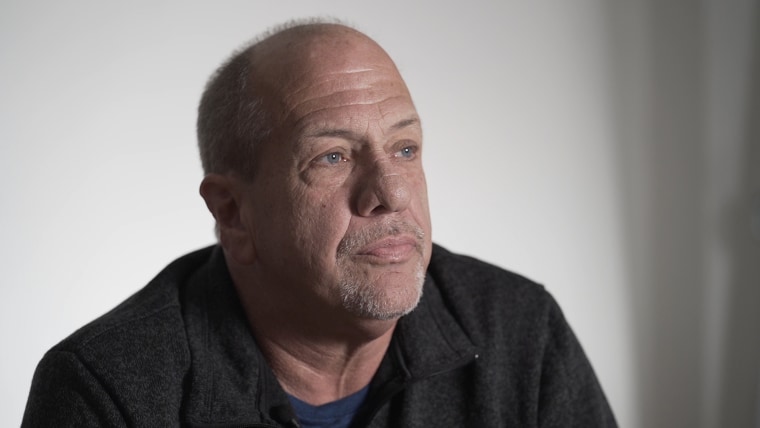 Morey, 58, said he had planned "to take my secret to the grave."
"But once we found out he was still coaching, we knew we had to do something," he said.
Morrison, 60, said he, too, had been "trying to bury this all these years."
"I loved Tony Sagona, he was my father figure," he said, growing emotional. "But he didn't protect me. He abused me."
"This ain't about money," Morrison added. "It's all about closure. We're in control now. He can't tell us to pull our pants down."
Rice is also representing Staten Island personal injury lawyer Edward Pavia, who said in a lawsuit filed Oct. 4 that Sagona began molesting him in 1978 and plied him with "cocaine and alcohol to help escalate the sexual abuse."
"Sagona, like other abusers enabled and empowered by institutions like the church and the Boy Scouts, was given free rein to molest and ruin the lives of each plaintiff and likely an untold number of other boys," Rice said.
Reached by telephone, Sagona said, "You have to talk to my lawyer."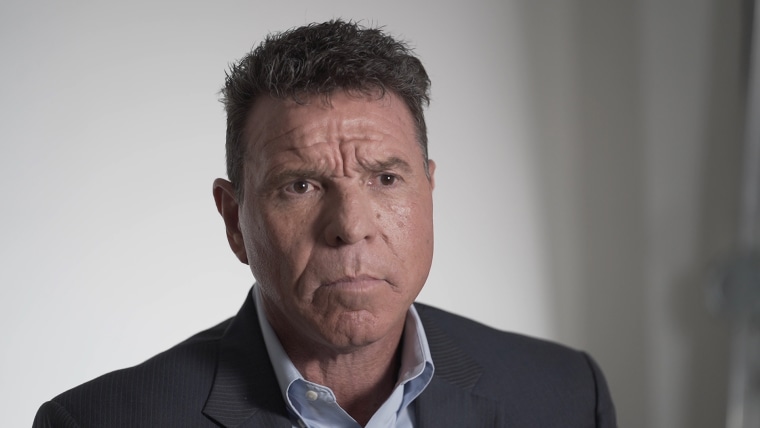 In August, after Manfredonia and Morrison filed their lawsuits, Sagona dismissed the accusations leveled at him as "ridiculous."
"I don't even know where that would come from or what that's about," he told The Staten Island Advance.
His lawyer, Bruce Ackerman, of Pashman Stein Walder Hayden PC in Hackensack, New Jersey, told the newspaper: "He's been coaching kids for 40 years. Even just the allegations can ruin (a person's) reputation."
Asked if he wanted to expand on the statement he made to the Advance when the lawsuits were first unveiled, Ackerman said: "Nope. The allegations are denied."
Sagona also coached Morrison at St. Patrick's Elementary School, a Roman Catholic school in the Richmond section of Staten Island. The school, as well as the Archdiocese of New York, are named in Morrison's lawsuit. The school referred NBC News to the archdiocese for comment, where officials said they won't comment on individual lawsuits.
The AAU's director of marketing, Rachel D'Orazio, said Sagona "may be coaching a basketball team, but it is not affiliated with AAU."
"The AAU takes the safety and well-being of its athletes as its highest priority," D'Orazio wrote in an email. "Currently, Mr. Sagona is not an AAU member and his last AAU membership was in 2011. Furthermore, he has been blocked from obtaining AAU membership in the future."
D'Orazio did not explain why Sagona was blocked by the AAU.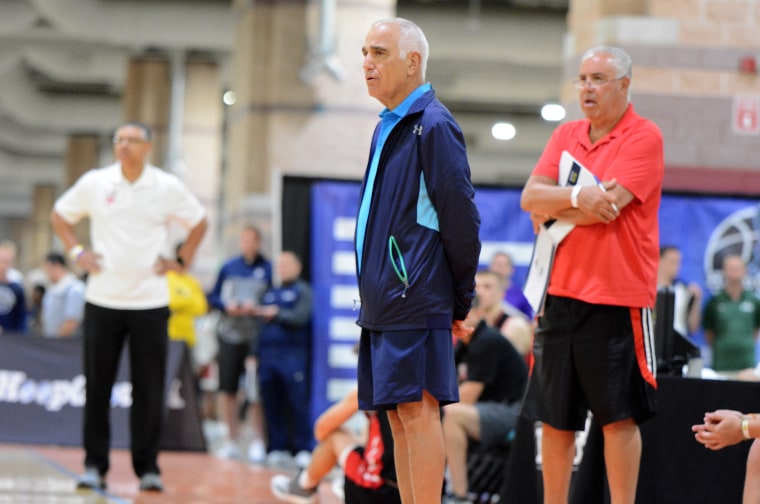 But the Jersey Shore Warriors of Morganville, New Jersey, clearly identify themselves as an AAU-affiliated team on their Facebook page, which includes pictures of Sagona with the team from as recently as July 22, 2016. Also, recent news stories indicate that Sagona was still coaching the Jersey Shore Warriors, and he was listed on the Warriors roster as coach when the team competed this summer in the Hoop Group Showcase League.
The Warriors, which Sagona founded in 1987 after leaving Staten Island — and retiring from his job on Wall Street as a currency trader — has been highly successful and helped incubate the careers of talented high school-age players who went on to play in the NBA, such as Troy Murphy, Matt Carroll, Aaron Gray and Darrun Hilliard.
NBC News reached out to the team to determine whether Sagona is still coaching. There was no immediate reply.
David Clohessy, the former national director of the Survivors Network of those Abused by Priests (SNAP), applauded Manfredonia, Morrison and Morey for taking the initiative.
"This is very encouraging and I think it will become more common as time goes on for abuse victims to not wait and go after their abusers," Clohessy said. "With the internet and the gradual lessening of the personal shame that comes along with this, I think we'll see more examples of this."
What the former Babe Ruth League ballplayers are doing is very brave, he added.
"It's so hard to pick up the phone and say: 'Hey, you spent time around my perpetrator. Did the same thing happen to you?'" he said.
The Babe Ruth League did not immediately respond to a request for comment.
Michael Polenberg, the vice president for governmental affairs for the Safe Horizon victims advocacy group, echoed Clohessy.
"To go through the roster of the old ballplayers and to find out that what happened to one may have happened to another, what an incredibly empowering experience that is," Polenberg said.
"People can find a path to justice in different ways," he said. "The example here is somebody heard about the Child Victims Act and said: 'Oh my God, this is me. Maybe now, after all these years, I can finally do something about it.'"
Manfredonia, Morey and Morrison all were what Sagona called "special projects," according to the lawsuits.
"All players on the upper league viewed the special projects as an honor and strove to be selected for such projects as it meant the coach believed the children were skilled baseball players," the court papers state.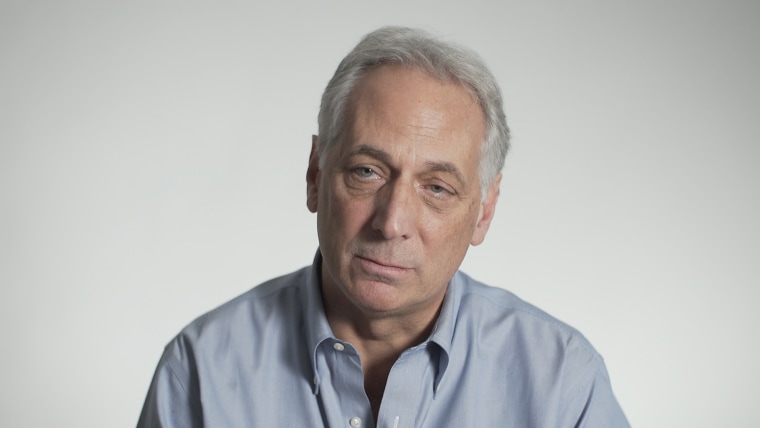 Manfredonia was "excited about this opportunity" as he rode his bicycle through the Great Kills neighborhood to the coach's house.
But when he got there, Manfredonia said in the court papers, Sagona pulled down his pants and masturbated him.
"Following the completion of the sexual abuse, Manfredonia left the Coach's home," the lawsuit states.
And he didn't tell anybody what happened.
"People forget that in the '70s, if you got associated with something like this, it was all over," he said.
Manfredonia said he went on to play high school baseball but gave it up when he got to college. He married, got a job on Wall Street, fathered three now-grown children, got divorced, and kept quiet about the alleged abuse until around 2010.
That was when the Jerry Sandusky sex abuse scandal broke out at Penn State University. "I remember talking to my therapists about what happened to me," Manfredonia said.
Two years later, Manfredonia said, he worked up the courage to call the New York City Police Department detective bureau on Staten Island to lodge a complaint against Sagona.
"They said I needed to come in person," he said. "I could not go back to Great Kills."
Then, earlier this year, the Child Victims Act became law and Manfredonia reached out to former teammates.
"I had heard rumors about what happened to Bruce," he said. "I found him on LinkedIn and he called me back in three minutes."
Morrison said it felt like he'd been waiting for Manfredonia's call his entire life.
"I was older than James and I didn't really know him from a hole in the wall," he said. "But when he called, I turned to my wife and said, 'Uh-oh, I know exactly what this is about.' It all came back to me."
In the court papers, Morrison described how Sagona allegedly groomed him and related multiple instances of sexual abuse at the coach's hands from 1971 through 1975. He said it started when he was a lonely sixth grader.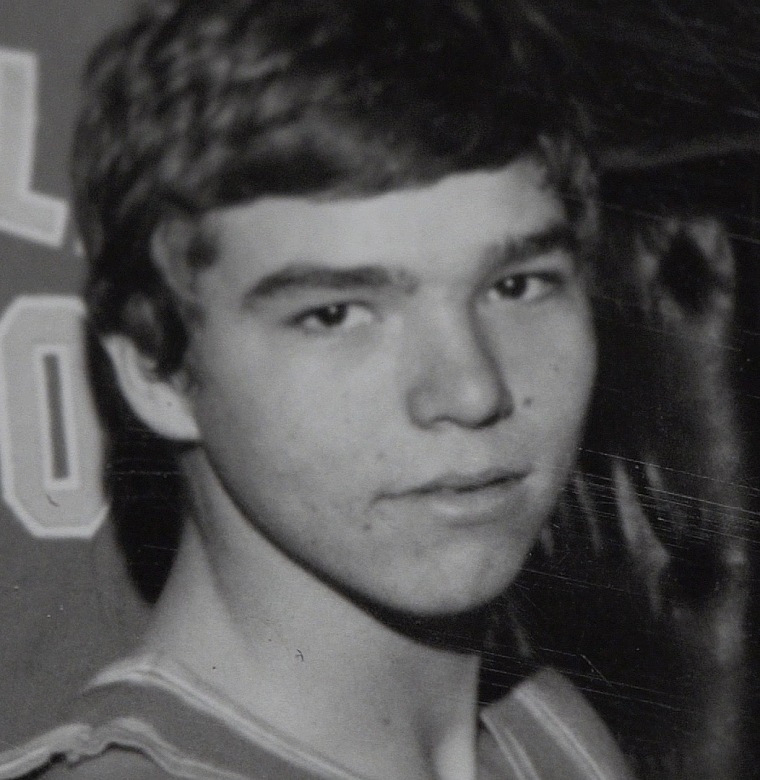 "I was raised by a single mother," he said. "I was the perfect prey. I just wanted a father figure. I wanted to be loved."
Morrison said he tried to forget about what happened by throwing himself into baseball and went on to play college ball at Wichita State University. He said he signed with the New York Yankees before being traded to the Mets.
"I played a couple years of minor league ball," he said. "I came up with Dwight Gooden, Darryl Strawberry. But at a certain age, I knew I was not going to get into the big leagues."
Morrison said he returned to Wichita State and earned degrees in business and physical education.
"Then I went to California and started self-destructing," he said. "I had baseball to comfort me and now I didn't have that anymore. That's when the drugs and alcohol took over."
Morrison said his first marriage ended in divorce. But he found sobriety and then happiness in his second marriage. Together, he and his wife raised six children and built a successful business in Alabama.
But even all this time later, he can't shake off what he says happened to him as a teenager, Morrison said.
"He was a hairy guy so day in, day out, I shave my entire body because I am still so disgusted," he said.
Morrison said the only person he really confided in beside his wife about what happened was his godson, who works as an NYPD detective and whom he called several years ago.
"He warned me the law was not on my side," he said. "Then James called me this year. I would have not known about the new law if James hadn't called."
Morey said he too is haunted by what Sagona allegedly made him do, starting when he was 15.
"The last incident with Sagona was in 1977 when he held my head down on his lap," he said. "I can still see the bedspread and hear the kids playing next door in the splash pool. I remember the gagging."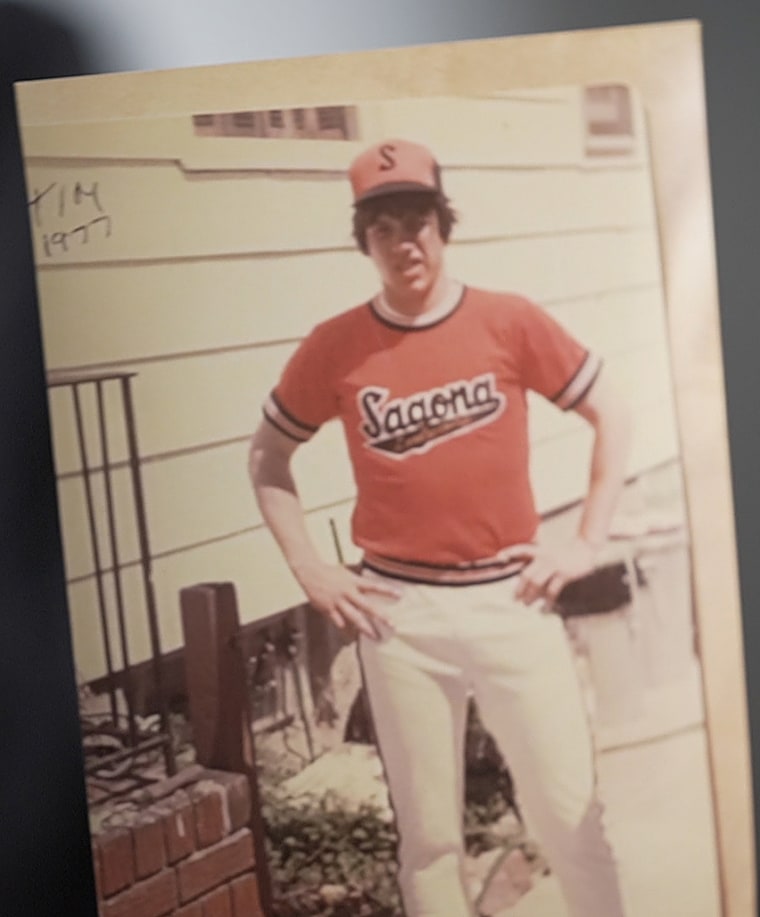 Like Morrison, Morey was a baseball prodigy who attracted the attention of scouts from the Mets, Braves and Tigers organizations. "I was Sagona's best pitcher," he said.
But Morey said what happened turned him into a sullen and defiant teenager.
"I walked around feeling dirty," he said. "You're out there on the pitching mound, throwing 93 mph fastballs, and you're looking over at the other team's bench and you see them laughing. Suddenly you're thinking, 'They gotta know.'"
Morey said any hope of having a professional baseball career ended when he dropped out of high school and enlisted in the Navy.
"That didn't work out," he said. "I left after seven months and the drug use got worse and worse."
Morey said he washed up in Los Angeles where for a time he partied on the hard rock scene with the likes of Lemmy of Motörhead and various members of Mötley Crüe.
"It's hard to feel love if you loathe yourself," he said. "I was staying at the Alexandria Hotel when I tried to end it all. I felt so alone."
Morey said he found solace on the road as a long-distance trucker. He said after his first marriage fell apart, he reconnected via Facebook with his sixth-grade Staten Island sweetheart and they now live in North Carolina where he stages benefits for charitable causes and is involved in his church.
"As a Christian, I'm supposed to forgive him," Morey said of Sagona. "But as a man, I want to kick his ass."
If you or someone you know is in crisis, call the National Suicide Prevention Lifeline at 800-273-8255, text HOME to 741741 or visit SpeakingOfSuicide.com/resources for additional resources.