A former Boston news anchor says her teenage son was allegedly sexually assaulted by Oscar-winning actor Kevin Spacey last summer.
Heather Unruh, a former anchor at television station WCVB, told reporters Wednesday that Spacey bought her "starstruck" then-18-year-old son "drink after drink after drink" at a crowded restaurant in Nantucket, Massachusetts, in July 2016, and then "stuck his hand inside my son's pants and grabbed his genitals" without consent.
When the actor went to the restroom, a "concerned woman" who had apparently witnessed the alleged groping came to Unruh's son's side and "told him to run," Unruh said. He "ran as fast as he could," ending up at his grandmother's house, where he told family members.
"Nothing could have prepared my son for the way that would make him feel as a man," Unruh told reporters at an emotional news conference. "It harmed him and it cannot be undone. ... He has tried his best to deal with it, but it is always there."
Representatives for Spacey did not immediately respond to a request for comment.
Spacey, 58, has faced several accusations of sexual misconduct in recent weeks. Broadway veteran Anthony Rapp was the first accuser to speak out, telling BuzzFeed News that Spacey made a sexual advance at him in 1986, when he was 14.
The claims come amid a wave of other sexual harassment and assault allegations against powerful men in Hollywood, including Oscar-winning mogul Harvey Weinstein, screenwriter James Toback and film director Brett Ratner.
In response to earlier allegations, Spacey's representatives have said: "Kevin Spacey is taking the time necessary to seek evaluation and treatment. No other information is available at this time."
Given the "climate," Unruh said her son recently filed a police report, adding that a criminal investigation was underway. Nantucket Chief of Police William Pittman said he would not comment on or confirm any investigation regarding Spacey or any other possible sexual assault investigation, citing Massachusetts law regarding victim privacy.
At the time of the alleged incident, Unruh's son did not report it "largely because of embarrassment and fear," she said. But now, she added, "he's committed to doing what he can to stop Kevin Spacey from victimizing anyone else."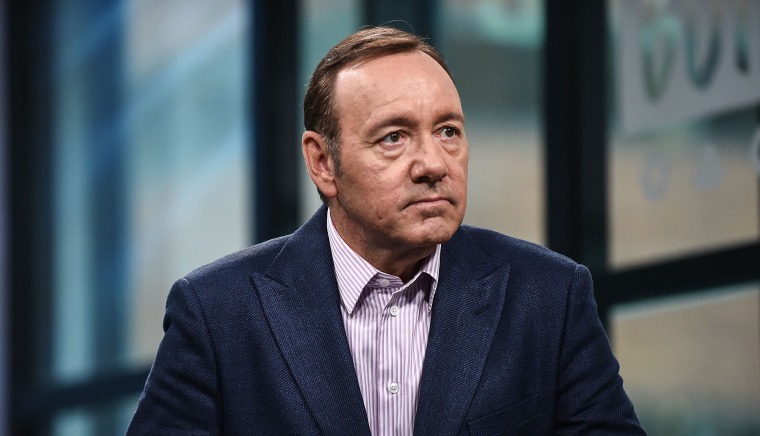 "To Kevin Spacey, I would like to say: Shame on you for what you did to my son," Unruh said at the press conference, adding that she believes the "American Beauty" actor should go to jail.
Her son is represented by Mitchell Garabedian, an attorney best known for representing clergy sex abuse victims. (Stanley Tucci played a character based on Garabedian in the acclaimed film "Spotlight.") At the news conference, Garabedian said his client's allegation against Spacey was "well within the statute of limitations" for a civil claim and "also within the criminal statute of limitations."
Netflix last week announced it would cut ties with Spacey, who starred in the streaming service's popular political drama "House of Cards." A company spokesperson also said it would not move forward with the release of "Gore," a film starring and co-produced by Spacey about the famed writer Gore Vidal.
Another famed writer, Gay Talese, drew criticism for comments Monday that appeared to defend Spacey, reportedly claiming his accusers should "suck it up."
"I would like to ask [Spacey] how it feels to lose a lifetime of success and hard work all because of 10 minutes of indiscretion 10 years or more ago," Talese said, according to Vanity Fair, "I feel so sad, and I hate that actor that ruined this guy's career. So, OK, it happened 10 years ago. ... Jesus, suck it up once in a while!"