As details of the killings began to trickle out of Baton Rouge, Louisiana, last weekend, retired NFL star Warrick Dunn felt a familiar kind of grief settle in the pit of his stomach.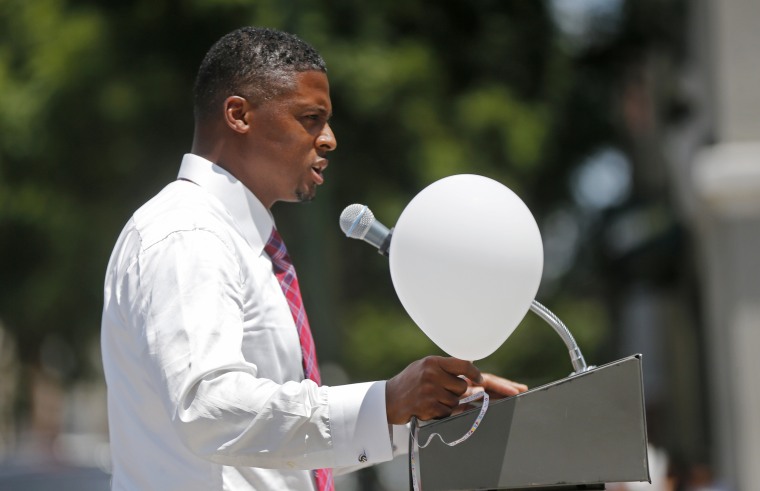 A gunman had shot and killed three police officers, wounding three others. Dunn's mind raced as he dialed up family and friends in his hometown. Did he know any of the officers? What was the motive? He thought of the dead officers' anguished families and the children who would now be fatherless. Dunn felt himself being snatched back to when his mother, a Baton Rouge police officer, was murdered in uniform.
"It took me right back to that time," Dunn said in a phone interview. "It was just chilling. I felt so many emotions, and my eyes were just glued to the television trying to figure out what was going on."
The killings in Baton Rouge were an exclamation point on weeks of unprecedented bloodshed in America between police and civilians. On back-to-back days following the Fourth of July holiday, two black men were killed by white police officers in Baton Rouge and Falcon Heights, Minn. A day later five police officers were ambushed during an otherwise peaceful Black Lives Matter march in Dallas. Their killer was a black former Army reservist seeking vengeance for the two earlier deaths. Then came Baton Rouge again, when another black Army veteran angered by the police killings of African-Americans picked off a half-dozen cops before being killed by a police sniper.
The shootings in Baton Rouge capped a tumultuous moment in America, a bloody begging of unanswered questions over race, policing and gun violence.
But long before the massacre in Baton Rouge, the killing of another city cop two decades earlier shook the city. Cpl. Betty Dunn Smothers, who was shot and killed by a young black man with a troubled history, was a black single mother of six, including Warrick Dunn. Her death would reroute the course of Dunn's life, both pushing and haunting him as the case against her killer wound its way through state and federal courts.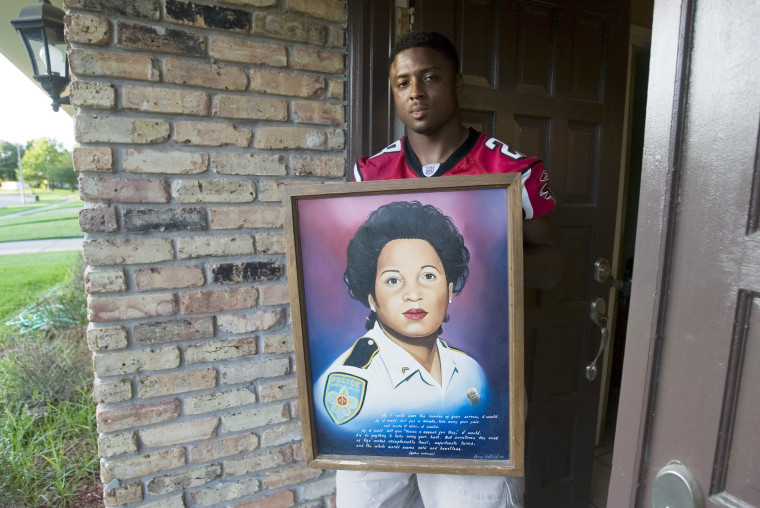 Just this week, days after shooter Gavin Long gunned down Baton Rouge officers Montrell Jackson and Matthew Gerald and Officer Brad Garafola of the East Baton Rouge sheriff's office, Dunn faced down his mother's killer one last time, closing a painful chapter in his family's (and the city's) history.
"There's been a lot of incidents dealing with police officers and violence. People get angry, but they don't think about, well, this police officer may have a wife, kids — they're not thinking about how they put food on their table," Dunn said. "I don't fault anyone — that's a natural thing for people to feel when you lose someone. But we get lost in all the madness and the mess, and sometimes we lose sight."
'She Was a Good Officer'
On January 7, 1993, after a 10-hour shift, Cpl. Smothers began an off-duty security job shuttling the manager of a grocery store to the bank to make her end-of-night deposit. Smothers was in uniform and behind the wheel of her patrol car when she pulled up to the bank. Two men jumped from behind some bushes and opened fire. Smothers was killed, and the bank manager, Kimen Lee, was badly wounded. As Smothers lay mortally wounded, Lee managed to drive off. The robbers ran off into the night without a dime. Smothers, 36, was a 14-year veteran of the force. Dunn was the oldest of her six children. He turned 18 just two days before she was killed.
"She was working hard to try to get enough money to buy her kids a home," said Pam Barlow-Kidd, a captain with the Baton Rouge Police Department who retired in 2007 after 30 years on the force. "I talked to her the night before she got killed. She said she was working so much extra duty and that she was tired. But she said she was trying to provide a home for her kids."
Barlow-Kidd joined the force in 1977, a couple years before Smothers. They were among the first black women hired by the department after a federal inquiry found a pattern of discriminatory hiring practices that excluded women and blacks. Being a woman in what had been an "old boys' network" was tough, but being a black woman required near divine strength and will, Kidd said. Smothers, she recalled, was one of the strongest.
"All she was trying to do was make an honest living, and she was a good officer," Kidd said. At the time, Kidd said Smothers was studying for the civil service test to be promoted to sergeant.
Police eventually arrested and charged three men involved with the shooting, including two — Kevan Brumfield and Henri Broadway — who would eventually be sentenced to death. Brumfield was found guilty of killing Smothers and Broadway of shooting the store manager. A third man, the getaway driver, was sentenced to 25 years in prison.
Related: President Obama in Open Letter to Law Enforcement: 'We Have Your Backs'
Neither Brumfield nor Broadway has yet been put to death, their lives spared time and again by court appeals and legal maneuvering. After Brumfield was sentenced to death, his lawyers claimed he was "mentally retarded," the dated legal parlance used to describe people with intellectual disabilities. An appeals court later agreed with a federal judge who ruled the killer had a below-average IQ and, per a 2002 U.S. Supreme Court ruling that exempted people with intellectual disabilities from execution, his life should be spared.
Brumfield's case eventually made it to the Supreme Court. In June of last year, less than 24 hours before accused mass murderer Dylann Roof walked into a church in Charleston, South Carolina, and killed nine black congregants during Bible study, the high court in a 5-4 majority vacated another federal court opinion that deemed Brumfield eligible for death.
Justice Clarence Thomas wrote the court's dissent, saying the case "is a study in contrasts.
"We have Kevan Brumfield, a man who murdered Louisiana police officer Betty Smothers and who has spent the last 20 years claiming that his actions were the product of circumstances beyond his control. On the other hand, we have Warrick Dunn, the eldest son of Corporal Smothers, who responded to circumstances beyond his control by caring for his family, building a professional football career, and turning his success on the field into charitable work off the field."
The ruling has angered the woman's family and hurt those who called her a friend.
"It's such an injustice that they reversed the death penalty. I'm totally disgusted by that," said Kidd. "My co-worker and friend's life was taken for nothing, and here you got to take care of her killer for the rest of his natural life and provide him with everything he needs with his health care, but she's deceased."
On Wednesday, State District Judge Richard Anderson resentenced Brumfield, who had spent 21 years on death row, to life in prison. Anderson, who earlier rejected Brumfield's claim of intellectual disability, described his crime as a "planned ambush" and that the resentencing is "very frustrating."
Related: Baton Rouge Shooter Called Cop Killings 'Necessary Evil' in Last Email
The courtroom was packed and included Dunn, members of his family, Kimen Lee and current Baton Rouge Police Chief Carl Dabadie.
"It's still not closure for me," Lee, now 54, told the Baton Rouge Advocate after the sentencing. "I struggle with a lot of guilt as to why I survived," she said. "It wasn't my time. I asked God to please get me out of there. It was by the grace of God."
Lee told the newspaper that she hadn't planned on attending the hearing, but the killing of the three police officers over the weekend changed her mind.
"The system is what it is. That's horrible. I do not believe in the justice system, because this is not justice," Dunn said inside the court.
After the sentencing Dunn posted a photo on Instagram of the closed door to Criminal Court 7B.
In a caption next to the photo, Dunn wrote, "Justice still not served 23yrs later, killer spends life in prison with 3 meals a day and breathes fresh air. My mother didn't have the same opportunity. Closing this chapter of my life."
A day after the hearing and back at his home in Atlanta, Dunn said the decision to close that door was a tough but necessary one.
"It's like a chapter — this final chapter in our lives dealing with my mom's case has been going on, and the ending always keeps changing," he said. "Now, for all the years and the heartache that my family has been through and this legal process and all of the unknowns, we can close the door and move on."
"We got to that point recently that we can't continue to go back and forth," Dunn said. "There's still no justice even though the door is closed. We don't have to go back and worry about it anymore. There are a lot of unanswered emotions, but at the same time, it's time for us to bottle up our emotions and all pray together and be together and get through this."
Black and Blue
In 1980, around the time that Smothers joined the department, Baton Rouge fell under a federal consent decree, an agreement with the feds to work toward various diversity and hiring goals, including a federal monitor. The police department, along with the city's fire department, remains under the decades-old consent decree today and continues to struggle with hiring and retaining black officers. The city has a majority black population, yet two-thirds of its police officers are white. When the decree was initiated just 10 percent of the department's officers were black. Today, that number is up to 30 percent.
There have been widespread accusations of police abuse of black residents and discord among some black police officers who have spoken out against the department's lack of diversity.
Kidd eventually became the first black woman to achieve the rank of captain in the Baton Rouge PD.
"I went through hell on that police department. Nobody but Jesus kept me doing the right thing," Kidd said, adding that she was viewed as "militant" because she pushed for equal treatment, including punishment for black and white officers alike when they did something wrong.
"Nothing has really changed as far as race relations, dating back to when I joined the force back in 1977," she said. "They just have a different way of covering it."
The diversity of the city's police department has once again become a contentious and controversial point in the wake of the recent killing of Alton Sterling by a pair of white police officers, which sparked mass unrest and protests that spread from Baton Rouge to cities across the country.
Related: How the Racial Divide Is Reinforced by Partisanship
Black police officers in Baton Rouge and elsewhere say that black officers often find themselves in a precarious balance between fully recognizing the many injustices that come with being black in America, the inherent dangers of police work and sometimes the scorn of fellow African-Americans.
Just about a week before his death, slain Officer Montrell Jackson wrote poignantly about the struggle in light of recent racial turmoil over the killings of black men by police.
"In uniform I get nasty hateful looks and out of uniform some consider me a threat. I've experienced so much in my short life and these last 3 days have tested me to the core. When people you know begin to question your integrity you realize they don't really know you at all," Jackson wrote in a July 8 message on Facebook that has gone viral since his death. "Look at my actions they speak LOUD and CLEAR. Finally I personally want to send prayers out to everyone directly affected by this tragedy. These are trying times. Please don't let hate infect your heart. This city MUST and WILL get better. I'm working in these streets so any protesters, officers, friends, family, or whoever, if you see me and need a hug or want to say a prayer. I got you."
Marcus Tillman, a former Baton Rouge police officer and friend of Jackson's, said that black officers so often are on the front lines, underappreciated and the recipients of internal racism.
"Black officers get so much flak," he said, hours after Jackson's death at the hands of a black gunman who'd been outraged by recent police-involved killings. "We became police officers to go into our neighborhoods and to patrol our neighborhoods to make sure the people in our communities are treated fairly, because in some instances they are not. So as a black police officer trying to step up and do what's right, you often get beat down by your own community."
After the officers were gunned down in Baton Rouge, Dunn vented his hurt and frustration through an op-ed in the Atlanta Journal Constitution and on social media. He lamented the pain the families of the dead officers are feeling and the acts of violence that "don't solve anything."
"The reality of our world is that there is a lot of unrest in our communities, particularly where police shootings are happening. Of course, this takes me back to when my own black mother was ambushed and killed — by a black man," he wrote, adding that elected leaders should take up the issue of guns without the taint of politics, that change starts with the individual and that laws need to be vigorously enforced. "Of course, I know there are officers who do not do the right thing — that is true in every profession. But when murder is a planned event — the rule of law should matter, and loopholes or sophisticated lawyering have to stop."
Mother's Dream
Much like this latest violence against officers, Smothers' murder prompted an outpouring of grief but also love. A hefty reward was issued for her killers' arrest. Thousands of mourners and throngs of media attended Smothers' funeral, and a line of cars several miles long snaked down the highway from her funeral to the cemetery. People in the community started a fund for Dunn's family and helped them as they grieved.
"At 18 years old I was emotionless. I didn't have any emotion," Dunn said. "I was just stale-faced, because my focus was on my family. I had to take care of the kids." He didn't have a job. There was rent to pay and a family to guide.
In months and years following her death, Dunn went from being a star athlete on the football and track teams at Catholic High School to a star running back at Florida State University. He was forced to grow up fast, taking sometimes tepid steps through young adulthood as he transitioned from brother to father-figure, from college standout to pro athlete.
Related: After Baton Rouge Shooting, Loretta Lynch Says Country Needs to 'Work Together'
When his mother was killed, she was renting a house. Dunn used the insurance money to fulfill her dream of buying a home of their own. The home gave the family "a sense of peace," he'd tell reporters who'd periodically write about his overcoming the grief of his mother's death to excel on and off the field. Dunn soon found himself on a mission to help others live out their dreams of home ownership and the stability that comes with a solid roof over their heads. Soon after signing a multiyear, multimillion dollar deal with the NFL's Tampa Bay Buccaneers in 1997, Dunn established charities aimed at disadvantaged youth and single parents.
Recently, through Dunn's Warrick Dunn Charities, he's helped nearly 150 single parents become first-time homeowners. It's his way of giving back to the community while continuing to heal from his mother's death.
"I would tell people all the time that I want to be remembered as a great football player. I played the game, and I thought I was one of the best. I tried to go out and perform, but the true highlights of my life are with my family," Dunn said. "I've tried to live a life that would make my mom proud. Looking back, I wasn't perfect, but I tried to live a life that she would be proud of. Football was just a vehicle, a platform."
As Baton Rouge stumbles through another time of great grief, wrestling with the deaths of Sterling as well as the slain officers, Dunn said the city will have to push forward the way it always has — with heart.
"People in this community taught me what it means to care about your neighbor," Dunn said, calling his extended family of community members his "planks." "It's a resilient community. Baton Rouge has certain values that they bring to the table, and I think we have to get back to that. Race relations in this country are still at the forefront ... We all come from different backgrounds. We all have different stories and our own experiences that we may not understand. Nothing is going to be perfect, but we can take this opportunity to show people that we are taking the right steps and doing this together."