Former Texas police officer Roy Oliver was sentenced to 15 years in prison on Wednesday for the murder of a 15-year-old boy who was shot while riding in a car full of teens leaving a house party.
The jury also imposed a $10,000 fine on Oliver.
Oliver, 38, was convicted of murder on Tuesday in the fatal shooting of high school freshman Jordan Edwards. The teen was in the passenger seat of a car leaving a party when the officer opened fire in April 2017. The jury found Oliver not guilty on two counts of aggravated assault.
At trial Oliver claimed that he fired at the car after seeing it move toward his partner, Officer Tyler Gross, and thought Gross's life was in danger.
But Gross testified that he did not fear for his life and didn't feel the need to fire his own weapon.
Jordan is black, and Oliver is white. The conviction is a relatively rare case of a former law enforcement officer being convicted in an on-duty shooting where someone was killed.
"This case for us, the state of Texas, was always about Jordan Edwards. It was not about a political statement," the lead prosecutor, Dallas County Assistant District Attorney Michael Snipes, said after the jury reached its sentence. "It was about a young man who I came to love," he said, and he thanked the Edwards family for what he called their nobility and heroism throughout the case.
Oliver was fired by the Balch Springs Police Department just days after the shooting. He faces up to life in prison on the murder conviction. Jurors began deliberating on the sentence Wednesday.
During the sentencing phase, which began after Tuesday's conviction, Jordan's father, Odell Edwards, said that the family would never be the same. Edwards said after the verdict: "I'm happy, very happy. It's been a long time, a hard year."
Edwards' family attorney, Daryl Washington, praised the Dallas DA's office for doing something that has not been done around this country. "They had the courage to take on a bad police officer and because of that, that in and of itself is a victory," Washington said.
"We all would have liked to have seen a greater sentence, but we're going to respect the verdict that the jury handed down, only because we know that there are parents all over this country who would love to see the person who took the life of their kid spend the next 15 years in prison," he added.
Earlier Wednesday, Oliver's mother and wife asked for a lenient prison sentence, and his wife, Ingrid Llerena, testified that she's concerned about their 3-year-old son, who is autistic, and the boy's future without his father at home.
Oliver's half-sister, Wendi Oliver, also testified that she sent a family member of Jordan's a Facebook message in which she said she hopes justice is served.
"I hope that he gets what he deserves, because he took an innocent life," Wendi Oliver said. "And I feel sorry for what, that he has done to this boy."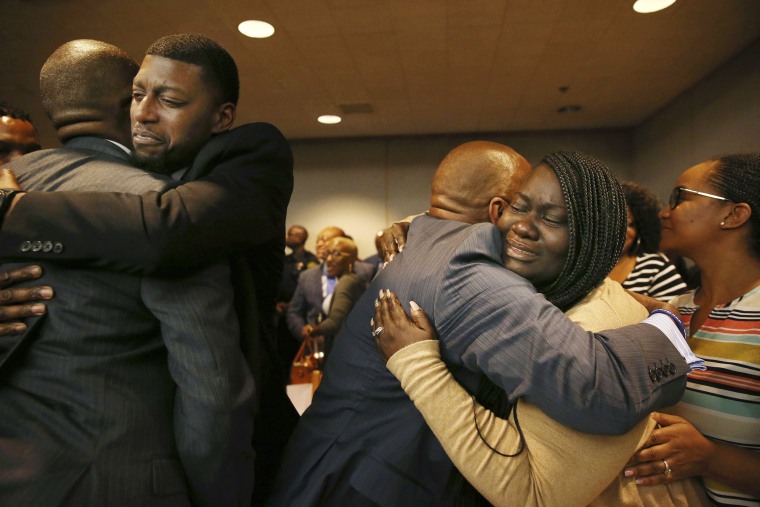 Officers had been dispatched to the house party in Balch Springs on a call of underage drinking late on April 29, 2017.
Oliver testified that while he was at the home, he heard gunshots outside and believed there was a shooter. As he went outside, he saw the car carrying the five unarmed teenagers.
The gunshots turned out to have been fired near a nursing home in the area.
On Tuesday after the jury returned its verdict, Texas Gov. Greg Abbott tweeted that "this life should never have been lost."
Jordan's pastor recalled the teen as a light in the church, whose smile brightened the building when one walked in, and said the boy had hoped to attend the University of Alabama.
Oliver's defense attorney, Bob Gill, told jurors on Wednesday that there is no question that Jordan "was an exceptional kid," but said that on the night of the deadly encounter "Roy Oliver did not know."
"Roy was reacting to a threat," Gill said, and urged jurors to look at the totality of the circumstances when making their sentencing decision. He said the evidence showed that "all of this happened in a split second."
Gill also told jurors that as a one-time member of law enforcement, "Roy Oliver's time in the Texas penitentiary system is going to be an excruciatingly long period of time, no matter what it is."