The U.S. lobbying firm that helped to arrange a controversial phone call between president-elect Donald Trump and the Taiwanese president has been paid $140,000 so far this year to advocate for the island province's interests, according to public records obtained by NBC News.
Alston & Bird, which lists former Senator Bob Dole as special counsel on its website, was paid a monthly retainer of $20,000 in 2016 to represent the Taipei Economic and Cultural Representative Office in the U.S, according to public disclosure records filed with the Justice Department last week. The records suggest that the firm was able to use Dole's influence as a well-respected member of the GOP to help curry favor with Republicans—including the incoming president—on issues favorable to Taiwan.
The firm, which has deep ties to Washington power brokers, helped set up Friday's call — the result of months-long coordination between with the Trump campaign and transition teams and the Taiwanese government on a range of issues. A Trump transition source told NBC News that Dole also helped with these efforts.
The carefully coordinated series of meetings casts light on how the Taiwanese government managed to net an unprecedented phone conversation with the incoming president. That call between Trump and Taiwan's President Tsai Ing-wen — believed to be one of the first between an incoming president and Taiwanese leader — has since threatened to inflame tensions between the U.S. and China.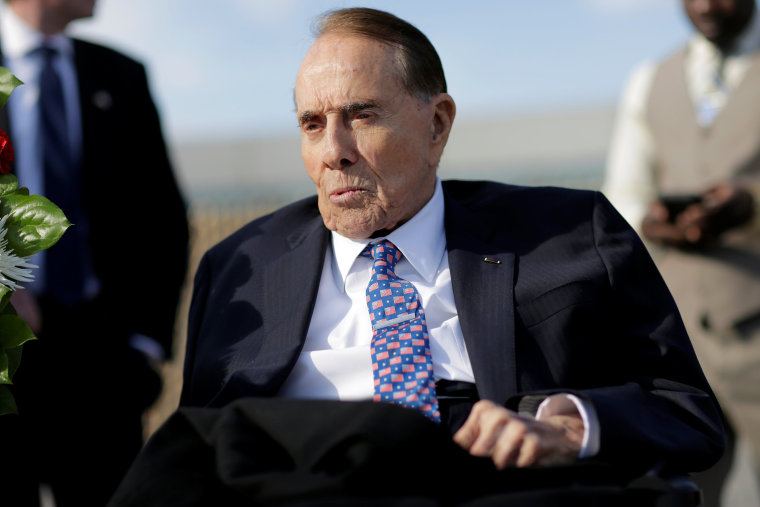 "It would be fair to say that we may have had some influence in arranging that call, though hard to say what ultimately made it happen," aides to Dole told NBC News in a statement.
Alston & Bird did not immediately returned a call from NBC News requesting comment on the matter.
Several sources familiar with the conversations told NBC News that Trump spoke with top advisers for months prior to the election about having contact with the Taiwanese government. The conversations became more "intense" after the election, the sources told NBC News, and there was an awareness this would send a strong signal to China.
The phone call between Trump and the Taiwanese president took place after the lobbying disclosure documents were submitted to the Justice Department and does not appear on those records.
News of Dole's role in setting up the call was first reported by the Wall Street Journal. Buzzfeed first reported on the firm's monthly retainer.
Taiwan's presidential office spokesman Alex Huang on Wednesday denied suggestions that a U.S. firm had helped arrange the call between Taiwan's president and Trump.
"The reports are incorrect," he told NBC News.
The U.S. has not had diplomatic relations with Taiwan since 1979. As part of the agreement establishing official diplomatic relations with China, the U.S. government established a "One China" policy, recognizing the People's Republic of China as the sole legal government and ceasing all diplomatic recognition of Taiwan.
Under the contract, the firm advocated for Taiwan's inclusion in the Trans Pacific Partnership, a multinational trade deal with Pacific Rim nations which Trump has vowed to scuttle. And in addition to lobbying members of Congress on Taiwan's behalf, the firm promised to schedule meetings with Republican Party officials and 2016 GOP presidential candidates.
According to the documents, Dole personally helped Taiwan in its efforts get favorable language in the GOP platform and arranged a telephone conversation between the Taiwanese agency and the Trump campaign's policy director, among other activities. Ultimately, the GOP ended up including the language favorable to Taiwan in its platform including affirming "six assurances given to Taiwan in 1982 by President Reagan".
"We praise efforts by the new government in Taipei to continue constructive relations across the Taiwan Strait and call on China to reciprocate," the platform states. "As a loyal friend of America, Taiwan has merited our strong support, including free trade agreement status, the timely sale of defensive arms including technology to build diesel submarines..."
"They're very optimistic," Dole said told the New York Times in an interview on Tuesday. "They see a new president, a Republican, and they'd like to develop a closer relationship."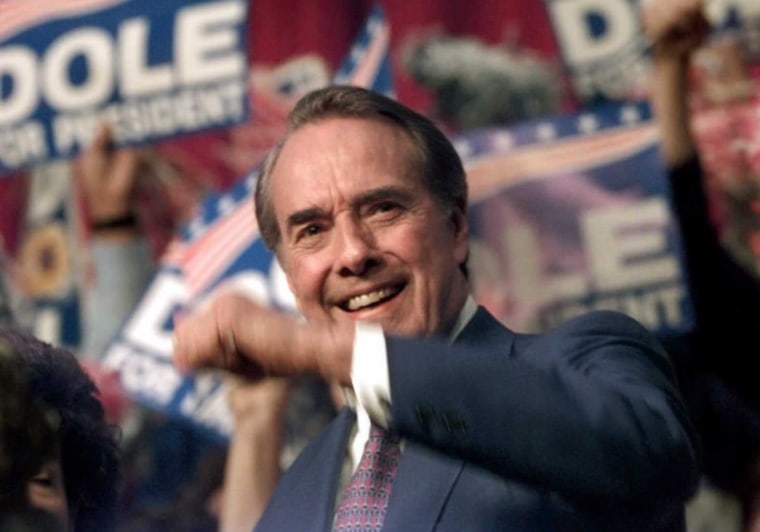 Dole, a World War II veteran previously served as Senate Majority Leader in the 80s and 90s. He ran against Bill Clinton for president in 1996 and is the only former GOP presidential nominee who endorsed Trump's bid for office.
China's Foreign Minister Wang Yi initially called the phone call a "little trick played by Taiwan."
On Tuesday, Lu Kang, spokesman for the Chinese foreign ministry, stressed that "The U.S. side, President-elect Trump's team included, is also fully aware of China's solemn attitude on the issue."
"Taiwan-related issues remain the most significant and sensitive part in China-U.S. relations," Kang said.
He also stressed that 40 years of U.S.-Chinese diplomatic ties have been, in part, built upon through respect for the "One China" policy.
"China-U.S. relations and mutually beneficial cooperation will embark on a brighter future only if the two countries hold fast to this political premise," he said.
On Monday, White House Press Secretary Josh Earnest told reporters that U.S. officials, including senior officials at the National Security Council, have reached out to their Chinese counterparts to reiterate America's continued commitment to a "One-China policy".
Dole, 93, has long had a close relationship with Alston & Bird which earlier this year hosted a birthday celebration for him at Morton's Steakhouse, according the Center for Responsive Politics.
According to the public disclosure records, Alston & Bird has represented the Taipei Economic and Cultural Representative Office in the U.S since 2003 and, in that role helped facilitate meetings with both Republican and Democratic presidential administrations and members of Congress.
For example, according to disclosure documents, in 2012, the firm represented Taiwan in arranging meetings with members of President Obama's cabinet and other senior administration officials.
During the presidential campaign cycle, Trump accused China of currency manipulation and said he'd slap 45 percent tariffs on Chinese goods.
The U.S. has sold $12 billion in arms to Taiwan as part of a 1970s agreement that commits Washington to helping the island nation defend itself.