A former Texas sheriff's detective suspected of gunning down three people in Austin was captured Monday walking along a rural road, police said.
The man, Stephen Broderick, 41, was spotted in Manor. Manor police and Travis County sheriff's deputies were dispatched at 6:53 a.m., and Broderick was arrested at 7:05 a.m., according to a police statement.
Police released dashcam video of officers and deputies surrounding Broderick on the road. He appeared to follow all instructions: to interlock his fingers, place his hands on top of his head and walk backward to them before being handcuffed.
"He was armed with a pistol on his waistband, but he didn't resist," Manor Police Chief Ryan Phipps said in a telephone interview. "He was fully compliant with our officers' commands."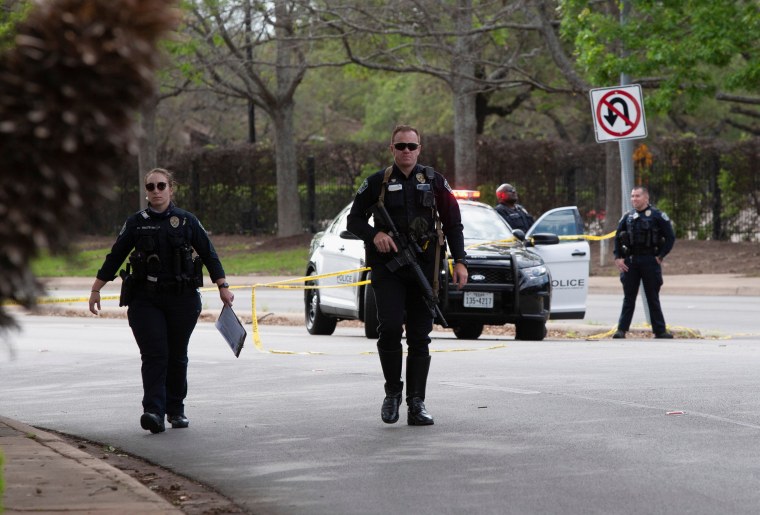 Authorities said Broderick is suspected of having fatally shot two females and a male a little before 11:42 a.m. Sunday at the Arboretum Oaks Apartments in Austin, about 18 miles from where he was caught Monday.
Phipps said police got two calls that a man, believed to be Broderick, was walking along Old Kimbro Road, a rural path just off U.S. Route 290. He was booked into the Travis County Jail in downtown Austin, Phipps said.
Broderick, a former Travis County sheriff's detective, was charged with sexual assault of a child in June, NBC affiliate KXAN of Austin reported.
Interim Austin Police Chief Joseph Chacon said Sunday that the triple killing was a "domestic incident."
"The victims were all known to our suspect," Chacon said. "And so, at this point, we do not think that this individual is out targeting random people to shoot them."
Elgin High School students Willie Simmons III and Alyssa Broderick were two of the people killed Sunday, school district Assistant Superintendent Al A. Rodriguez said Monday.
If you or someone you know is facing domestic violence, call the National Domestic Violence hotline for help at (800) 799-SAFE (7233) or go to www.thehotline.org for more. States often have domestic violence hotlines, as well.