The former tennis star who was thrown to the ground and handcuffed by a New York Police Department officer in a case of mistaken identity said Friday that he wants to use the incident to call for change in the way police deal with the public.
James Blake, who retired from professional tennis in 2013 and was at one time ranked in the top 10 in the world, was standing outside the Grand Hyatt New York Hotel in Midtown Manhattan Wednesday when he was thrown to the ground and handcuffed, NBC New York reported.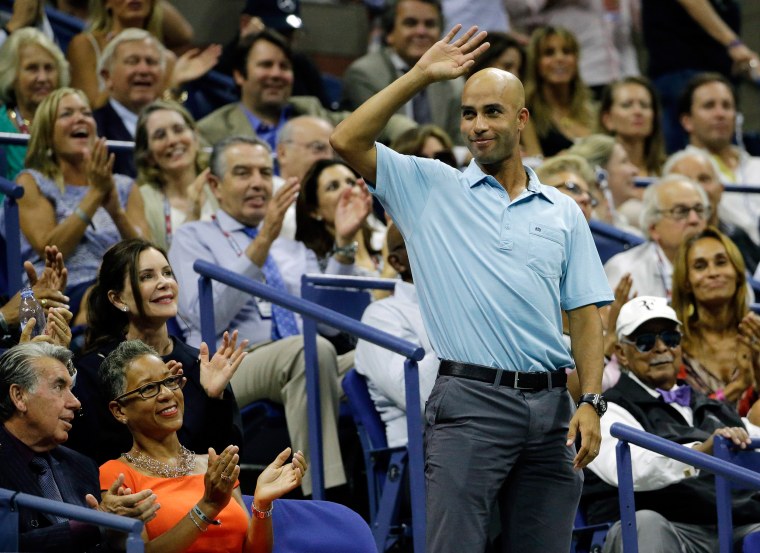 The officer was investigating a fraudulent online credit card ring and a courier police were working with misidentified Blake as a suspect, officials told the station. New York City's mayor and police commissioner apologized to Blake Thursday.
"When this incident was reported in the news media, Mayor de Blasio and Commissioner Bratton both called me to extend their personal apologies, and I greatly appreciate those gestures," Blake said in a statement. "But extending courtesy to a public figure mistreated by the police is not enough."
Blake called on the police "to make a significant financial commitment to improving that relationship," especially in neighborhoods where the use of physical force against alleged suspects is common.
"I am determined to use my voice to turn this unfortunate incident into a catalyst for change in the relationship between the police and the public they serve," Blake said.
RELATED: Video Shows NYPD Cop Tackle Former Tennis Star James Blake
Blake said the plainclothes officer, James Frascatore, did not identify himself as an officer or read him his rights, and that police "paraded me down a crowded sidewalk" before realizing they had made a mistake. He said the public deserves more respect from the police.
Frascatore has been placed on modified assignment and an investigation is in progress.
"While I continue to believe the vast majority of our police officers are dedicated public servants who conduct themselves appropriately, I know that what happened to me is not uncommon," Blake said.
Mayor Bill de Blasio and Police Commissioner William Bratton said in a statement Friday that the city has retrained 22,000 members of the police department in an effort to improve community relations, and more will be retrained. The statement said both would meet with Blake, if asked.
The Patrolmen's Benevolent Association on Friday called the arrest "unfortunate" and said it regrets any embarrassment Blake suffered, but said the officer was trying to arrest a person he thought was a suspect, and suspects sometimes try to flee.
"The police officer was apprehending what he had every reason to believe was an individual who had just committed a crime," the PBA, a police union, said in a statement.