WASHINGTON — Former Trump campaign chief Paul Manafort was hit with new charges on Friday, including an allegation he secretly recruited and funded a group of former European politicians to lobby in the United States on behalf of Ukraine.
The superseding indictment was filed just a couple of hours after Manafort's business partner, former campaign aide Rick Gates, pleaded guilty to conspiracy and lying to investigators — even while he was negotiating a deal with special counsel Robert Mueller.
Gates is now the third associate of President Donald Trump to strike a cooperation agreement with Mueller, who is investigating Russian meddling in the 2016 election and possible ties to the campaign.
The agreement, which requires Gates to cooperate on "all matters" prosecutors deem relevant, appears to be a good deal for both sides. Gates could get as little as probation if he keeps up his end of the bargain, and Mueller's case against Manafort morphs from one built on paper evidence to one in which the star witness worked hand-in-hand with the defendant.
Gates and Manafort were indicted together in October in Washington, D.C., on charges related to their lucrative lobbying work for pro-Russian Ukrainian political figures and then hit this week with a new 32-count indictment in Virginia that contained additional charges of tax and bank fraud.
Further squeezing Manafort, Mueller lodged new accusations in a five-count superseding indictment Friday that charges him with conspiracy, money-laundering, being an unregistered agent for a foreign entity and making false statements.
The most significant allegation is that Manafort assembled what he called a "Super VIP" group of highly influential Europeans who could push Ukraine's agenda "without any visible relationship" with the Ukrainian government, according to an email obtained by Mueller.
Manafort paid the politicians 2 million euros from offshore accounts in 2012 and 2013 to lobby members of Congress and other U.S. officials. It's illegal for Americans to direct foreigners to lobby the U.S. without informing the Justice Department.
The so-called "Hapsburg Group" was managed by a former European chancellor, who was not named in the indictment.
The term chancellor is used in only a small number of countries, including Germany and Austria. The Associated Press reported last year that Mercury LLC, which was involved in the Manafort lobbying effort, employed former Austrian Chancellor Alfred Gusenbauer as an expert.
Gusenbauer told Austrian public radio that he had never heard of the Hapsburg group and had met Manafort only twice. "I had nothing to do with the activities of Paul Manafort in Ukraine," he said.
In a statement issued by his spokesman, Manafort said he has no plans to make a deal with Mueller.
"I continue to maintain my innocence," Manafort said.
"I had hoped and expected my business colleague would have had the strength to continue the battle to prove our innocence," he added, referring to Gates. "For reasons yet to surface he chose to do otherwise. This does not alter my commitment to defend myself against the untrue piled up charges contained in the indictments against me."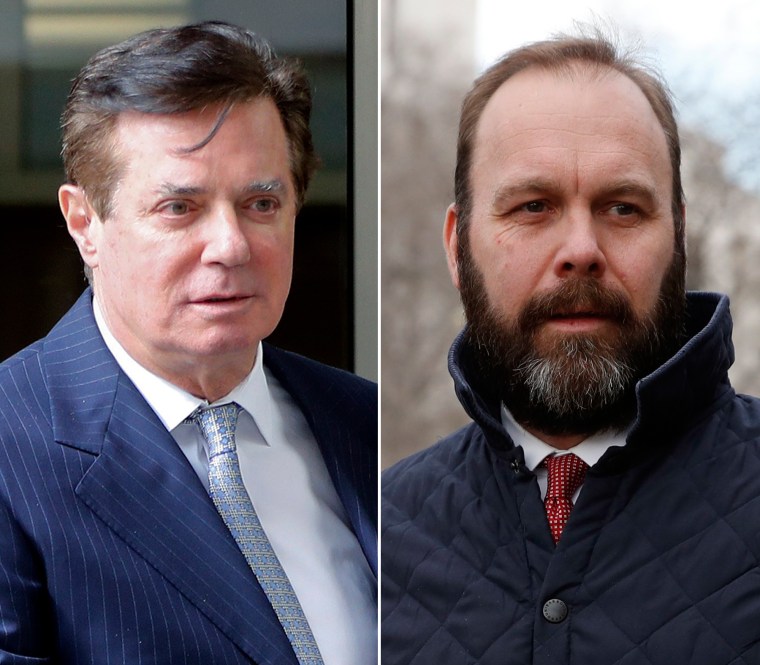 Court documents reveal that a deal has been in the works since late January. Under the agreement, Gates could face up to 71 months on the two felony counts, but could also ask for probation without opposition if he "fully cooperates."
In a statement of offense attached to the plea agreement, Gates admits he conspired with Manafort "in a variety of criminal schemes," including moving millions of dollars from offshore accounts without paying taxes on the money, which was disguised as loans.
He also admits he helped Manafort avoid registering as a lobbyist for Ukrainian political figures and misleading two other firms, the Podesta Group and Mercury, on whether they had to register. The firms were paid through an advocacy group which employees knew was a "fig leaf" so they would not have register as agents of the Ukrainian regime, Mueller alleged.
One of the more surprising details in Friday's filings was the admission by Gates that even while he was negotiating a possible agreement with Mueller, he lied to investigators. He falsely claimed that Ukraine was not discussed at a March 19, 2013, meeting attended by Manafort, a lobbyist and member of Congress and that a report about the meeting was not sent to clients in the Ukraine.
The lawmaker who attended was Rep. Dana Rohrabacher, R-Calif., his office confirmed. Rohrabacher's press secretary said it was a dinner with longtime acquaintances where "the three reminisced and talked mostly about politics."
"The subject of Ukraine came up in passing," the press secretary, Ken Grubbs, said in a statement.
"It is no secret that Manafort represented (former Ukraine president) Viktor Yanukovych's interests, but as chairman of the relevant European subcommittee, the congressman has listened to all points of view on Ukraine. We may only speculate that Manafort needed to report back to his client that Ukraine was discussed."
Gates lied about the 2013 dinner during a Feb. 1 sitdown with Mueller's team for what's known as a proffer meeting, where details of an agreement are hashed out. That's the same day Gates' previous lawyers asked for permission to withdraw from the case, citing "irreconcilable differences."
The Russia probe, which Mueller took over in May, has been intensifying since the fall and has picked up more momentum in the last two weeks.
In October, former campaign adviser George Papadopoulos secretly pleaded guilty to lying to federal agents about his contacts with Kremlin-connected Russians — communications that Manafort was allegedly aware of.
In December, Trump's short-lived national security adviser Mike Flynn pleaded guilty to a charge of making false statements to the FBI about his communications with Russia after the election but before the inauguration. It was allegedly at the urging of Trump's son-in-law, Jared Kushner, and Flynn's former deputy, K.T. McFarland.
Last week, Mueller unveiled the first charges directly tied to Russian meddling in the election: Indictments against 13 Russian nationals accused of conducting "information warfare" through social media accounts that drummed up support for Trump and criticized Hillary Clinton. A California man, Richard Pinedo, pleaded guilty to selling bank account and other stolen information to those Russians.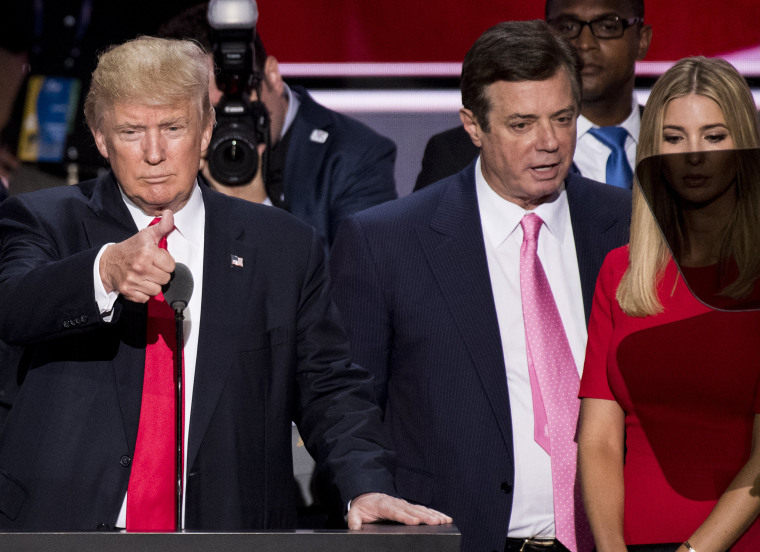 Earlier this week, Alex van der Zwaan, a former attorney for the blue-chip firm Skadden Arps who is the son-in-law of a Russian oligarch, pleaded guilty to lying to Mueller's team about his contacts with Gates.
In recent weeks, Mueller has also interviewed key figures, including former chief White House strategist Steve Bannon, Attorney General Jeff Sessions and fired FBI Director James Comey.
In a statement, White House lawyer Ty Cobb said: "The White House, as it has said from the outset, will not be commenting on matters involving Mr. Manafort or Mr. Gates, as the matters between them and the OSC are dated and have nothing to do with their service to the campaign."
Trump has called the investigation a "witch hunt" and insists there was no collusion between his campaign and the Russians.
It's still not clear if Trump will submit to questioning by Mueller.
Andrea Mitchell, Pete Williams and Ken Dilanian reported from Washington, and Tracy Connor, Kenzi Abou-Sabe and Tom Winter from New York.