More women have lodged abuse allegations against the former doctor for the U.S. women's gymnastics team since molestation claims first surfaced earlier this week, officials said Friday.
"We have taken multiple additional complaints," said Jason Cody, a spokesman for Michigan State University, where Dr. Larry Nassar has a sports medicine practice. "Complaints are still coming in."
Nassar, who was the team doctor for USA Gymnastics from 1996 to 2015, has not been charged with a crime. Michigan State reassigned him from clinical duties while it investigates.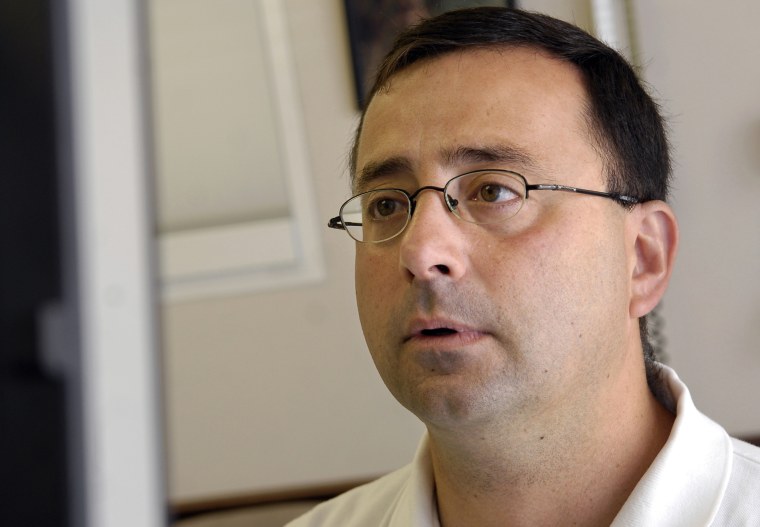 An attorney for Nassar told the Indianapolis Star, which reported the initial allegations, that his client "adamantly denies any misconduct at this or any other time." Nassar's new lawyers said Friday they were aware of the fresh allegations but had no comment.
The newspaper reported Monday that two gymnasts, one an Olympic medal winner, had accused Nassar of sexually abusing them during treatment. One of the women filed a police report with Michigan State, and the other filed a lawsuit in California.
Since then, other former patients have gone to police and prosecutors with similar allegations. Authorities have not said how many complaints have been logged, citing the ongoing investigation.
"People have reached out to my office and me directly, and I have personally helped some victims navigate this process," Ingham County Prosecuting Attorney Gretchen Whitmer said. "I can only say I have had a few calls personally and there are calls going into the police."
Cody said the incidents stretch back over two decades. A school police log appears to show three of the reports that came in this week, with allegations dating to 1996, 2001 and 2010.
"The best way to characterize these complaints we're getting is they do concern alleged abuse during medical treatments," he said.
A lawsuit filed in California Superior Court last week by an Olympic gymnast under the name Jane Doe charges that the doctor "sexually groomed" and then "sexually abused, harassed, violated and molested" her over several years in the mid-1990s, starting when she was just 13.
The defendants are not named in the court papers, but the gymnast's attorney told NBC News that they include Nassar and his employer, USA Gymnastics, which is accused of failing to protect its athletes against a predator.
USA Gymnastics officials could not be reached for comment Friday on the mounting allegations against Nassar but said in an earlier statement that it had fired Nassar in 2015 and notified law enforcement after learning of "athlete concerns."
"USA Gymnastics has cooperated fully with the law enforcement agency since we first notified them of the matter, including — at their request — refraining from making further statements or taking any other action that might interfere with the agency's investigation. We are grateful to the athletes for coming forward to share their concerns when they did."
Nassar's attorney has denied he was fired, saying he voluntarily retired.