LOS ANGELES — A former University of Southern California gynecologist, accused of sexual misconduct involving students at the campus health center, was arrested Wednesday following an 18-month-long investigation, authorities said.
Dr. George Tyndall, 71, was charged with 18 counts of sexual penetration and 11 counts of sexual battery by fraud, in cases involving 16 young women, the Los Angeles County District Attorney said in a statement given to NBC News.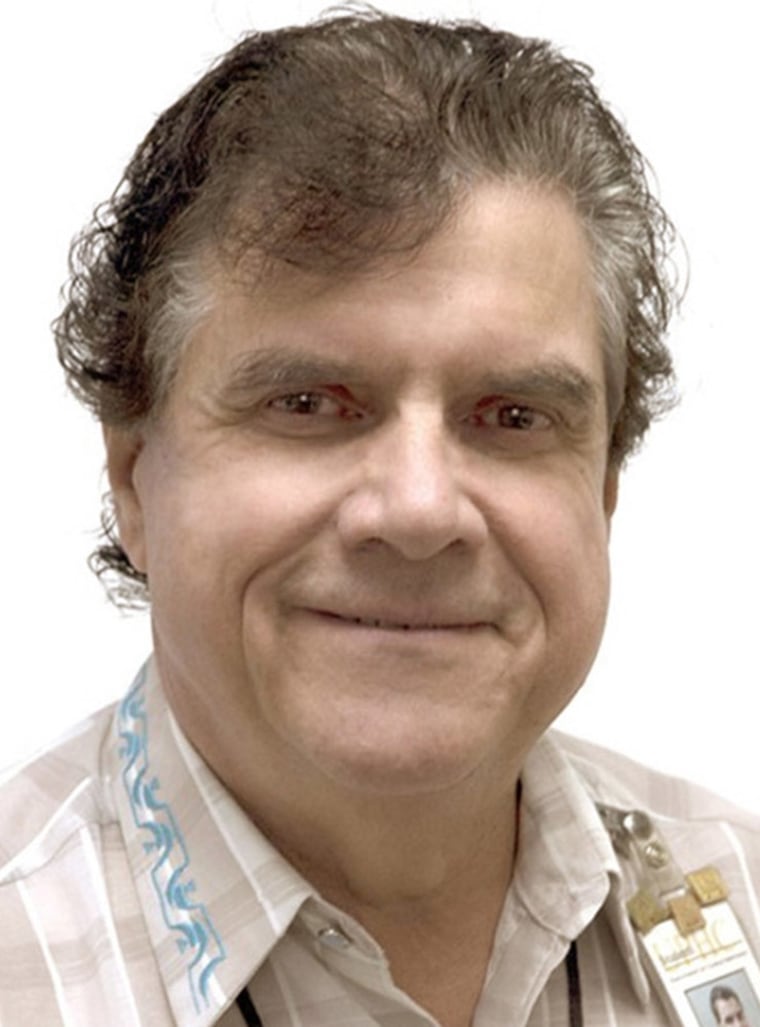 Los Angeles Police Chief Michel Moore told reporters Wednesday that 12 detectives were assigned to the investigation. While charges were filed for 16 women, Moore said that more than 350 women stepped forward.
Moore commended all the women who came forward, including "the 16 that have been identified in the criminal complaint, aged between 17 and 29 years of age, whose lives I sorrowfully believe have been forever changed by the trauma and assault that his man brought."
Detectives found a loaded pistol on Tyndall as they took him into custody Wednesday morning, but arrested him without incident. Tyndall complained of chest pains to detectives and was taken to a local hospital to be treated.
Once he is discharged, police will book and process him, Moore said. His bail has been set a $2.1 million.
The victims ranged in age from 17 to 29 in attacks that occurred between 2009 and 2016, according to the district attorney. Some of the women's accounts fall outside the 10-year statute of limitations.
More than 1,000 videos described as "homemade sex tapes" and a number of sexually explicit photographs were discovered through search warrants, LAPD Robbery-Homicide Division Captain William Hayes told NBC News.
The videos appeared to have been made outside the United States, but some of the photos appeared to have been taken "in the course of his employment" at USC.
He faces a maximum of 53 years behind bars if convicted on all counts, according to the district attorney.
Tyndall's defense lawyer, Andrew Flier, said his client will fight all charges.
"We look forward to proving his innocence," Flier told NBC News.
In a separate statement, Flier insisted Tyndall has been unfairly vilified by news media.
"After a year of being tried in the press, Dr. Tyndall looks forward to having his case adjudicated in a court of law where the truth will finally prevail," according to the statement given to NBC News from Flier. "He remains adamant he will then be totally exonerated."
Tyndall spent about three decades as a USC staff gynecologist, but retired in 2017 after an internal investigation concluded there was evidence he sexually harassed students during physical examinations.
Tyndall has denied the allegations and USC has denied accusations of a cover-up.
Nearly 100 women, who said they were sexually harassed or abused by Tyndall, filed a lawsuit in October 2018 against USC. The school agreed to settle the lawsuit in February for $215 million and promised to institute campus reforms on preventing and reporting sexual abuse.
In August, 2018, USC President C. L. Max Nikias stepped down in the wake of the criticism arising from the sex-abuse allegations.
Wanda M. Austin, USC's interim president, said the school has been cooperating with investigators.
"USC is awaiting further details on George Tyndall's arrest," Austin said in a statement. "We have cooperated with the LAPD and District Attorney's Office investigations since the beginning and will continue to do so. We care deeply about our community and our top priority continues to be the wellbeing of our students, health center patients and university community. We hope this arrest will be a healing step for former patients and our entire university."
Los Angeles civil attorney Gloria Allred, who has 62 victims in a separate active lawsuit against Tyndall and USC, said Wednesday she welcomed the prosecution.
"We will continue to litigate our civil lawsuit on behalf of our 62 alleged victims of Dr. George Tyndall and USC until there is justice for them in the criminal justice system as well as the criminal case," she told reporters.
One of Allred's clients, Daniella Mohazab, said she's heartened by Tyndall's arrest.
"I broke down at work today in tears of happiness that Tyndall is behind bars," said Mohazab, who declined to say if she was among the 16 woman who were victims in the Los Angeles DA's case filed on Wednesday.
"Thank you to the LAPD and the law enforcement officers because of their hard work in investigating this case. This isn't over. It is a huge step forward."