Two days after Christmas 2003: A man walking his dog through the woods on Whidbey Island in Washington state spots a yellow Chevy sports utility vehicle, its door open, its driver with a bullet in the head.
The victim is Russel Douglas, 32, and when police search his cell phone records, according to court documents, they find that he has recently been in touch with Peggy Sue Thomas – a 6-foot-tall, single mother of two who was crowned Ms. Washington in 2000.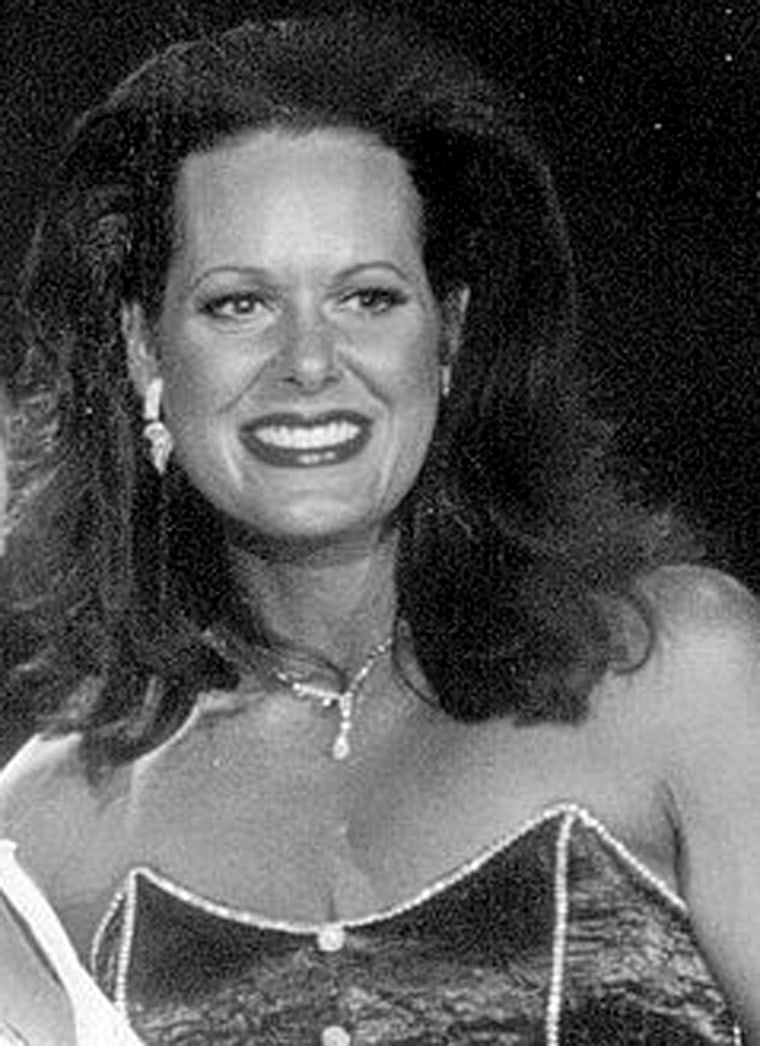 She won the evening gown division at the national competition, where she proclaimed, according to a profile in the Seattle Weekly, that the greatest ethical challenge facing women was "raising children with morals, even with all the violence, sex and drugs in the media."
Years after she graced the national stage with that sobering message, prosecutors alleged that she lured Russel Douglas, the estranged husband of a longtime friend, to the woods under the pretense of giving him a Christmas gift. There, investigators claimed, her lover shot Douglas point-blank.
On Thursday, a week before her first-degree murder trial was scheduled to begin, Thomas, 47, pleaded guilty to first-degree rendering of criminal assistance with three additional years for the involvement of a gun – a crime that will likely result in a four-year sentence. That's the maximum amount of time under the state's sentencing guidelines for that crime.
Read the charging document (.pdf)
Thomas has, by all accounts, lived a storied life.
She was born on Whidbey Island in a busy home filled with stepsiblings and half siblings, including a brother who was later killed in an Alaska bar by a man he had beaten in an arm-wrestling contest, according to the Seattle Weekly. Her stepmother was murdered. A sister later hanged herself.
Thomas attended beauty school, did a stint in the Navy and married several men, including an Alaska businessman whose horse, Mine That Bird, won the Kentucky Derby in 2009. She drove a Lexus with a vanity plate that read, according to the Weekly: FIRYRED, presumably a nod to her auburn-colored hair.
Island County Detective Mark Plumberg wrote in a statement that when he called Thomas after finding Russel Douglas dead at the wheel, she told him that she was a limousine driver in Las Vegas.  
Plumberg said Thomas told him that she had been in touch with Douglas over the holidays – but only to give him a gift to pass along to his wife, Brenna Douglas. 
But then came telephone tips in 2004, including one from a Florida man who said a friend, James E. Huden, told him that he had killed a man on Whidbey Island and that he had not been able to find the shell casing, Det. Plumberg wrote in his statement. That fit with the crime scene, where the shell casing of a .380-caliber pistol was found, according to court documents.
The Florida man added that Huden was having an affair with a woman named Peggy, who lived in Las Vegas, and that the two had been on Whidbey Island over the holidays, court records say.
Meanwhile, a retired police officer in New Mexico turned in a .380-caliber pistol he believed had been used to kill Russel Douglas, according to court records. The retired officer knew Huden and said that he had picked up the gun before leaving for Washington state, and then dropped it off upon his return. The Washington State Patrol crime lab identified the gun as the one that discharged the bullet that killed Russel Douglas.  
The crime lab also detected "a latent fingerprint" belonging to Peggy Sue Thomas, court records say.
As police interviewed witnesses, Huden departed for Mexico, where he called himself Maestro Jim and taught guitar, the Seattle Weekly reported. While he was abroad, Island County prosecutors charged him with first-degree murder. 
The Seattle Weekly quoted Sgt. Michael Beech as saying on the television program "Washington's Most Wanted" that investigators believed that Huden was "hired, a contract, to kill Russel Douglas."
In 2011, Huden's wife, Jean Huden, told investigators that her husband told her about the killing. U.S. Marshals arrested Huden in Mexico in June 2011. He was found guilty of first-degree murder in July 2012 in Island County Superior Court and was sentenced to 80 years in prison.
Peggy Sue Thomas was arrested a month later in New Mexico near her houseboat, which court records say she had recently renamed "Off the Hook."
Bail was set at $5 million.
Plumberg suggested a possible motive in court records: Thomas and Brenna Douglas had worked together at a hair salon, and Thomas owned the house in which the Douglas family had lived. The detective said one witness had told him that she had heard Russel Douglas had been abusive toward his wife and their children. The Seattle Weekly reported that Brenna Douglas had filed a restraining order against her husband, saying that he had punched her and threatened to kill her.
As for Thomas, her attorney Craig Platt told the Seattle Times Friday that the plea deal provided his client some relief. Thomas has maintained her innocence.
"She accepts the outcome, but for her it's the lesser of two evils," Platt said.