Five former wrestlers for Ohio State University have filed a pair of federal class-action lawsuits in Ohio's Southern District court claiming university administrators knew that the team doctor, Richard Strauss, had sexually abused athletes more than 20 years ago and did nothing to stop it.
The first lawsuit, filed on behalf of four former wrestlers by four law firms, alleges that male athletes involved in 14 sports were subject to "excessive and medically unnecessary fondling, touching and groping" during routine medical examinations, echoing the claims of several former wrestlers who told their stories to NBC News in the past month. In April, Ohio State announced that it had opened an investigation into alleged misconduct by Strauss, who died in 2005.
Coaches and administrators were "repeatedly informed" of Strauss's serial sexual abuse, according to the first complaint. The lawsuit alleges that one student complained about Strauss to the university's student health center in 1978 and that, in the mid-'90s, two wrestlers reported Strauss to Andy Geiger, then the school's athletic director, while another reported the groping to the wrestling coach at the time, Russ Hellickson.
Ohio State held a hearing on the allegations against Strauss in 1997, according to the complaint, and he was allegedly allowed to "quietly retire," without facing disciplinary action.
The second lawsuit, filed on behalf of a fifth unnamed wrestler in Ohio's Southern District court Tuesday afternoon by Pennsylvania firm Sauder Schelkopf, similarly claims Ohio State "knew or should have known" about the alleged serial abuse, and "negligently failed to supervise Strauss in his position of trust and authority as a team physician, physician, faculty member and authority figure over patients and young students."
The second lawsuit alleges the former wrestler was abused by Strauss on 20 occasions in the 1980s, including sexual harassment and inappropriate touching during examinations. The lawsuit also alleges Strauss took photographs of the former wrestler.
In a statement Tuesday, Ohio State confirmed that its investigative team had received reports of sexual misconduct by Strauss from former health service patients and male student athletes in 14 sports.
"We are aware of reports that individuals at the university did not respond appropriately during that era," the university said, adding that the state attorney general's office had appointed private legal counsel for the school.
"Ohio State remains committed to uncovering what may have happened and what university leaders at the time may have known," it said.
Geiger and Hellickson did not immediately respond to requests for comment.
The lawsuits ask for unspecified damages, and the first one also asks for an injunctive order that the university adopt a program to protect future student athletes.
The first lawsuit claims that as a result of Ohio State's alleged failure to properly investigate the complaints, the four John Does — one who was allegedly just 14 years old when the abuse began — have suffered physically and mentally, including "shock, emotional distress, physical manifestations of emotional distress," which have impeded the performance of "daily activities and obtaining the full enjoyment of life." The lawsuit on behalf of the fifth John Doe makes similar claims.
Strauss's family previously released a statement saying they were "shocked and saddened" by the allegations.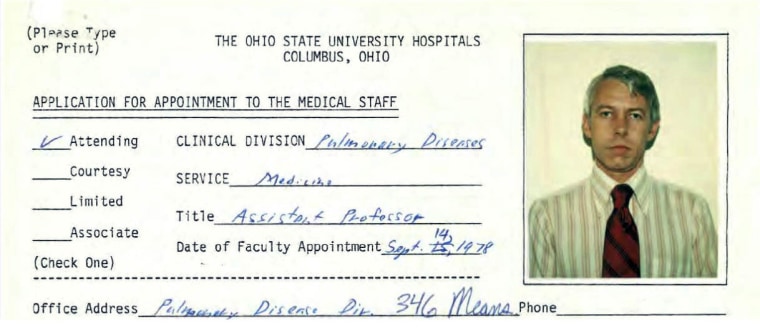 Rep. Jim Jordan, R-Ohio, a former assistant wrestling coach at Ohio State, is not mentioned in the first complaint, although it cites news reports discussing allegations against him. Jordan is mentioned in the second complaint, which cites NBC News to detail accusations from former wrestlers that Jordan, according to the complaint, "was also aware of Strauss' abuse but that he also concealed it."
Jordan was accused by six former wrestlers who spoke to NBC News of turning a blind eye to the abuse by Strauss. One former wrestler, Dunyasha Yetts, said he had reported the abuse directly to Jordan, an account corroborated by a second wrestler, Shawn Dailey. Yetts' account is cited in the lawsuit. All the other wrestlers who spoke to NBC News said they believed Jordan must have known of the abuse because Strauss's inappropriate behavior was regularly discussed in the locker room.
The lawsuit that mentions Jordan does not name him as a defendant; it names Ohio State University and leaves open the possibility of naming additional entities or people once more is known about their roles in the alleged abuse.
A spokesman on Tuesday reiterated Jordan's repeated denials that he knew about any abuse, and some former coaches and wrestlers, including two who spoke to NBC News, have said they believed he did not know about it.
Steve Estey, one of the four attorneys representing the first four John Does, said he expected Jordan to be called as a witness in that case. Estey called denials from Jordan and others "frustrating" for his clients.
"Just like with the #MeToo movement, there is strength in numbers," Estey said. "The more people who come forward and support our clients with their own stories, the more credibility they'll get. But the truth will come out."
Estey said that his team had already been contacted by other athletes looking to be added to the complaint and that although damages are currently unspecified, he expected any award would be large.
"Who knows how many will come forward?" he said. "In a single case, I've gotten verdicts of $30 million. I'm not saying I'm asking for that here, but the psychological harm that goes on with this kind of abuse is lifelong. Juries understand that."