Two soldiers based at Fort Bliss, Texas, were each being held on $1 million bond Thursday and accused of executing a teenager with a bullet to the neck.
Pvt. Tyler Shane Hall and Sgt. Eric Duvall were arrested and charged with murder three days after police on Sunday found the body of 16-year-old Michael Tapia on a desolate stretch of desert outside El Paso.
An autopsy revealed Tapia had been killed Jan. 16. with a shot to the back of the neck, arrest affidavits obtained by NBC News revealed.
"It is believed that the murder was narcotic related," the El Paso County Sheriff's Office said in a news release.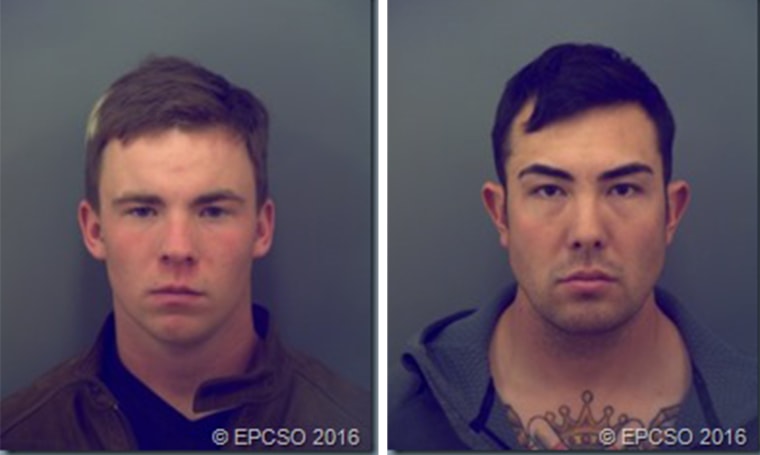 Hall, 20, and Duvall, 25, both assigned to the 1st Armored Division, are being held in the El Paso County Detention Facility.
Police tracked them down after the victim's mother told detectives a soldier who went by the name "Duvee" threatened her son last year "over a drug deal" and showed them a copy of a text message she sent him on Oct. 26, the affidavits state.
With help from the grieving mom, detectives tracked down Tapia's friends who told cops that Hall and Duvall had shown up at the east El Paso house where the doomed teen had been staying and demanded to see him.
Duvall was armed with an AR-15 rifle, the papers state. And when Hall accused Tapia of stealing drugs from him, the weeping teenager told them he would pay them back.
"F--k you, we'll fix this right now," Duvall said, according to the papers. "Let's go."
Then they marched Tapia out of the resident and drove off in Duvall's truck.
They returned about an hour later without the teenager.
"I shot him in the head," Hall allegedly said. "I did a double tap on his head."
"We killed him," Duvall allegedly added, and confirmed that Hall pulled the trigger.
The witnesses told police they didn't come forward sooner because they were afraid of the soldiers and one of them said he'd been shot by Duvall before but didn't press charges, the paper reported.