The suspect believed to have shot five people to death in a rampage at a Florida airport Friday was being treated in Alaska after complaining of hearing voices and had recently claimed to the FBI that the CIA was forcing him to watch ISIS videos, federal officials said.
Esteban Santiago, 26, was identified as the gunman who opened fire at a baggage claim at the Fort Lauderdale-Hollywood International Airport at 12:55 p.m., apparently shooting people at random.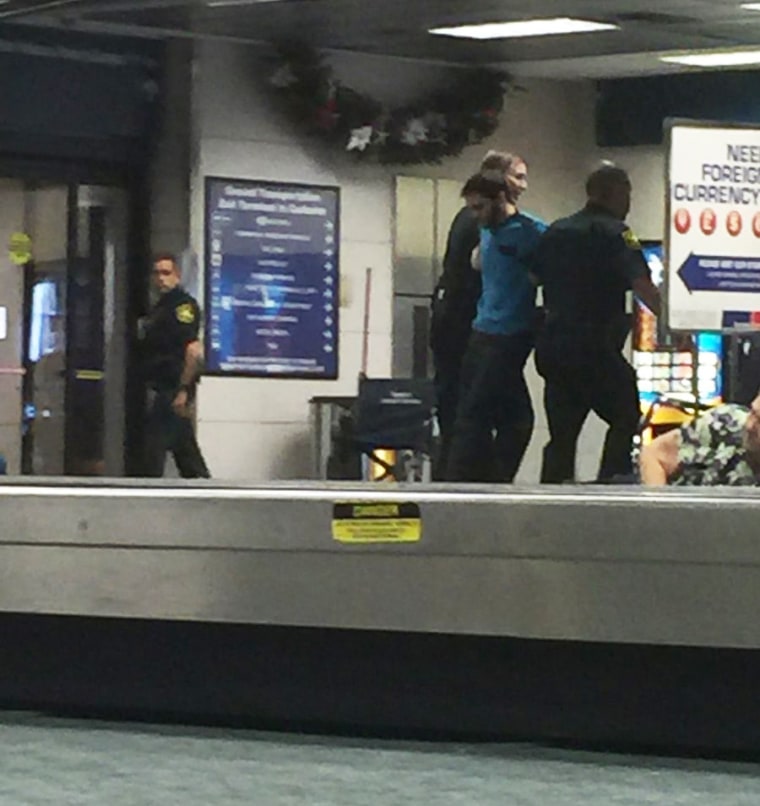 Santiago had been "fighting with a lot of people," his brother, Bryan, told NBC News in a phone interview from Puerto Rico. His aunt and uncle in New Jersey said Santiago had not been the same since a 10-month deployment in Iraq with the Puerto Rico National Guard.
"Sometimes he's good. Sometimes something weird," Bryan Santiago said. "He had a woman there in Alaska, a child. He fight verbally too much with her. I can tell you he fight too much with everybody."
Bryan Santiago said the family had been notified recently by Alaska officials that "he had received psychological counseling in Anchorage."
Late Friday, FBI agents left the home in Anchorage where he is believed to have been living, carrying boxes of personal items.
FBI Special Agent in Charge George Piro of the Miami division said during a Saturday press conference that the FBI had found indications that Santiago came to Fort Lauderdale solely to carry out the horrific attack, but he added that the motive remained unclear.
On Saturday, law enforcement officials said they had concluded an interview with the suspect that lasted several hours.
In addition, the FBI has also conducted more than 175 witness interviews and investigated multiple locations across the country that related to the case, as investigators believe that Santiago had visited different cities before landing in Fort Lauderdale.
The suspect was born in New Jersey but moved to Puerto Rico with his family and was raised there, his aunt and uncle said.
He joined the Puerto Rico National Guard in December 2007, and served in Iraq from April 2010 to February 2011 as a combat engineer, according to the Alaska National Guard.
He was in the Army Reserves before joining the Alaska National Guard two years ago and got a general discharge Aug. 16, 2016, for unsatisfactory performance, a spokesman for the Alaska guard said. He was a private first class when he was discharged, the Guard said.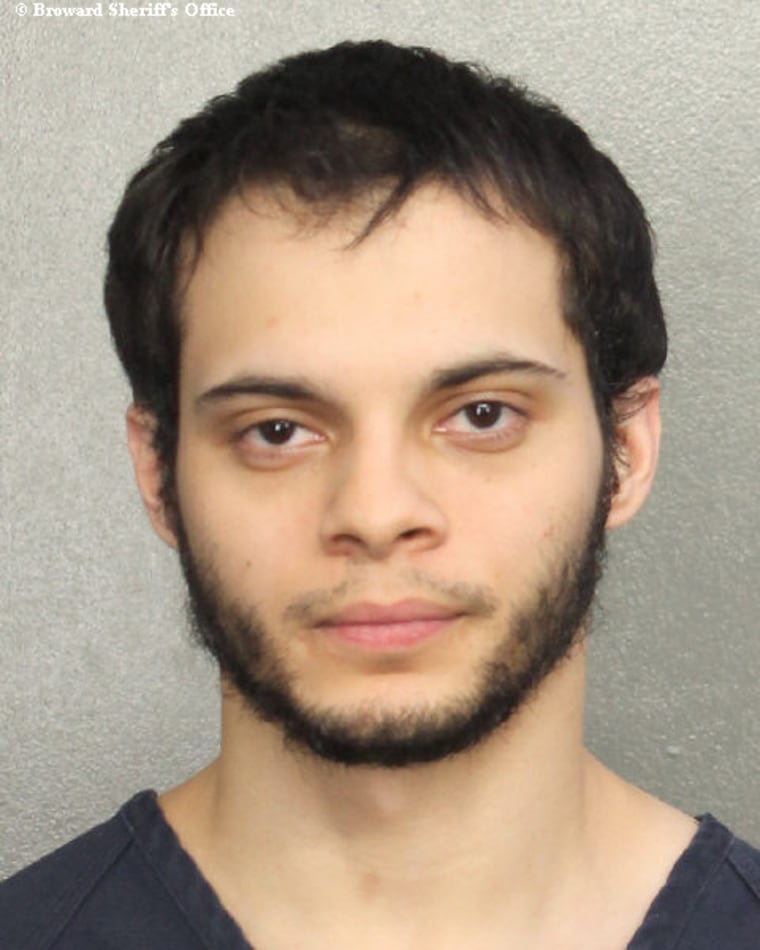 Witnesses said the gunman shot his victims at random until he ran out of bullets, then got on the ground and waited for police. He carried a Glock 9 mm semi-automatic handgun.
Federal authorities have gone through Santiago's phone, computer and internet usage and have found no evidence of contact with terrorists or terror organizations.
In November, Santiago walked into the FBI's office in Anchorage and claimed his mind was being controlled by a U.S. intelligence agency and the CIA was forcing him to watch ISIS videos, federal law enforcement officials told NBC News.
Santiago was clear that he didn't intend to harm anyone, but the FBI was concerned by his erratic behavior and called police and he was taken to a mental health facility for an evaluation, Piro told reporters Friday night.
PHOTOS: Passengers Panic as Gunman Opens Fire at Airport
"We looked at his contacts, we did our interagency checks and everything and at that point we closed our assessment," Piro said.
Bryan Santiago, who lives with his mother in Puerto Rico, said he did not know whether his brother had been diagnosed with post-traumatic stress disorder and did not know why his brother left the Alaska National Guard.
"We were talking to him like three weeks ago," he said.
But the conversation did not go well. "Just arguing," Bryan Santiago said, when asked to explain.
After that, the family did not hear from Santiago again, which was unusual.
"We are very worried here," he said. "Why he did not call us."
Police said Santiago took off from Anchorage and arrived at Fort Lauderdale-Hollywood International Airport on Friday on a connecting flight from Minnesota. He had booked the flight on Tuesday. At the baggage claim, they said, Santiago retrieved his pistol and began shooting.
"The suspect had only checked one item, a handgun case and no luggage," said Jesse Davis, the police chief of the Ted Stevens Anchorage International Airport.
Both Davis and the FBI say Santiago followed TSA procedures for checking firearms.
Why Santiago began firing remains a mystery.
Santiago's brother said they have family in Florida but had no idea why he was there — or why he allegedly went on a shooting spree.
"He is a regular person, spiritual, a good person," Bryan Santiago said.
Santiago's aunt and uncle in Union City, New Jersey, said Santiago was the father of a son named Pierre and that the boy and his mother both live in Puerto Rico. They, too, had no explanation for the shooting, but suspected it might have been related to his war experience.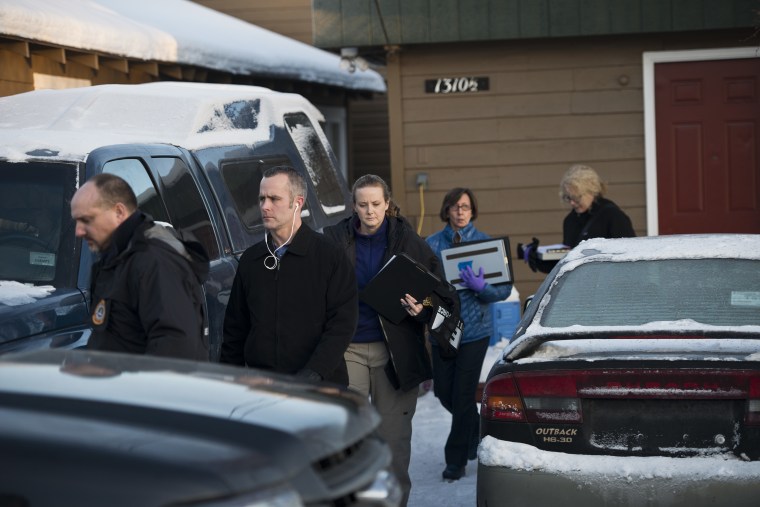 "When he came back from Iraq, he wasn't feeling good," Hernan Rivera told NBC News. Santiago's aunt, Maria Luisa Ruiz, said they were told that he "got a little sick" around December, started to hear things and was in treatment.
Santiago was born in Hamilton, New Jersey, and raised in Peñuelas, Puerto Rico, where his mother still lives. His father died four years ago.
Six years ago, Santiago enlisted in the Puerto Rico National Guard, his brother said.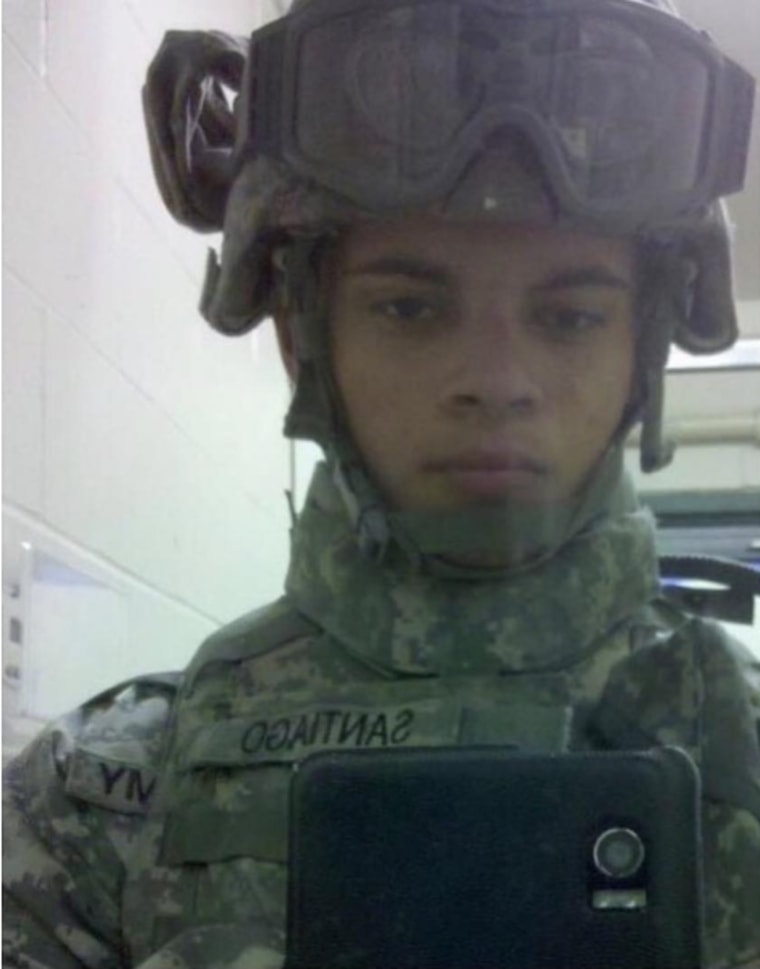 "He was pro-America," Bryan Santiago said.
Two years ago, Santiago moved to Alaska, where he lived with a woman and a child and where he worked as a security guard, his brother said. He also owned a handgun.
In January 2016, he was charged with criminal mischief and a misdemeanor count of assault after he allegedly broke open the door of a bathroom and yelled and choked his girlfriend, according to police records. The case was dismissed in March, according to online records. A call to an attorney listed as representing Santiago was not immediately returned.
Santiago was unharmed during his arrest after the shooting in Florida, and no law enforcement officers fired any shots, Broward County Sheriff Scott Israel said. Investigators believe he acted alone, Israel said.
Piro, of the FBI's Miami division, said Friday night that investigators are not aware of any incident that occurred on the flight or in the baggage claim area before Santiago opened fire.