Fort Lauderdale's airport remained closed for a second day Thursday after more than 2 feet of rain fell on the South Florida city, flooding roads, swamping cars and stranding travelers, officials said.
"The amount of rainfall is unprecedented," Mayor Dean Trantalis said Thursday.
And it wasn't over. Another round of rain Thursday flooded roads that had been passable, the city government said, and residents were urged to stay off the roads.
An additional 2 to 3 inches of rain fell Thursday, the National Weather Service said.
There have been 900 calls for service to the city's fire department, including rescues, Trantalis said earlier in the day, but no deaths have been reported. Around 600 people were taken to shelters, the city said.
Drone video broadcast by NBC Miami showed abandoned cars littering downtown, even as the waters had receded.
Fort Lauderdale-Hollywood International Airport, which stopped flight operations Wednesday after exits, entrances and runways flooded, will remain closed until 9 a.m. Friday to restore runway operations and do inspections, the airport said.
Parts of the city of 180,000 saw 25.91 inches of rain by 9 a.m. Thursday, while nearby Dania Beach got over 17 inches and Hollywood received a little more than 18 inches, according to the National Weather Service, although the reports were preliminary.
Sleeping at the airport was the hardest part for Jessica Pfau, of Baltimore, who was stranded for the night along with her four children, husband, and the children's grandfather.
"I think we maybe got four hours of sleep, and it was freezing," she said. They were trying to get a rental car Thursday.
Gov. Ron DeSantis on Thursday declared a state of emergency for Broward County, where Fort Lauderdale is, and the county government also declared a local emergency.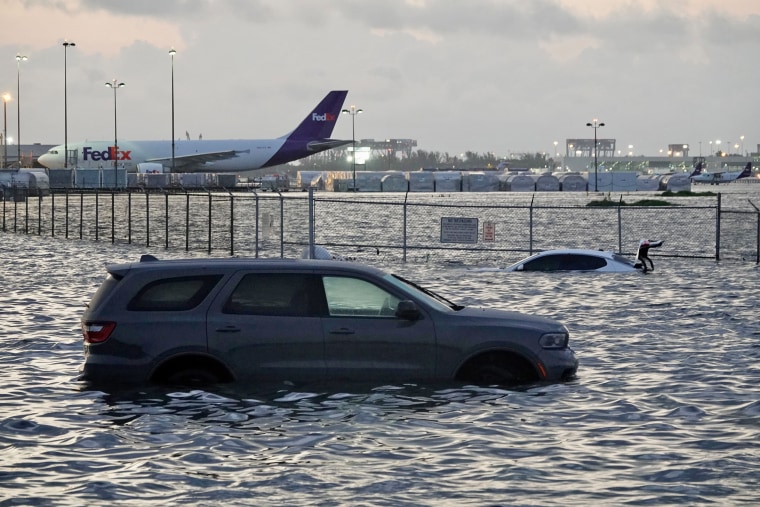 Broward County Public Schools canceled classes Thursday and said schools would be closed Friday as well. Staff was repairing facilities Thursday but some areas were unreachable, the district said.
"Thus far, we have been able to assess preliminarily $2 million in damages to our schools," Valerie Wanza, acting chief of staff for the school district, said at a briefing. "A lot of it is due to flooding."
The heavy rain was caused by a slow-moving frontal system, combined with a low pressure system in the Gulf of Mexico, the weather service said Thursday. That led to prolonged periods of very heavy rain, with the heaviest in Broward County it said.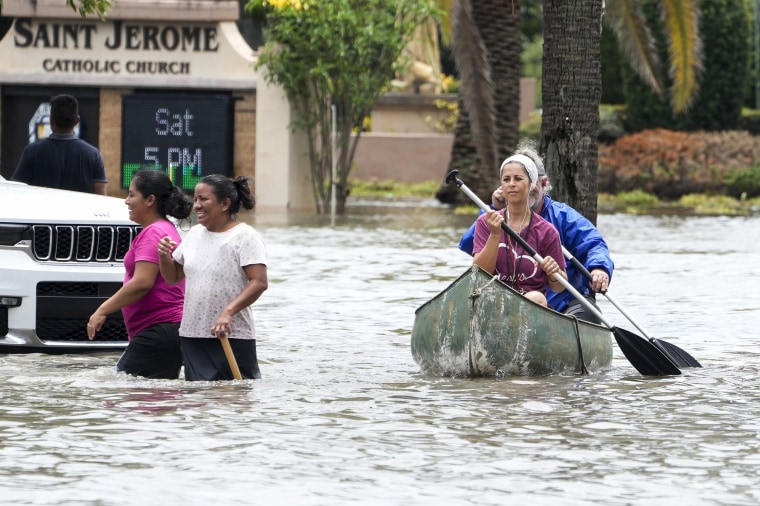 There were also two tornadoes in Broward County on Wednesday. Both were short-lived and were rated at EF0, or the lowest on the Enhanced Fujita Scale, according to the weather service.
One happened around 3:30 p.m. and caused minimal damage, possibly just at the tree-top level, and the second hit around 9:40 p.m. just south of Fort Lauderdale's airport, the agency said.
By Thursday night the heavy rain had come to an end, but a flood warning remained for the Fort Lauderdale area until 8 a.m. Friday because numerous roads remained flooded, the weather service said.