A lone shooter opened fire Friday afternoon at Fort Lauderdale-Hollywood International Airport in Florida, killing five people and wounding six others before he was taken into custody, the Broward County sheriff said.
Esteban Santiago, 26, flew from Alaska to Florida with a gun in a checked bag, and after landing got the firearm and opened fire near a baggage claim in Terminal 2 at around 12:55 p.m., officials said.
"He eventually retrieved a firearm and began indiscriminately shooting," Broward County Sheriff Scott Israel told reporters Friday night. "This cowardly, heinous act resulted in the deaths of five people."
The FBI and Jesse Davis, the police chief of the Ted Stevens Anchorage International Airport, confirmed that Santiago followed TSA procedures in checking his weapon. It was the only item he brought with him to Fort Lauderdale.
"The suspect had only checked one item, a handgun case and no luggage," said Davis.
Six people were also wounded by gunfire and sent to the hospital, where three remained in intensive care as of Saturday morning. Thirty-seven others suffered other injuries in the chaos of the shooting and in the aftermath, officials said. Federal guidelines allow for passengers to check unloaded guns in a locked case, and also allows for ammunition to be placed in checked baggage.
The FBI confirmed that the shooter used a Glock 9 mm semi-automatic handgun, but they would not detail the exact model.
Santiago, who relatives and federal officials said was receiving treatment for mental issues, was in federal custody and a motive has not been determined, FBI Special Agent in Charge George Piro of the Miami division said.
Federal officials said they had gone through Santiago's email, phone and internet use. They confirmed that he used three emails. So far they have found no contact with any known terrorists or terror organizations.
In a Saturday morning press conference, Piro said that the FBI had concluded an interview with Santiago that had lasted several hours. The FBI agent declined to provide any details as the investigation was ongoing. Santiago was transported to Broward County jail after the interview early Saturday morning.
Since the shooting, the FBI has conducted more than 175 witness interviews and were investigating locations across the country that related to the case, as there were indications that Santiago had traveled to multiple places before landing in Fort Lauderdale. Piro also said in the Saturday press conference that the FBI had found indications that Santiago came to Fort Lauderdale solely to carry out the horrific attack, though the motive remained unclear.
Santiago made the flight reservation on Tuesday, according to federal officials.
The gunman fired into a crowd in a lower floor of Terminal 2 as panicked travelers took cover behind chairs — and he only stopped when his bullets ran out, witnesses said.
"At first we thought it was firecrackers," said witness Mark Lea, 53. "Everyone started screaming and running."
Related: Fort Lauderdale Airport Shooting Suspect Said He Heard Voices, Officials Say
Lea said the shooter made his way through baggage claim with what looked like a 9 mm firearm and emptied his entire magazine. "People were trying to run," he said.
"Once he finished shooting, he walked down by Door 2, threw his gun on the ground, and laid down on the ground, spread-eagle, until the first officer came — which was probably a minute later," Lea told MSNBC. "He was not shot at all, was not wounded."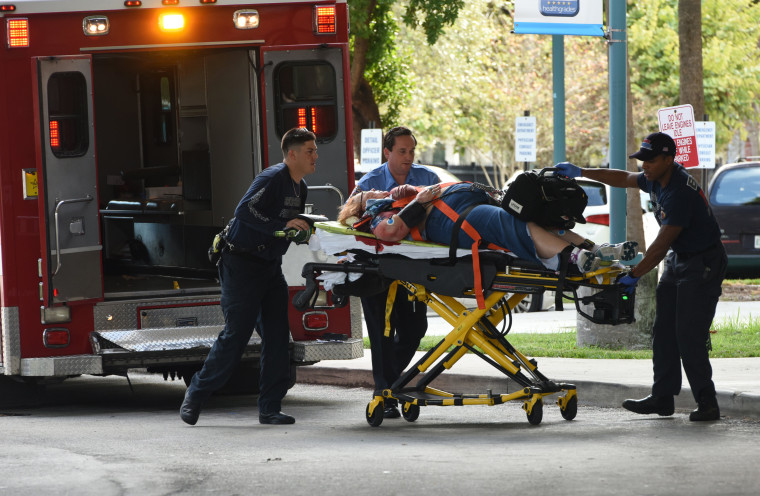 Federal law enforcement officials told NBC News that Santiago was undergoing treatment for mental health problems, complaining that he was hearing voices.
In November, he walked into the FBI's office in Anchorage, claiming his mind was being controlled by a U.S. intelligence agency and that the CIA was making him watch ISIS videos, the officials said. Officials say local police were called, and he went voluntarily to a mental health facility for treatment.
In that incident Santiago said he did not want to harm anyone, and the FBI closed its assessment after conducting checks and interviewing family members, the officials said.
The airport was shut down and was not expected to reopen until 5 a.m. Saturday. Some 10,000 people were expected to have been bussed to Port Everglades, an airport official said. Two cruise ships set to depart from the port were delayed.
A brother of the suspect, Bryan Santiago, told NBC News that Esteban grew up in Puerto Rico, where he served in the National Guard. He was deployed to Iraq for 10 months, moved to the Army Reserves and later moved to Alaska, where he served in the Alaska National Guard as a combat engineer. He was discharged in August 2016 for unsatisfactory performance, the Alaska National Guard said.
Esteban Santiago had a girlfriend and a child in Alaska, Bryan Santiago said, adding the girlfriend had told him that the couple had been fighting and that he'd received psychological counseling in Anchorage.
Bryan Santiago said he had not heard from his brother for several weeks, which he said was unusual. His family was worried about him. "He is a regular person, spiritual, a good person," the brother said.
Maria Luisa Ruiz, an aunt of Santiago's, said she last saw him after he returned from Iraq in 2011. She said he was in therapy in San Juan, Puerto Rico.
Traveler John Schicher told MSNBC he had just arrived at the airport's baggage claim with his wife and mother-in-law when the gunman started firing just feet away from him.
"He was holding a black handgun and he was just shooting randomly into the crowd," Schicher, who said he was "in shock," told MSNBC. "There were elderly people who were shot and killed, there were two people to my left and two people to my right that were shot."
The gunman said nothing and didn't appear to be targeting anyone specifically, Schicher said, adding that the shooter had time to reload his gun before he was stopped by police.
"He walked over and he was right in our area, like within just feet of us, shooting people. I didn't know if I would be shot or if my wife or my mother-in-law would either," he said.
Schicher said he called 911 after the shots were fired, while his wife administered first aid to a man that had been shot in the head. His mother-in-law used her sweater to put pressure on another man's gunshot wound, but "he was gone already" by that point.
The shooter was wearing a blue "Star Wars" T-shirt, according to Schicher. He didn't get a good glimpse of the suspect.
"I put my head down and prayed," he said. "We stayed down."
Santiago flew from Anchorage, Alaska, to Minneapolis and then to For Lauderdale, Piro said. Officials said he does not appear to have any connections to Fort Lauderdale.
President Barack Obama spoke by phone with Florida Gov. Rick Scott and Broward County Mayor Barbara Sharief to express his wished to the families affected, and to pledge federal support during the investigation.
"The President, on behalf of the American people, extended his sincere condolences to the families and other loved ones of those killed and noted that his thoughts and prayers are with the wounded," National Security Council spokesperson Ned Price said.
In the chaotic aftermath of the shooting cameras outside the airport showed firefighters and other emergency personnel, plus large groups of passengers, standing on a tarmac.
Confusion continued long after the gunman was captured. At one point, travelers began running at another terminal, although officials said there wasn't a second shooter. In addition to the six people wounded by gunfire, 37 were injured after the shooting rampage, the sheriff's office said.
"Someone that was leaving the airport in the parking garage thought they heard something that sounded like gunshots," said Mayor of Broward County Barbara Sharief. "Out of an abundance of caution, they thought we should evacuate the area … give it a sweep and make sure nothing else is going on."
Bob Foster was inside another terminal, waiting for his flight, when crews evacuated everyone outside.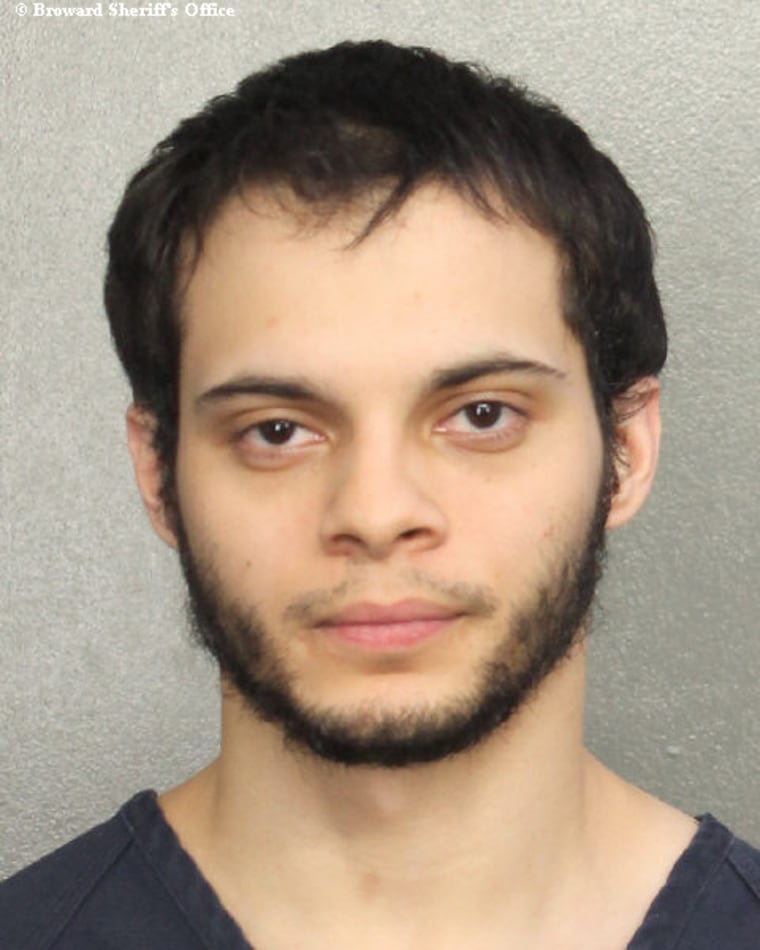 "We were told to hit the deck and we stayed there until we were given the green light to leave," said Foster, speaking to MSNBC from an airport tarmac. "Needless to say, everybody's pretty shaken up."
Former White House press secretary Ari Fleischer tweeted that he was at the airport at the time of the shooting and "everyone is running." He later tweeted that "all seems calm."
The airport says over 73,000 travelers pass through each day, but it operated at under 50 percent through Friday. The facility is located minutes from residential strips of high-rise condominiums, aging fishing marinas and restaurants crammed tightly together along Hollywood beach.
Fatal shootings at airports, where security is tight, are unusual. In November 2016, a disgruntled former employee opened fire at the Will Rogers World Airport in Oklahoma City, killing a Southwest Airlines worker