At least two people were killed and more than a dozen others injured after a shooting outside a Florida nightclub hosting an event for teens, officials said early Monday.
The gunfire rang out just as family members were picking up their kids from Club Blu in Fort Myers, where the "no ID required" party had just finished.
Some of the victims are as young as 12, according to authorities.
The two young men who died were identified by Fort Myers police Monday morning as Ste'fan Strawder, 18, and Sean Archilles, 14. Both the teens attended school in the Lee County School District.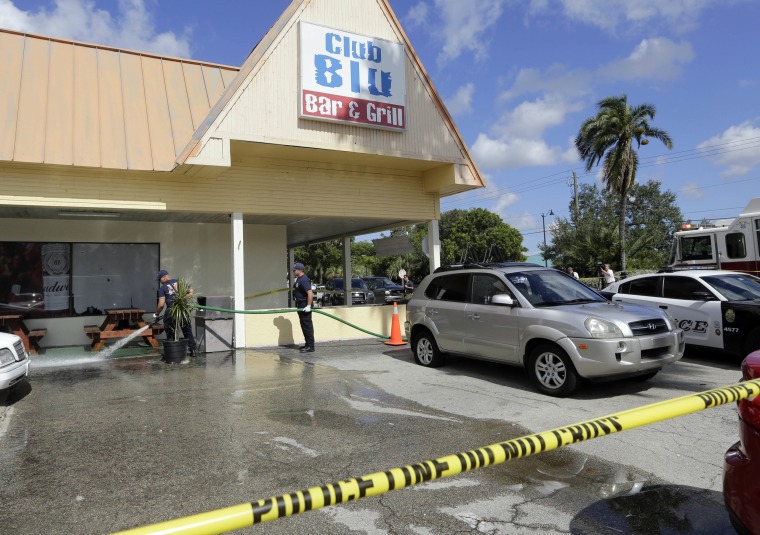 "We are deeply sorry for all involved," Club Blu said in a Facebook post. "We tried to give the teens what we thought was a safe place to have a good time."
The club said there was "armed security" at the event for children between the ages of 12 and 17, adding there "was nothing more we could have done." Although police did not immediately give information about the identity of the suspects, the club said that "it was not kids at the party that did this despicable act."
Police said that officers responded to the parking lot of Club Blu at around 12:30 a.m. to find multiple people suffering gunshot wounds ranging from minor to life-threatening. They said Monday that the violence was not an act of terror.
At least 18 people were hurt, said Lisa Sgarlata, the Chief Administration Officer of Lee Memorial Hospital, where 16 people sought treatment. Sgarlata said many were released from the hospital quickly, and only four remained hospitalized late Monday morning. Two were in fair condition and two were in critical condition.
The victims were aged between 12 and 27.
"This is not something we're used to — not in this type of volume by any stretch," said Lee Memorial trauma surgeon Dr. Andrew W. Mikulaschek. "I have been here 17 years ... in terms of gunshot wound victims, this is the worse I've ever seen."
PHOTOS: Authorities on the Scene After Deadly Ft. Myers Shooting
Shots were also fired — lightly injuring another person — five blocks away from the nightclub, police said. That crime scene was one of three related to the same shooting, WBBH reported.
Three people were detained for questioning early Monday, and police said they were looking for other potential suspects. They asked that any victims who left the hospital before speaking with police come forward to share any information they have.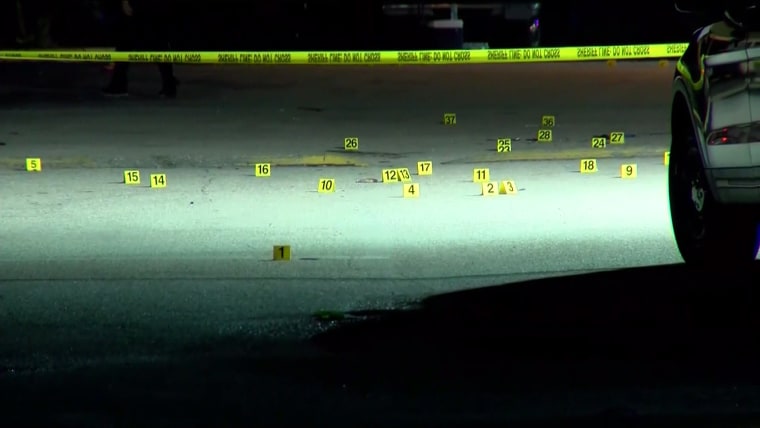 Gov. Rick Scott vowed that the shooter or shooters would be brought to justice, calling the incident "horrible, tragic news."
"The first thing you think about is as a parent or grandparent, you can't imagine this happening to any family," he said.
Earlier, officers said three people left the scene in a car with two later fleeing the vehicle, according to WBBH reporter Gabrielle Shirley.
Shirley reported that "a big crowd of people scattered everywhere taking cover" when the gunshots rang out.
She added that an employee at the club was too shocked to speak. "He was just shaking his head, and through tears giving me the indication again that this is a very, very traumatic experience here, he could not even form words," Shirley added.
Detectives had yet to determine a motive Monday.
The shooting comes a little more than a month after the massacre at a gay club in Orlando that left 49 people dead, making it the deadliest shooting in modern U.S. history.