LOS ANGELES — Police are investigating poultry producer Foster Farms after an animal-rights group shot undercover video showing some chickens being slammed upside-down into metal shackles, punched and having their feathers pulled out while they were still alive.
The video, obtained by The Associated Press in advance of its release Wednesday, was shot by the Los Angeles-based Mercy for Animals, which advocates against eating meat. The group said the footage was shot between April and June at a Foster Farms slaughterhouse in Fresno and the company's nearby farms.
Tony Botti, a spokesman for the Fresno County Sheriff's Office, said the agency is investigating the allegations after receiving a complaint from Mercy for Animals.
Foster Farms spokesman Michael Fineman said in a statement that the company has launched its own investigation and will fully cooperate with authorities.
"The behavior of the individuals in this video is inappropriate and counter to our stringent animal welfare standards, procedures and policies," Fineman said. "We believe raising chickens humanely is simply the right thing to do, and we take our commitment to humane values very seriously."
He said employees get annual training in how to humanely handle chickens and that those who violate the company's standards are subject to discipline, including firing.
Foster Farms employs about 12,000 people, Fineman said, adding that "what's on this video does not reflect the company's culture and policies."
Among the footage, workers are shown throwing bins of live chicks onto the ground, after which some are shown apparently unable to move. Other footage shows what Mercy for Animals said are the bodies of chickens boiled alive after missing an automatic knife that's supposed to slit their necks at the Fresno slaughterhouse.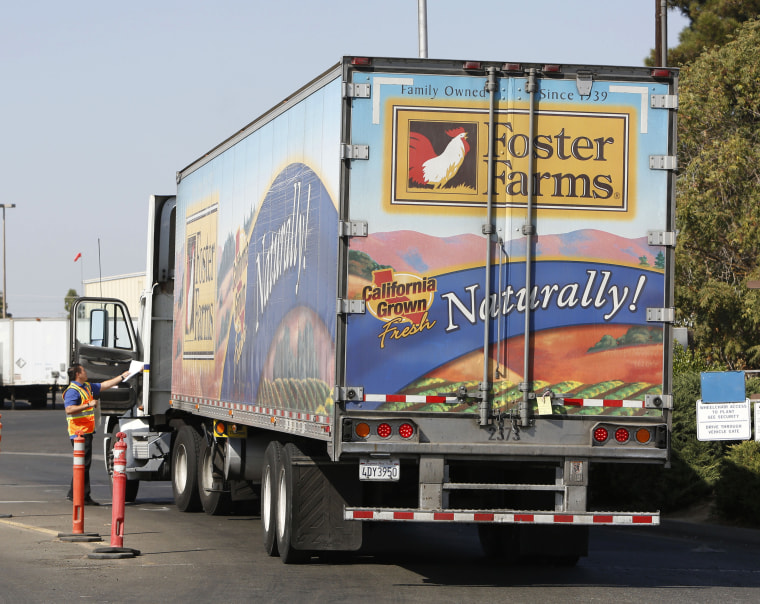 Foster Farms is certified as being humane by the Washington, D.C.-based American Humane Association, founded in 1877 and recognized by the U.S. Department of Agriculture.
Mark Stubis, a spokesman for the association, said the group has stringent standards and is "dedicated to the humane treatment of all animals."
Government statistics show that hundreds of thousands of chickens are accidentally dropped alive into scalding tanks every year, but that represents a small fraction of those slaughtered. Last year, the rate at which chickens were improperly slaughtered plummeted to a low of 0.008 percent, an Agriculture Department spokeswoman said.