Fotis Dulos, the real estate developer charged with murdering his estranged wife, remained hospitalized in New York on Wednesday following a suicide attempt, with his lawyer calling his condition "dire."
A Connecticut judge meanwhile ruled that Dulos would not have to deal with a discrepancy in a $6 million bond he posted until and unless he recovers.
Dulos was found unresponsive in his garage in Farmington on Tuesday after he got called earlier in the day to an emergency bond hearing at noon.
That hearing was canceled when Dulos did not show up, and another hearing was scheduled for noon Wednesday at court in Stamford. During the hearing, the judge raised Dulos' bond from $6 million to $6.5 million, according to NBC Connecticut.
The judge also addressed questions about the collateral Dulos used to post a $6 million bond for his release from jail earlier this month, after he was charged with the murder of his wife, Jennifer Dulos, who was last seen in May.
Fotis Dulos used six properties as collateral for the bond, said April Wallace of Palmetto Surety Corporation, which secured the bond.
But the insurer discovered that one of the properties had been foreclosed upon in December, Wallace said. Between $1 million and $2 million in equity was tied to that property to meet the bond, but since the property was under foreclosure, "we would not be able to see any of it," Wallace said.
She said the company was alerted to possible problems with Dulos' collateral by the Connecticut Department of Insurance.
Palmetto Surety revoked the bond, and a warrant for Dulos' arrest was being processed, according to Connecticut court documents.
Still, Dulos and his law team will not have to deal with the issue, and he will not actually be considered for rearrest status until he is released from the hospital, his lawyer, Norm Pattis said Wednesday following the bond hearing. Pattis added that Dulos' condition was "dire."
Pattis said bondsman Ira Judelson, who has arranged bail​ for several high profile clients, was now handling Dulos' bail.
"I should have called him first," Pattis said.
Had he been considered for rearrest status, Dulos would have been placed in custody at the hospital, possibly limiting the ability of his family members, who are arriving from Greece on Wednesday, to see him.
There are guards currently posted outside Dulos' hospital room for his own security, Pattis added.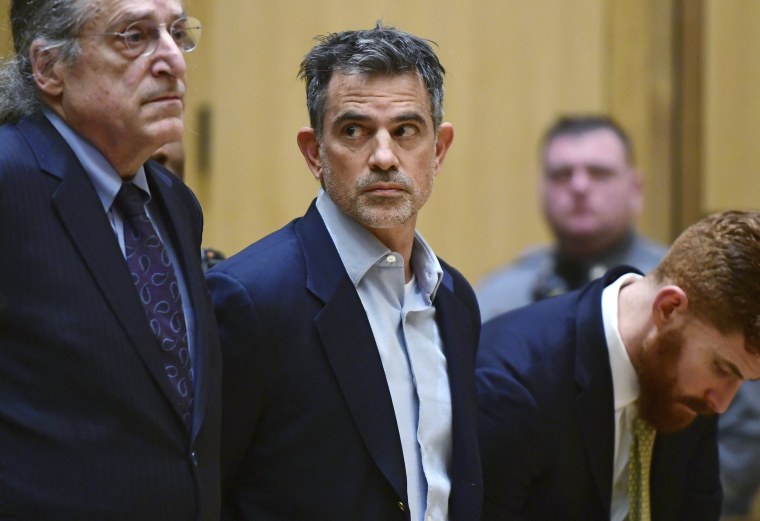 After Dulos, 52, didn't show up to Tuesday's hearing, police went to check on him at his home where he was on house arrest with an ankle monitor and found him in "medical distress," according to Farmington Police Lt. Timothy McKenzie.
Officers performed lifesaving measures, and Dulos was taken to the University of Connecticut Health Center before he was flown to Jacobi Medical Center in New York City to receive oxygen therapy in a hyperbaric chamber.
When asked Tuesday why Dulos would attempt suicide, his attorney, Norm Pattis, said: "The events speak for themselves."
"The potential for a bond revocation was devastating news to him," Pattis said.
On Wednesday, Farmington police executed a new search warrant at Dulos' home.
Dulos was charged Jan. 7 with capital murder, murder and kidnapping in the death of Jennifer, with whom he had five children. Her body has never been found.
His girlfriend, Michelle Troconis, 45, and his close friend, Connecticut lawyer Kent Mawhinney were charged the same day with conspiracy to commit murder.
Dulos and Troconis were arrested in early June and again in September in connection with the disappearance of Jennifer Dulos. Dulos and Jennifer, who was 50 when she went missing, had been involved in a drawn-out divorce and custody battle.
Police said following Jennifer's disappearance that they had evidence, some of it provided by Troconis, that proved Dulos was "lying in wait" at his wife's home the day she went missing. But Dulos told NBC's "Dateline" in September that he did not have anything to do with his wife's disappearance and believed she was still alive.
If you or someone you know is in crisis, call the National Suicide Prevention Lifeline at 800-273-8255, text HOME to 741741 or visit SpeakingOfSuicide.com/resources for additional resources.