Charles Kerr jumped at any chance to buy a special piece of sports memorabilia.
The retired firefighter from New Jersey was so proud of his collection — and so confident of its value — that he would tell his longtime partner's daughter, Jennifer Sullivan, she didn't have to worry about coming up with the money to pay for her two young children's college education.
"I got it all taken care of," Kerr would say.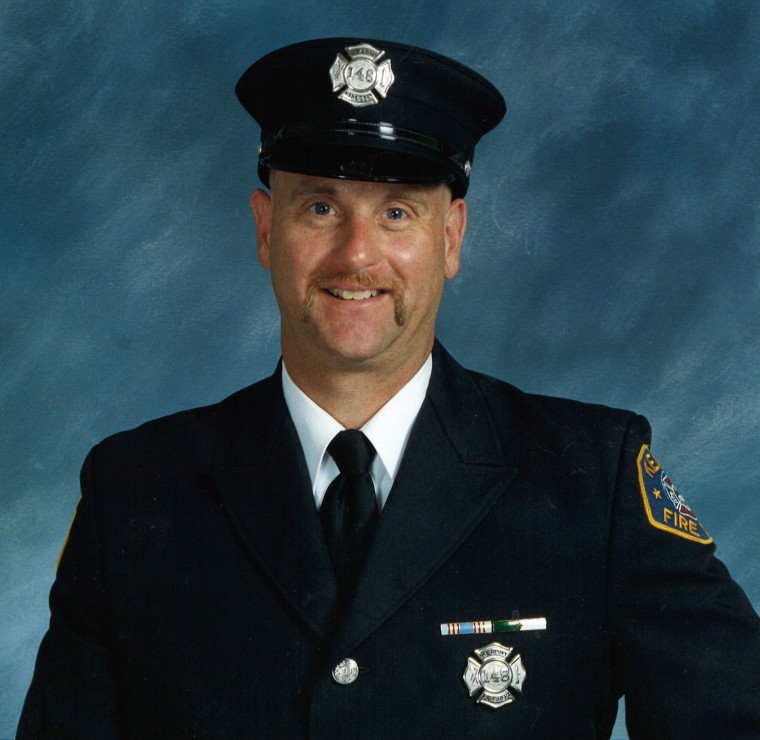 But Kerr, as his loved ones would come to find out, didn't have it all taken care of.
Not long after he died suddenly last September, Sullivan learned that he had been bamboozled. The collection that Kerr had spent more than $100,000 building up — balls and bats signed by Babe Ruth, Mickey Mantle and other baseball greats — was rife with items declared not genuine.
And they were all sold by the same dealer.
The discovery kicked off a monthslong effort to recoup Kerr's losses — an exhausting and emotionally draining ordeal punctuated by intimidating voicemails, the threat of a lien, even a harassing phone call to Sullivan's boss.
"It's been a nightmare," she told NBC News. "I'm constantly thinking the worst. I'm constantly thinking that these guys are going to come after me."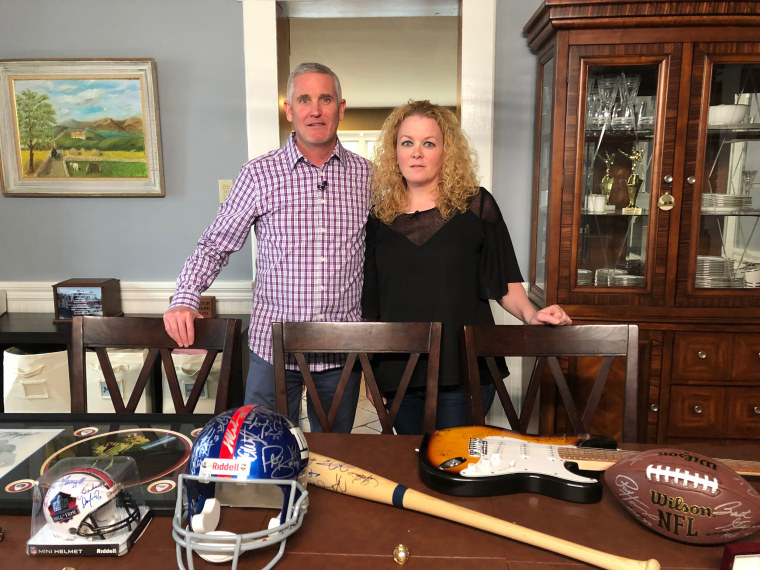 Sullivan had no way of knowing at the outset, but Kerr had been drawn into the web of a dealer who was at one time a well-known player in the industry.
A dealer who gained a level of fame after making a splashy purchase, and who had already been accused in online forums of using his notoriety to con unsuspecting buyers.
As Sullivan would come to learn, sports memorabilia was the kind of industry where even someone who spent millions on legitimate merchandise could go on to sell counterfeits. Someone who bought the personal collection of one of baseball's most celebrated players.
A legend among legends. The Yankee Clipper: Joe DiMaggio.
An industry rife with fraud
Sports memorabilia is big business in America, generating an estimated $1 billion in annual sales.
The rarest of pieces sell for jaw-dropping prices. Mark McGwire's 70th-home run ball was snapped up for $3 million in 1999. The bat that Babe Ruth used to knock the first home run out of Yankee Stadium was sold for $1.2 million in 2000. And a Mickey Mantle-signed bat from his magical 1956 season went for $430,000 in 2014.
But for every authentic Mickey Mantle-signed bat or ball, there are many more for sale on eBay and other sites that are counterfeit, experts say.
"Unfortunately, it's too easy a crime to commit," Tim Fitzsimmons, a retired FBI agent, said. "And there are a lot of naive people out there. A lot of trusting people out there."
In 2000, Fitzsimmons helped take down a nationwide counterfeiting ring that made millions largely off the pen of a master forger who needed only blank balls, bats and aged pieces of paper.
Today, the retired FBI agent estimates that roughly 50 percent of vintage sports memorabilia on the market is fraudulent. Other experts put the figure closer to 80 percent.
The industry took off in the early 1980s after a trio of baseball legends — Mickey Mantle, Ted Williams and Joe DiMaggio — signed deals to do paid signings with a company called Scoreboard. Scoreboard sold the autographed items along with a letter of authenticity.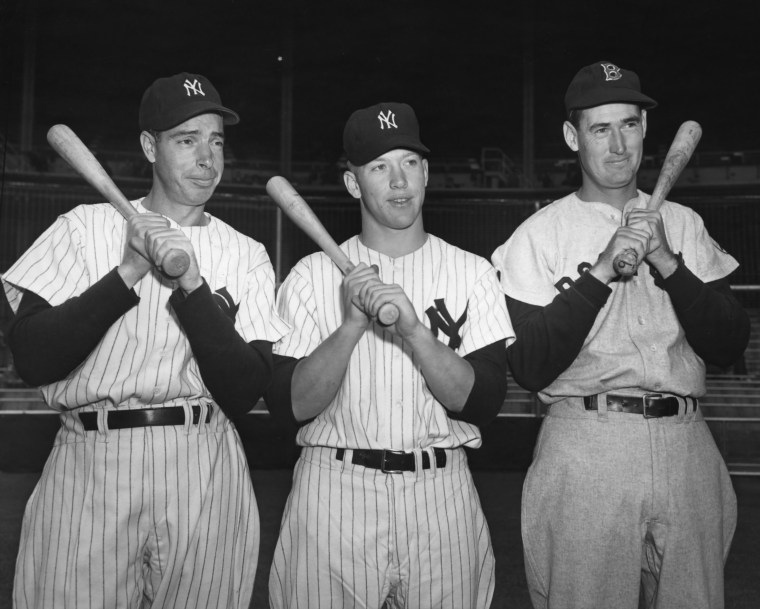 The value of the items skyrocketed, and fraudsters pounced. Soon phony memorabilia was flooding the marketplace, complete with fabricated letters of authenticity that mirrored those produced by Scoreboard.
A cottage industry of third-party authenticators sprung up in response, offering to assess the validity of signatures for a price. The authenticators — a mix of court-certified handwriting analysts and longtime collectors — offered the promise of cleaning up the industry. But the barrier for entry was low, Fitzsimmons said, and some authenticators were later ostracized for making dubious determinations.
Sports memorabilia tied to modern players is far more likely to be legitimate, experts say, because a plethora of companies now perform witnessed signings and uniquely identify the items with holograms to deter fraud.
But forgers are still churning out the more lucrative signed balls and bats and photographs from sports greats of yore.
"There are a lot of people out there that are not asking enough questions," Fitzsimmons said.
Charles Kerr, it seems, was one of them.
An unexpected phone call
Sullivan's foray into the world of sports memorabilia began with a phone call.
The mother of two from Nutley, New Jersey, was at her office in early October 2018 when she heard a phone ringing in her purse. The device belonged to Kerr who had died about 10 days earlier at the age of 58 after suffering a heart attack.
Kerr, who spent 28 years with the Kearny Fire Department, had a long relationship with Sullivan's mother. Although the two never married, he treated Sullivan as his daughter.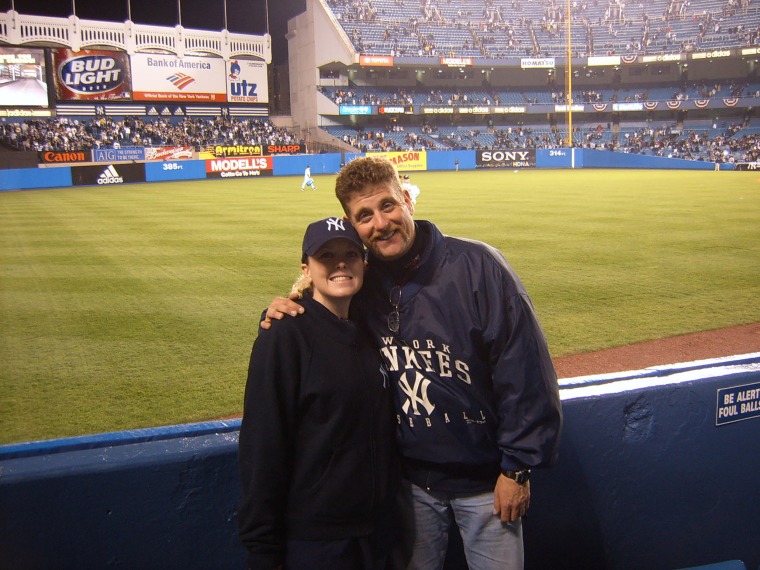 "Chuck was the kind of guy who would give you the shirt off his back and he would do anything for anyone," Sullivan said.
When she was in eighth grade, it was Kerr who bought her a graduation dress. After she gave birth to a daughter and a son, it was Kerr who showered them with gifts.
"He would always bring the kids baseballs or pictures or something (else) from the New York Yankees or the Giants," Sullivan recalled. "So we definitely started catching on that he was buying more and more."
When she picked up Kerr's phone on that October day, the man on the other end of the line sounded surprised. His name was Dave Ingber and he clearly wasn't expecting someone other than Kerr to answer the call.
After Sullivan told him that Kerr had died, Ingber explained his reason for the call: he had sold Kerr several pieces of sports merchandise on a payment plan and the latest charges due didn't go through on Kerr's credit card.
The outstanding payment totaled about $2,700. If she didn't act fast, Ingber said, the family risked losing the merchandise "to auction" after Kerr had already paid $4,000, according to Sullivan's account of the call.
"Not knowing anything about sports memorabilia, I quickly told Mr. Ingber that I would talk to my husband and call him back," Sullivan said.
Her husband, Brian, was immediately suspicious. By then, the couple had walked through Kerr's house and realized that he amassed more merchandise than they had ever imagined. Boxes filled nearly every inch of his two-story home.
"We were taken aback by the amount of stuff we had to go through," Sullivan said.
Before handing over any more money to Ingber, Brian Sullivan decided to take some of the items to an authenticator to see if they were legitimate.
He brought four autographed baseballs — including one signed by Joe DiMaggio and another signed by Babe Ruth and Ty Cobb — to a sports show in upstate New York where a leading authentication company, JSA, was reviewing merchandise. All four were declared not genuine.
The couple contacted the credit card company to report the fraudulent items. After several weeks, the Sullivans were refunded roughly $7,000 for items purchased through Ingber and his partner.
Then the intimidation started. Ingber began calling Sullivan and leaving threatening messages.
"The little stunt you're trying to pull — it ain't gonna work," Ingber said in a voicemail message that the Sullivans played for NBC News. "I'm sorry you had to escalate this. Now you're gonna force our hand to make a claim … That's gonna tie up Chuck's estate."
Ingber went further, calling Sullivan's place of work, a hedge fund in New York City. He claimed to her boss that she had used her work email to threaten him, Sullivan said.
"He offered to send my boss these threatening emails, which I almost wish he did," Sullivan, who is an assistant to the company's chief financial officer, said. "I'd like to see what I said that was so threatening. I've never made a threat to him whatsoever."
The Sullivans had no idea how Kerr had become a client of Ingber's. They knew little about him other than that he was based outside Minneapolis and seemed to be in business with a Ralph Perullo from North Carolina.
Many of the items in Kerr's collection came with a letter of authenticity signed by Perullo, who the Sullivans came to find out had purchased a massive haul of memorabilia that had belonged to Joe DiMaggio himself.
On Jan. 10, Sullivan received an email from Perullo, demanding they return the items for which the credit card company had provided the refunds.
The email said Perullo's "attorney in New Jersey" advised him to file a lien against Kerr's estate and file a credit report against her name.
"This will adversely impact your credit score," the email said. "I do not want to go forward, however you leave me no choice. I am not going to go away."
The Sullivans didn't know what to do. They didn't think local law enforcement would intervene, and a letter Brian Sullivan sent to the U.S. Postal Inspector garnered no response for several weeks.
The family reached out to NBC News through a relative who works for the company. A reporting team selected 11 of the more expensive items in Kerr's collection and paid for them to be reviewed by the authenticators at JSA.
The owner, James Spence, was one of the early pioneers in the authentication business, launching a company in the early 1990s after he received training in forensic document analysis. JSA now examines roughly 1 million items a year, company representatives said, with 60 percent deemed genuine on average.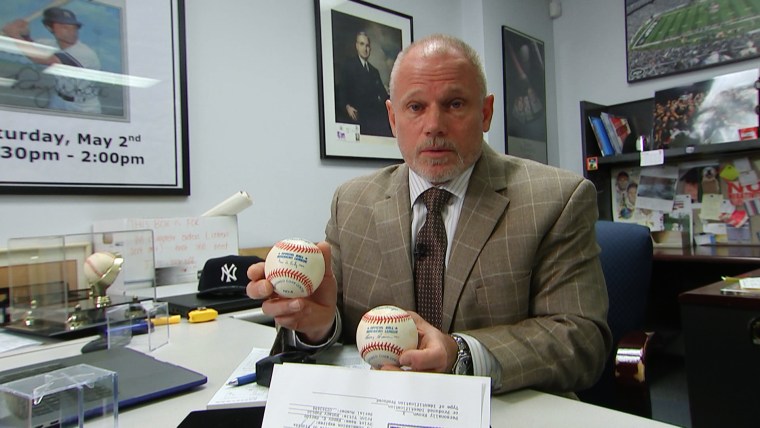 After NBC News showed up at his New Jersey office with 11 pieces from Kerr's collection, Spence first opened a box that contained two balls sporting Joe DiMaggio's signature, each purchased for $395.
Within seconds, Spence spotted issues with the signatures. The D's were too big. The g's were mirror images instead of mismatched as DiMaggio composed them. And the placement of the signatures was off: DiMaggio typically signed along the "sweet spot" in the center, Spence said, but these signatures sat higher on the ball.
"These are very common forgeries, and I'm sure these will indeed fail the process," Spence said.
The other items didn't fare any better.
A baseball said to be signed by the 1932 World Series Champion New York Yankees? "Amateur hour," Spence said after a quick glance. "It's not even signed with an implement that was used at the time."
A ball purportedly signed by Roberto Clemente? "There's no shot of that particular autograph being valid," Spence said.
A bat signed by members of the 1996 World Series-winning New York Yankees? "I don't see a valid autograph on there."
And so it went for the rest of the 11 items. Spence and his team determined all of them to be inauthentic.
Over the next few weeks, NBC News purchased three pieces of sports memorabilia advertised online by Ingber and Perullo: separate baseballs purportedly signed by Willie Mays, Mickey Mantle and Joe DiMaggio. The total cost: $1,093.
The balls were all deemed not genuine by Spence's company. A second authenticator, PSA, also determined that they were inauthentic.
A total of 18 items had now been tested, and Perullo was batting zero for 18.
The dealer speaks
The name Ralph Perullo is well known among longtime collectors of sports memorabilia. In 1999, the Charlotte businessman attracted a swirl of media attention when he bought thousands of items from DiMaggio's personal collection shortly after the Yankee Clipper's death.
"I'm still pinching myself," Perullo, a New Jersey native who grew up idolizing DiMaggio, was quoted as saying at the time. "This brings back so many memories."
Perullo was reported to have snapped up thousands of bats, balls, jerseys and photographs — all autographed by the legendary slugger. The multimillion-dollar deal was orchestrated by DiMaggio's longtime attorney and friend, Morris Engelberg.
"I was impressed with Ralph the first time we met," Engelberg said at the time. "He said he wouldn't do anything to hurt Joe's reputation. I trusted him."
Perullo immediately put the items on the market in that summer of 1999.
Nearly two decades later, Perullo was still trading on the DiMaggio name. The website for his company, Memorabilia Center, describes it as the "home of exclusive Joe DiMaggio autographed memorabilia." He also sells items through an ebay account called joedimaggioestate.
Reached by phone, Perullo said he'd be glad to sit for an interview with NBC News to discuss sports memorabilia and the prevalence of fraud in the industry.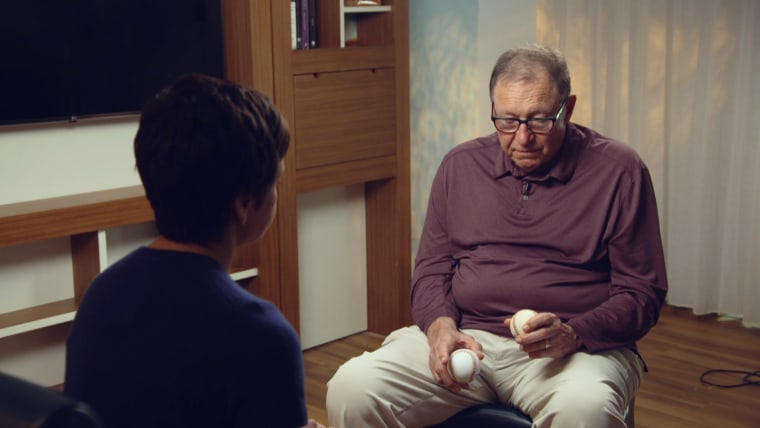 Perullo showed up to the interview in a long-sleeve purple shirt and khaki pants, holding a medium-sized cup of coffee filled to the top. Perullo, 78, walked with an unsteady gait. Within minutes of stepping into a hotel room, he spilled his entire cup of coffee on the floor.
It was not the kind of first impression that presented as master conman.
During a wide-ranging interview that lasted nearly 90 minutes, Perullo said he bought the DiMaggio collection for roughly $3 million. He conceded that he unloaded nearly all of it within five years and then began buying various pieces of sports memorabilia from other sources.
Perullo said he was concerned about fraud "from day one — because it was the easiest thing in the world to do." As a result, he said he did his best to "follow the history" of an item.
Perullo agreed to offer his assessment of two balls purchased by NBC News, unaware that he had sold them. It took Perullo less than five seconds to declare that the Willie Mays signature was fake.
"Willie wouldn't sign that ball," Perullo said. "It's not a Major League baseball."
It was an extraordinary moment: a sports memorabilia dealer admitting that an item he sold was a fake.
But Perullo remained calm when told the ball came from his company. And he offered a matter-of-fact reply when asked how he came to sell a fraudulent item.
"That's a good question," he said. "You got me."
Perullo also stayed composed when told that all 11 of the items tested from Kerr's collection were determined to be inauthentic. "Why didn't they call me?" he said.
Sullivan had spoken to Perullo. She had also received the email from him threatening to a put a lien on Kerr's estate. Perullo was adamant that he sent no such email. But after he was presented with the email itself, Perullo suggested that someone else must have written it.
"This is embarrassing," he said. "...I would never write a letter like that. Never."
Perullo acknowledged that it's possible some bad items had slipped into his collection. But he was adamant that the bulk of his merchandise was legit. He said he even had six authenticators on staff to guarantee that he wasn't selling bogus goods.
"We wouldn't be in business for 20 years if that's what we did," Perullo said.
But the Kerr case is not unique. NBC News tracked down two other customers who bought items from Perullo that were later determined to be inauthentic. They both told similar stories of buying items through the joedimaggioestate eBay account and later taking them to authenticators who determined the items were not genuine.
One of the men said he paid more than $1,000 on Perullo merchandise but got the money back. The other said he was still out roughly $13,000. Both said Ingber responded with threats when they called for refunds.
"I am really scared of these people," said one of the men. "I don't know what they're capable of."
Like the other customer, he spoke on the condition of anonymity because he fears Ingber's wrath.
"I used to sell memorabilia," the man said. "I knew to stay away from people like this, but I got suckered in by the Joe DiMaggio name."
In emails to NBC News, Ingber said he did "not recall" making any threats as described by the two former customers. Ingber insisted that he had an "excellent relationship with 99 percent" of his customers. He also questioned the credibility of third-party authenticators such as JSA and PSA.
As for the Kerr case, Ingber flatly dismissed the claims by the Sullivans.
"This Chuck Kerr matter is a nonstory," Ingber wrote. "What it looks like to me is some gal who inherited her father's estate and did not want to honor his payment obligations."
Ingber sent NBC News emails from the Sullivans that he said showed they were the ones making the threats. In one of the messages, Sullivan said the family was going to consider "getting the proper authorities involved in investigating such fraud unless we can come to a reasonable accommodation."
Ingber also denied knowingly selling pieces of sports memorabilia that weren't genuine.
"If I had any definitive proof that items Mr. Perullo was putting out for us to sell was not authentic, I would quit," Ingber wrote.
But it's not just former customers who cast Perullo's business practices in a poor light.
Debbie Schoenack worked as an office manager at a Minneapolis-based sports memorabilia company that Perullo co-operated in the mid-2000s.
After working with him for two years, Schoenack came to believe that Perullo was "just plain crooked all the way around."
"Sometimes there would be an item that didn't come with a certificate (of authenticity) and all of a sudden he would just raise his magic wand and one would appear," Schoenack recalled. "And I thought, 'That's odd.'"
She said customers often called to complained about the items they had purchased. "His m.o. was, 'They don't know. What do they know? They can't prove anything.'"
Schoenack worked for the now-defunct company, Collectors Source, from 1997 to 2009. Perullo was brought on to help run the business around 2007.
She described her time working for the company as an eye-opening experience — for all the wrong reasons.
"It's just an unethical business all the way around," Schoenack said. "I think if you really had the time and really delved into this, you could find a lot of Ralph Perullos out there."
He couldn't believe his eyes
It took nine months, but earlier this summer the Sullivans finally finished inventorying what they could of Kerr's purchases from Perullo. The tally came to $135,537.40, according to credit card statements shared with NBC News. But the Sullivans said they don't have access to all of Kerr's statements and believe that the total amount easily exceeds $150,000.
"He really honestly thought that this was going to enable us to put our children through college," Sullivan said. "That these items were going to take care of us in the long run."
"This was his retirement plan," Brian Sullivan added. "This was his 401K."
The Sullivans are still hoping to find a way to recoup more of Kerr's money but they're not especially hopeful. They said they wanted to speak out to warn others of the pitfalls in buying sports memorabilia.
"Do your due diligence," Sullivan said, "especially when buying something online."
In March, the Sullivans returned to Perullo four items that the credit card company had refunded. They made sure to include the JSA letters saying the items were found to be inauthentic.
The Sullivans also dropped into the package a note that read in part: "Please do not try to dupe another person as you duped Chuck for years."
One month later, Brian Sullivan went online and pulled up Perullo's Memorabilia Center website. He said he couldn't believe his eyes at first. But there it was: a listing for one of the items they had returned.
A Derek Jeter-signed bat — back on sale — at a price of $695.