A pilot and three passengers killed when their single-engine plane crashed in suburban Cleveland on Monday night have been identified as four students at nearby Case Western Reserve University. The students — all undergraduates — were identified as pilot William Felten, 20, of Saginaw, Michigan, and passengers Lucas Marcelli, 20, of Massillon, Ohio; Abraham Pishevar, 18, of Rockville, Maryland; and John Hill, 18, of St. Simons, Georgia, the Ohio State Highway Patrol said Tuesday.
Police told NBC News that the Cessna Model 172-R crashed shortly after departing from Cuyahoga County Airport at around 10 p.m. ET. The exact cause of the accident is being investigated by the National Transportation Safety Board, but officials believe the plane experienced engine trouble just after takeoff. It crashed in the town of Willoughby Hills and became engulfed in flames, trapping all four inside. The pilot had trouble ascending, and was attempting to turn back around to land when the accident occurred, investigators said.
The students had rented the plane for four hours, but there was no flight plan immediately located, according to NBC affiliate WKYC-TV. Officials believe they simply wanted to cruise around the area. Felten received his pilot's license about a year ago, the NTSB said.
Two of the members, Felten and Marcelli, belonged to the Zeta Beta Tau fraternity. An official with the group told NBC News that the excursion was not an official fraternity outing, and called the accident a "terrible tragedy for all our brothers."
Marcelli, Pishevar and Hill were also members of the university wrestling team. Head coach Mark Hawald said they were all "hardworking ... good students. They're a joy to coach." Case Western said grief counselors have been made available on campus.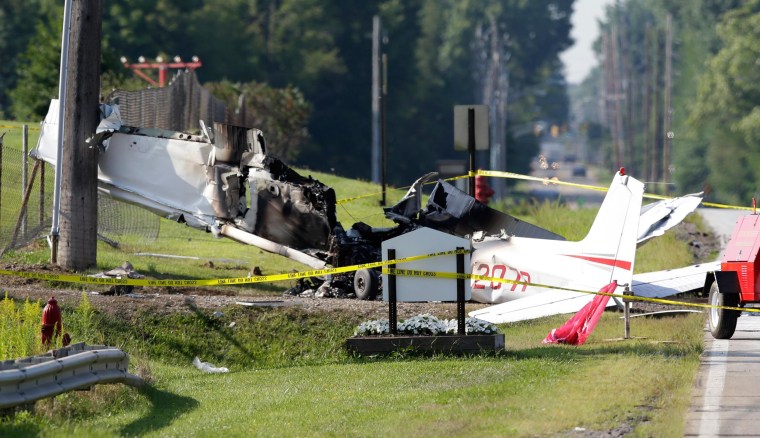 IN-DEPTH
SOCIAL
— Cassandra Vinograd, David Wyllie, Jay Blackman and Erik Ortiz