Authorities were into their third day on Wednesday working to rescue four hikers on the same route on Mount Rainier in Washington where a man was killed and two other people were injured in a rockfall last week, the National Park Service said.
The men began their ascent from White River Campground on Friday and were reported stranded on Monday and needing assistance below Liberty Cap at about 13,500 feet on the north side of Mount Rainier, about 75 miles southeast of Seattle.
The men, who were signaling for help, were spotted Monday afternoon by a reconnaissance helicopter but were unable to to continue because of high winds that blew away or destroyed their tent and other equipment, the park service said. The winds made an immediate rescue impossible, along with a backup plan to drop equipment to the climbers, the agency said.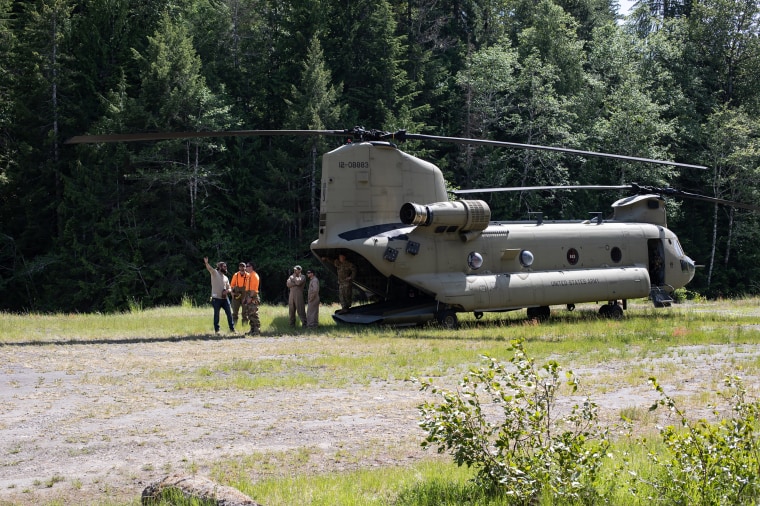 Efforts to reach the men by air were again thwarted Tuesday because of winds reaching 40 mph, the park service said.
Even an Army Chinook helicopter from Joint Base Lewis-McChord was unable to reach the men twice on Tuesday, first because of cloud cover and then because of the wind, it said.
"Rangers are now preparing multiple rescue contingencies involving both air and ground operations as conditions permit," the park service said late Wednesday afternoon. "Unstable weather forecasted for the next several days is expected to continue to limit air operations."
The Liberty Ridge route was closed indefinitely on Wednesday for the safety of both the rescue teams and the public, it said.
The men were identified as Yevgeniy Krasnitskiy of Portland, Oregon; Ruslan Khasbulatov of Jersey City, New Jersey; Vasily Aushev of New York; and Constantine Toporov of New York. At least two were described as experienced climbers, the park service said.
The challenging, technically dangerous Liberty Ridge route is the same one where Arleigh William Dean, 45, of Alaska was killed and two other hikers were injured when they were caught in a rockfall on May 29. Three other hikers were uninjured.
A spokesman for Mount Rainier National Park said last week that deaths on the mountain have averaged about two a year in recent times.