Four people — two children and their parents — were killed and two other children were critically injured when a fast-moving fire swept through their Indianapolis home Saturday, fire officials said.
Firefighters pulled all six members of the family out of the one-story home after 911 calls flooded in about 9 a.m. ET, the Indianapolis Fire Department said. They were administered CPR before they were taken to two hospitals.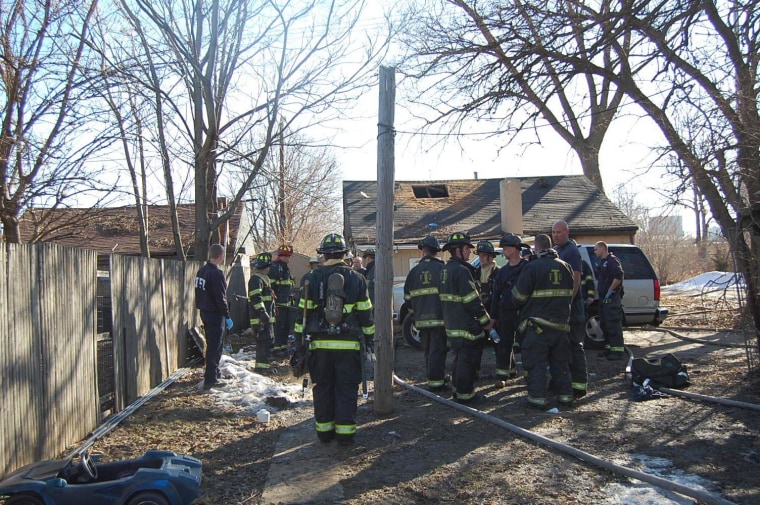 Leo Guerra, 47; his wife, Brandy Mae Guerra, 33; and two of their four children — Esteban, 11, and Blanquita, 8 — were pronounced dead. Their two other children, ages 6 and 14, were in critical condition at Riley Children's Hospital.
Distraught neighbors watched the rescue attempt on the Guerras' front lawn. Many of them "stopped to cry and pray for the family," said Rita Reith, an Indianapolis fire spokeswoman.
The fire was controlled within minutes, but the house was heavily damaged, said Reith, who said the cause remained under investigation.
"I'm really sorry to hear about the children and that they died," Fred Pierce, a neighbor, told NBC station WTHR.
"Nobody expects a house to catch on fire and kill people," Pierce said. "We have a lot of things going on in this neighborhood, but we don't think of anything like that happening."
Donald Whittaker, a family friend, told the station that he's known the Guerras for years.
"They were real friendly," he said. "His wife was real helpful to him because he was a diabetic, and then he lost a lung, and she was doing everything she could for him."
— M. Alex Johnson