ALBUQUERQUE, N.M. — Four members of a New Mexico paramilitary religious sect rocked by child sexual abuse allegations were arrested while trying to flee the state in two vans full of children, authorities said Thursday.
Cibola County Sheriff Tony Mace confirmed to The Associated Press that the four members of the Aggressive Christianity Missions Training Corps were arrested late Wednesday as deputies tried to execute a court order to pick up the children for interviews from the group's isolated compound in western New Mexico. Arrest warrants had been issued for the four taken into custody.
Amos River, Victoria River, Ruth River and Timothy River were arrested after deputies stopped the two vans leaving the compound, according to the Gallup Independent, which first reported the arrest.
Related: Military-Style Christian Sect Leader Charged in Child Sex Abuse Case
Sect leaders had previously told authorities they didn't have transportation to take the children to meet with an FBI forensic interviewer.
Inside the vans were seven children, around $1,000 in cash, luggage and road maps, Mace said. "Basically, you could tell they were getting ready to bug out and leave the area," Mace said. "I believe that's in an effort to try to conceal the kids from us."
Mace said the children, believed to be ages 4-17, were turned over to the New Mexico Children, Youth and Families Department. Investigators believe the vans may have been headed to a location in Colorado.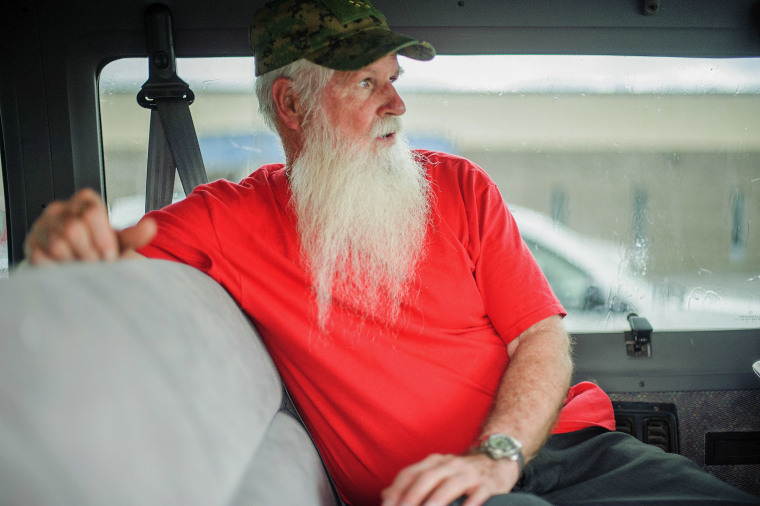 The group's attorney, Robert Lohbeck, said the sheriff's claim the group was trying to flee was "absolutely false" and deputies knew the group was coming to meet with him.
"My clients all along have been trying to cooperate," said Lohbeck, who represents the four adults arrested Wednesday. "They are not trying to run. They are not trying to hide."
Sect member Joshua Green told the Gallup Independent that the adults took a change of clothes with them because they were going to stay the night in a motel and meet with Lohbeck on Thursday morning.
The arrests came four days after authorities raided the group's Fence Lake compound and arrested sect co-leader Deborah Green and two other group members in connection with a child abuse investigation. Another person was arrested in Truth or Consequences, New Mexico.
This week, a judge ordered Deborah Green held on a $500,000 secured bond on charges that included failure to report the birth, child abuse and sexual penetration of a minor.
Sect member Peter Green, also known as Mike Brandon, also was being held on a $5 million secured bond and faces 100 counts of sexual penetration of a child after being accused of raping a girl at least four times a week from the time she was 7, according to court documents.
In a prepared statement, the Aggressive Christianity Missions Training Corps called the criminal allegations from Sunday's arrest "totally false."
The more recent arrest followed failed negotiations between the Cibola County Sheriff's Office and James Green, co-leader of the sect.
The two sides previously had reached an agreement to let the children be transported in a borrowed school bus to be interviewed Wednesday afternoon by an FBI forensic expert.
But James Green told the Gallup Independent that the agreement fell apart when their attorney told them to cancel.
"When the sheriffs went out to our compound to pick up 11 children and four parents to bring in to CYFD for an interview, our lawyer told us not to let the kids' parents go until he had a chance to interview them first, because that is our right," James Green said.
Lohbeck confirmed that he advised the parents to hold off on allowing the children to be interviewed until he had a chance to review the case since he had only been hired on Wednesday.
The Aggressive Christianity Missions Training Corps, founded in Sacramento, California, describes itself as a group that is "revolutionary for Jesus" and provides a free spiritual "ammo pack" to anyone who submits a written request. Photos of members show them in military-style clothing and on missions in Africa.
Its website is laced with anti-Semitic language and anti-gay tirades about same-sex marriage.
The Southern Poverty Law Center lists the sect as a hate group.